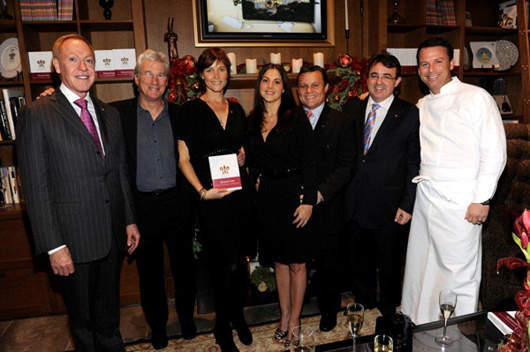 New York, New York – Reported by Elite Traveler, the private jet lifestyle magazine
Actor Richard Gere was the guest of honor at a cocktail reception held at the Relais & Châteaux Maison in New York City December 9th. Gere, along with his wife Carey Lowell and business partner Russell Hernandez, owns the Bedford Post, one of 36 new members of Relais & Châteaux, the prestigious international hospitality Association. Gere is also serving as the 2011 Relais & Châteaux Ambassador. Guests savored the culinary artistry of Grand Chef William Bradley of Addison in San Diego, another new member.
Left to Right: President of Relais & Châteaux North America Patrick O'Connell, Richard Gere, Carey Lowell, Alessandra and Russell Hernandez, Relais & Châteaux International President Jaume Tàpies, Grand Chef William Bradley.