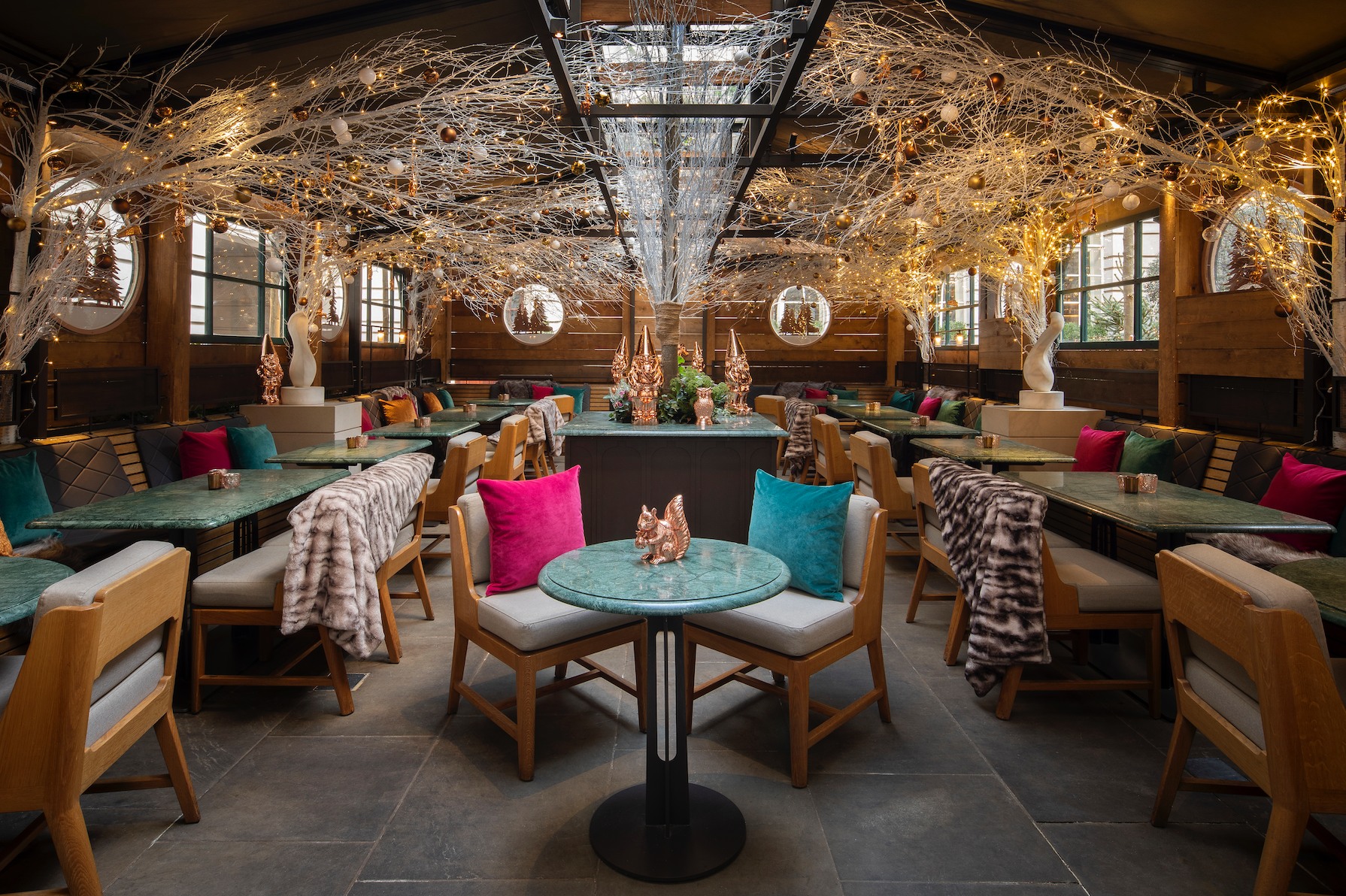 The Nutcracker with Absolut Elyx
Absolut Elyx vodka
Peanut butter
Winter spices
Coffee
To make, pour Absolut Elyx vodka into coffee, add peanut butter and winter spices. Put in a blender and shake with ice. Pour into a chilled martini glass and serve.
Rosewood London is a master at creating an ultra-cool, conceptualized bar experience, and the Elyx Chalet is no different. In partnership with Absolut Elyx vodka, the Elyx Chalet recalls a snowy Swedish chalet with its Christmas-y decorations, cozy cocktails and seasonal bites.
The hotel's Holburn dining room has been completely transformed: Its walls are lined with rustic, distressed wood, pine trees with snowy dustings and string lights border the room and small golden gnomes and snow-globe-like wall art is displayed. The ceiling has hanging branches and there are cozy blankets and pillows at each table, so you can truly relax while indulging on the delicious cocktail menu.
The menu features cocktails made with Absolut Elyx vodka, as well as delicious whisky-based cocktails; a full gin and tonic menu; hot beverages, like coffee, tea and hot chocolate; champagne and wine; a full lunch and dinner menu; plus a British cheese selection and desserts.
The pop-up will be open on the winter terrace from now until February 29, so you have a full winter season to enjoy the lovely ambience. And if you make it to the Rosewood London before Christmas, you'll see a lovely large tree in the courtyard entrance – a truly magnificent sight.
While you can't go wrong with any of Rosewood London's rooms, while you're here, book the hotel's Manor House Suite. This 1,990-sq-ft suite is entered via a private elevator and feels like a true residence, with books and curated trinkets throughout. Though it's one bedroom, connect the six other rooms on the floor to reserve an entire wing for yourself and your guests.
For more information, visit rosewoodlondon.com