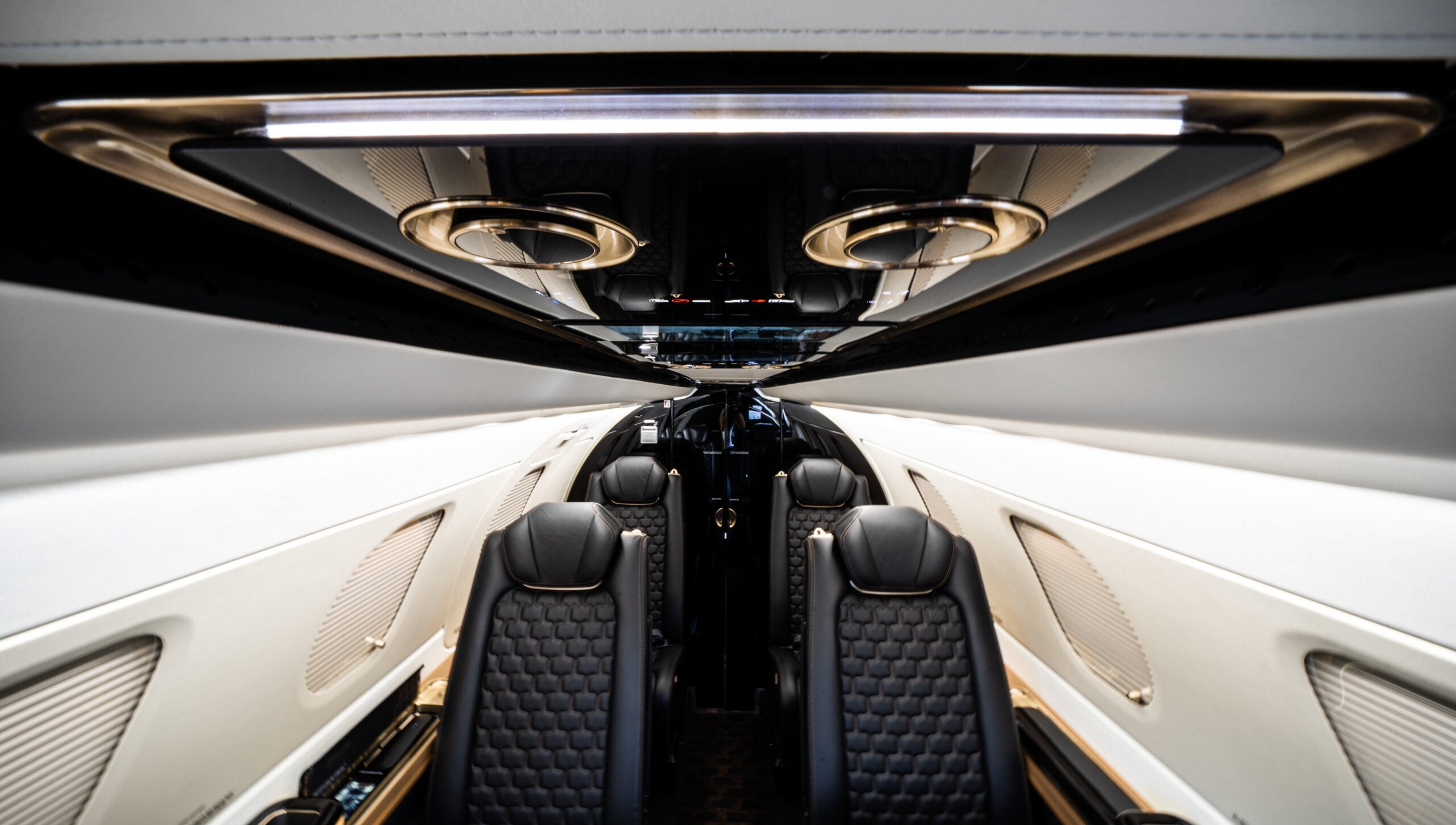 The Embraer Phenom 300E Bossa Nova made its debut earlier this year with a promise to take private jet interior design to the next level. Named for the Brazilian style of jazz music, the Bossa Nova interior was first introduced in the Praetor 600 super-midsize jet and won the prestigious International Yacht & Aviation Award for Private Jet Design in the Small/Medium Jet category in 2019.
With its enhanced cabin and large windows, the concept has proved just as elegant in the smaller Phenom 300E light jet. The first version of its kind was delivered in August to Joe Howley, co-founder of Patient Airlift Services (PALS).
The dominance of piano black colors and carbon-fiber accents would in theory make the cabin appear smaller, but designers have cleverly used gold details to reflect natural light throughout the cabin. This process is made possible largely by the oversized windows unique to the 300E jet. As well as an overhaul in its design, the Bossa Nova interior is quieter than the standard option and also provides a roomier cockpit for the benefit of the pilot.
It gives an already industry-leading jet a further edge in a competitive market. The Embraer Phenom 300E is the fastest single-pilot jet in the world, capable of reaching Mach 0.80m and delivers a range of 2,010 for up to 10 passengers.
The newly-delivered jet will now be used to advance the PALS mission to offer free transportation for individuals requiring medical diagnosis or treatment who are unable to fly commercially. The service proved vitally important earlier in 2020 with the Covid-19 pandemic bringing aviation to a virtual standstill for months.
"We are humbled knowing the Phenom 300E will aid the vital role served by PALS, and we know its passengers will be well-served by the best cabin environment and lowest cabin altitude in the light jet class," said Michael Amalfitano, president and CEO of Embraer Executive Jets, at the time of the announcement.
"Mr. Howley and I immediately bonded over compelling stories, and we got immersed discussing the inspirations for the Bossa Nova interior, but I can't imagine a better story than that of PALS," said Jay Beever, vice president of Embraer Design Operations. "Especially during the COVID-19 pandemic, PALS is playing an invaluable role in people's lives, and we are honored Mr. Howley has selected the Phenom 300E to help serve this most honorable mission."