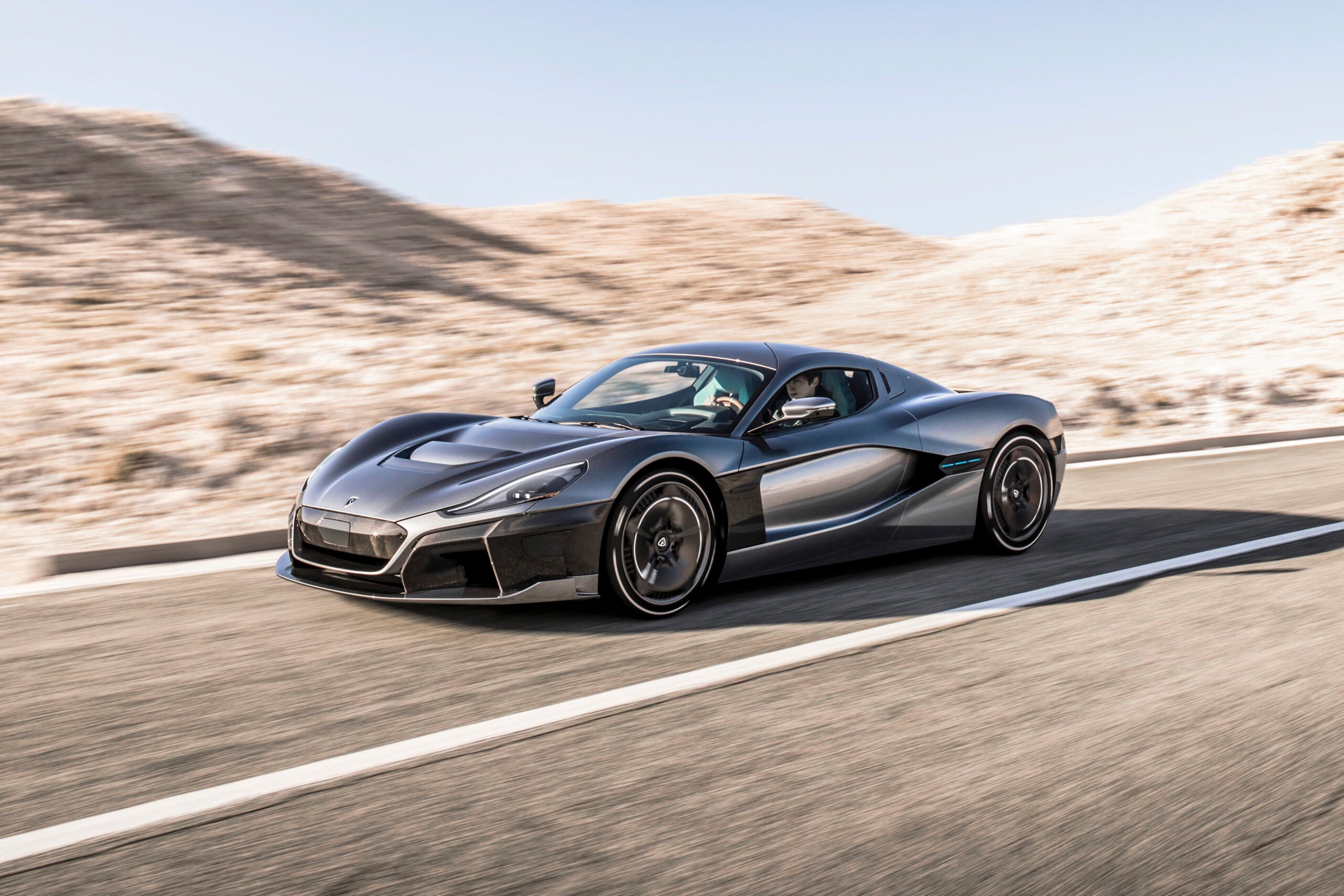 While the garden-variety supercar thrills, with its smattering of performance enhancements and bellicose design cues, hypercars compel thanks to unrivaled horsepower, moveable aerodynamics and unerring low-volume production. Far from a conventional sports car or even an extraordinary supercar, hypercars tinker with the extreme.
Rimac C_Two
As the race for electrification accelerates, an unlikely prodigy mans the helm: 32-year-old Mate Rimac. His knowledge of electric-vehicle hyperpower and battery technology has already been tapped by Aston Martin, Pininfarina, Koenigsegg, Renault, Hyundai and Porsche (the latter two maintain an ownership stake in his Croatia-based company). Rimac not only produced the electric Jaguar E-Type that Prince Harry and Meghan drove during the royal wedding celebrations, but he shares his hypercar platform, drivetrain and factory with Pininfarina's Battista, which some may call a direct competitor. Impressive, considering that, prior to Rimac, Croatia did not manufacture any automobiles or their components.
Built from the ground up, the Rimac C_Two (its pre-production name) features 1,914 hp derived from four electric motors, one per wheel. Because each motor functions both independently and as a single hive mind, driver preferences reach new heights. It's possible to distribute the 2,300 Nm of torque to the front and rear powertrain as much as one likes — the car functions as all-wheel drive but it can be easily switched to front- or rear-wheel drive, a previously incomprehensible feat.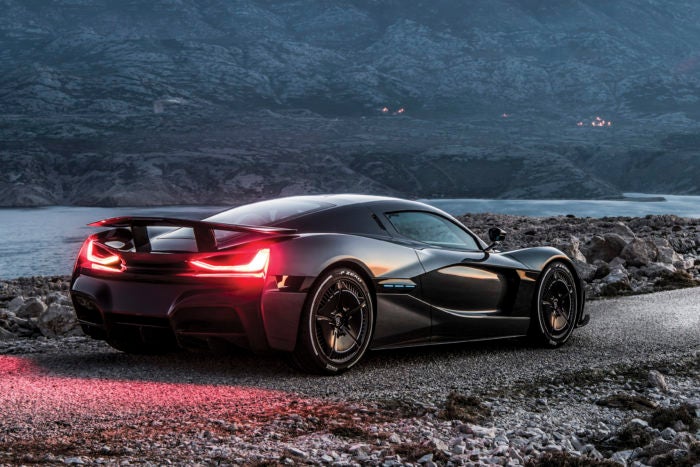 Each of the 150 vehicles produced includes a driving coach, a system that overlays certain racetracks to provide instantaneous updates on racing lines and braking points, should an owner want to maximize track time. Consider it a near-gaming experience planted firmly in the real world. A racecar heart with a grand-touring soul, Rimac claims it has a 400-mile range, enough to motor from Paris to Geneva.
Eschewing an aggressive stance for a softer posture, the C_Two may bark, but it doesn't bite. Agile undulations rather than hasty silhouettes guide the eye from nose to tail. The salient rear wing serves as the hypercar's sole uninterrupted line, a heady design flourish that doubles as a full air-brake, stabilizing the car under heavy stopping. Inside the cockpit, switches and screens are employed in equal measure, but data is prized above all: Downloadable telemetry from every aspect of the car's performance is always available. Despite Rimac's impressive suite of designs, surprisingly none of his technology is patented. It is available for pre-order now, with deliveries expected by the end of the year.
From $2.5m, rimac-automobili.com
Koenigsegg Regera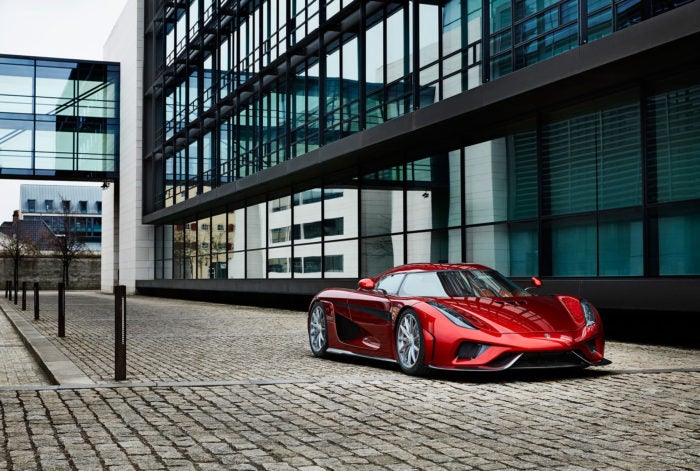 Koenigsegg (pronounced cone-ing-seg) classifies its automobiles not as hypercars but rather megacars. Technically, when a vehicle pushes over 1,300 hp, it's the equivalent to one megawatt of power. Although it might sound pedantic, the megacar proof lies in the single-gear, 1,500 hp plug-in hybrid Regera.
It currently holds the production-car record for the fastest 0 to 248 mph back to 0 mph in the world. The key to its acceleration lies in the twin-turbocharged 5.0-liter V8 engine that works with three electric motors: one for each rear wheel plus an auxiliary motor. Unlike vehicles with gearboxes, it relies upon a direct drive transmission. It's like starting a car in sixth or seventh gear, but without the lag time.
Delights abound. The size of an infant's hand, the car key has six functions and a dedicated magnetic slot close to the wheel. It may seem peculiar to mention, but the mere existence of two cup holders (versus the typical one in hypercars) is refreshing. The removable roof slides fit perfectly into the front trunk. A full axle lift raises both front and rear, allowing the healthy amount of carbon fiber underpinnings to remain intact. The duo of fishtail exhausts cull inspiration from the coaches of the 1920s. Koenigsegg prides itself on fabricating the majority of its components in-house, meaning everything, down to the Aircore rims with optional gold lining, can be customized.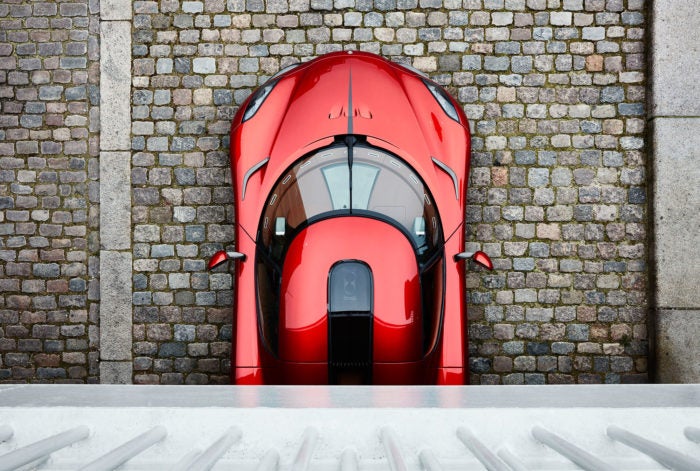 From $2.21m, koenigsegg.com
Pagani Huayra Roadster BC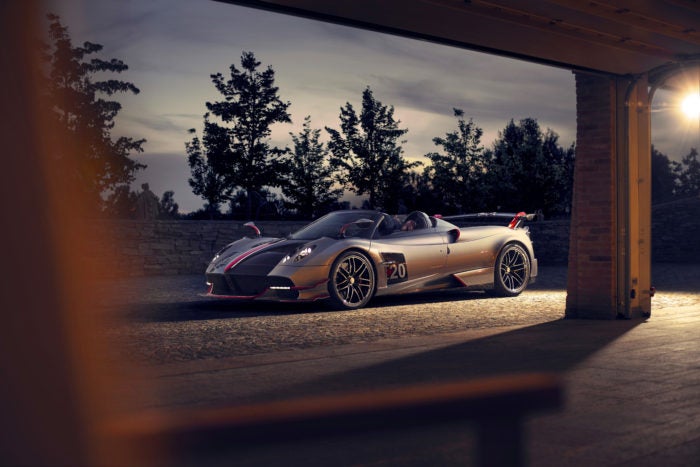 When Pagani Automobili redesigned its Huayra (pronounced wire-ra) Roadster, the Italian hypercar house fixated on a pair of driving forces: added performance and decreased weight. Coupes consistently weigh less than roadsters, due mainly to supplementary stabilization and safety.
Evolving from Huayra Coupe to Huayra Roadster, the brand shed 154 lbs. The transition from Roadster to Roadster BC, meanwhile, sees Pagani shaving another 66 lbs off. Sitting at 2,756 lbs, the Huayra Roadster BC weighs 300 lbs less than a Toyota Prius, courtesy of a smattering of new materials. Carbo- Triax, for example, is a composite technology based on carbon fiber and carbon-titanium that increases both torsional and flexional rigidity.
Considered to be one of the first to implement the extensive use of carbon fiber two decades ago, Pagani's paterfamilias, Horacio Pagani, continues to artfully weave the hyper-lightweight fabric through his vehicles. It comes as no surprise that the Huayra Roadster BC is practically painted in carbon fiber.
Underneath the hood, a new 6.0-liter twin-turbocharged V12 developed for Pagani by Mercedes-AMG boasts 802 hp. A rear-wheel-drive transmission paired with the seven-speed Xtrac sequential gearbox and a lightweight single (versus dual) clutch further reinforces the impressive power-to-weight ratio.
Pagani's signature quad exhaust feature is rear and center, although the Huayra Roadster BC employs a new Titanium six-exhaust pipe system: The two extra direct outlets assist with generating further downforce. Already pre-sold, only 40 Huayra Roadster BC's will be built, a departure from the company's typical 100-unit allotment.
From $3.38m, pagani.com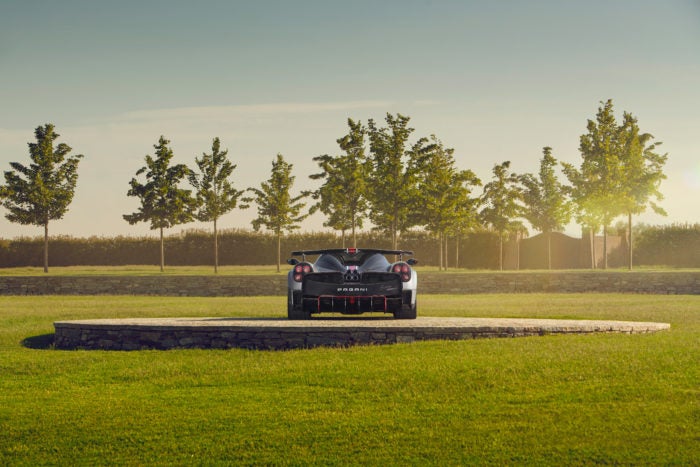 Image credits: Martin Juul, Philipp Rupprecht