FlyEliteJets has sought to make private aircraft more family-friendly with the creation of the world's first dedicated flying nursery.
Flight travel is notoriously tricky for babies and young children. While private jets offer greater levels of comfort for new parents, they are first and foremost tailored towards business professionals. Now, FlyEliteJets is offering a space specifically tailored for nursing mums to feed their babies and young children to sleep, play and relax onboard private jets.
The design concept is the brainchild of FlyEliteJets CEO, Christopher Williams-Martin, himself a dad of two boys. He personally sought out the world-leading designer Jenny Allan Design, who has created a warm, welcoming and inviting space for parents and their kids onboard the ultra-long-range jets and VVIP airliners.
The Flying Nursery is designed to go into the aft cabin of jets, an area that is traditionally underutilized. By creating a dedicated space for mums, dads, nannies and children with direct access to the rear WC and baggage hold it becomes an onboard haven for children and parents alike with facilities to eat, sleep, play, relax and refresh.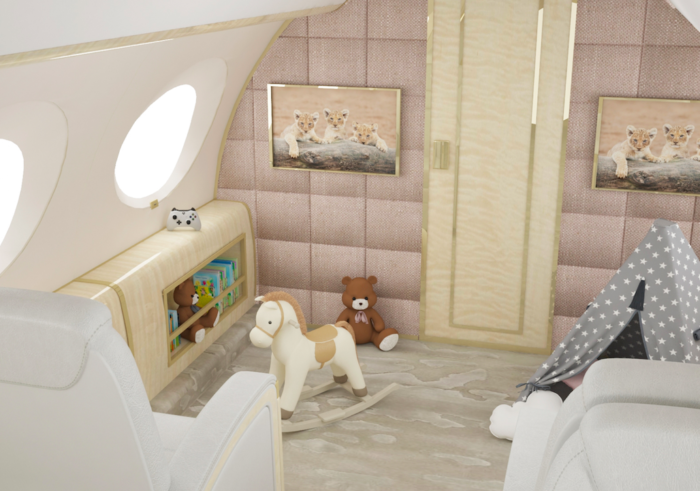 Jenny Allan, founder of Jenny Allan Design said: "We wanted to design something unique that's never been done before on a private jet and to revolutionize the way clients travel with their children. In this Gulfstream G650 we added a starlit ceiling to create a wonderful sense of atmosphere in the cabin, ideal for bedtime reading.
"For more fun and whimsical details, we included embossed teddy motives on the seat headrests, a wigwam with cloud cushions that can easily be folded away during take-off and landing as well as a mini rocking horse and shelves for children's toys and books. It was also really important that the space appealed to mums and dads, so we opted for a calming, tranquil, neutral décor rather than too many bold or bright colors that jar the senses."
The Flying Nursery comes in response to a sharp increase in private jets being used by families for leisure. The Covid-19 pandemic has seen a number of parents go the extra mile for added security and this uptick is likely to be long-term. Interested customers can inquire now with a typical fit taking around two months in a private hanger.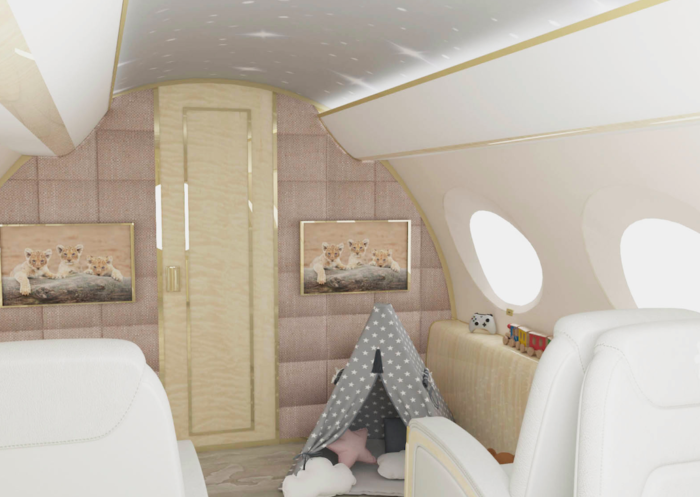 For more information, contact info@jennyallandesign.co.uk or info@flyelitejets.com
Images: ©Jenny Allen Design / FlyEliteJets