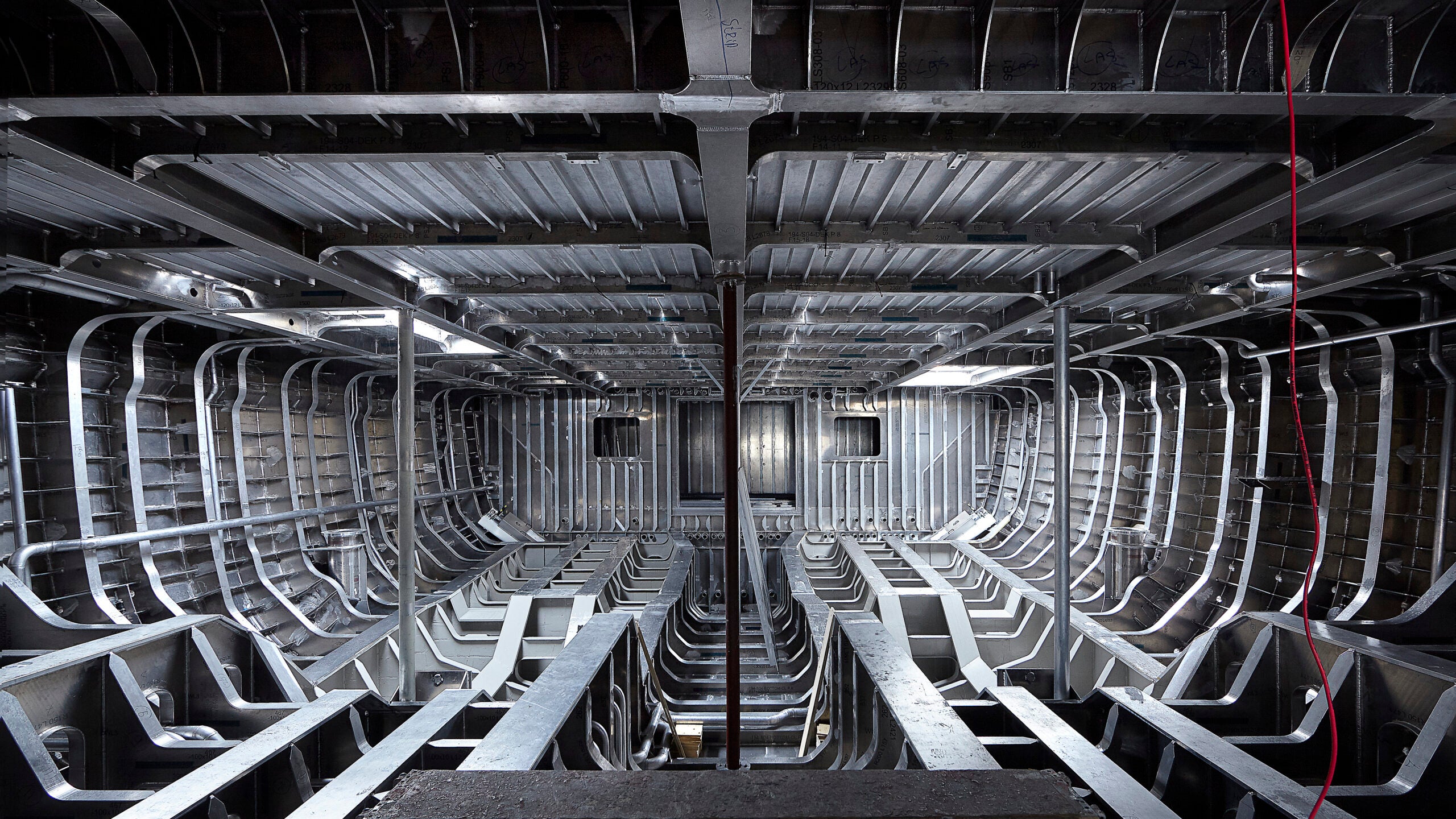 Last week, Heesen was excited to share the news that the hull and superstructure of its landmark Project Cosmos had been successfully married. This is a significant moment in any superyacht construction, but the unique nature of this all-aluminum 262-ft vessel meant this one was a particular cause for celebration.
From its conception, Project Cosmos has been incredibly ambitious, not least because it is the largest yacht that Heesen has ever built. The engineers were already stretching their capabilities to unknown lengths when they undertook the project. Add a global pandemic on top of that and it becomes easy to see how the whole thing could run aground. But despite these monumental challenges, Project Cosmos remains on course to be launched in November 2021 and delivered in April 2022. In an industry where lengthy delays are common, it is a remarkable achievement.
"Basically, the Dutch are a very organized group of people," said Mark Cavendish, Heesen's sales and marketing director. "When this whole thing kicked off in March, we immediately rescheduled the shift work in the shipyard. We had 650 people working here for one shift, so we doubled the shifts and halved the number of people working at any one time.
"We reorganized our canteen; we reorganized the entry and the exit and as a result of that the shipyard never closed. The production has continued more or less and the net result of that is none of the yachts that we are building for owners have had any impact at all. To be completely honest we have rescheduled a couple of our own on-spec builds to take some of the pressure off the shipyard but to no detrimental effect because they're not sold boats."
The pandemic was not the only significant obstacle that Heesen had to overcome in order to meet the brief, which called for a 262-ft (80m) superyacht capable of speeds approaching 30 knots. The size of the yacht requires significant structural strength. A steel hull would do the job but would make her too heavy to reach the required top speed of 29 knots. To ensure she was fast enough, they would have to use aluminum, which is not strong enough. It was a big problem that no shipbuilder had ever had to face and required some ingenious, out-of-the-box thinking.
Cavendish said: "It is ok to build boats up to 50m (164-ft) in aluminum using conventional construction techniques, what's called longitudinal framing. When you get this long, to 80m, and the kind of power and weight of engines and the metal, you need to have more structural integrity in the yacht, so we invented this method of construction which we call the Backbone. We have ended up patenting it, so it is something quite special.
"It's more or less the same principle as the regular steel I-Beam girder. We've got the two sides of the ship and then at the bottom we have the keel and they're all linked through the structure in the middle that gives the rigidity and stops the boat from bending. All the strength is in the structure."
The aesthetics of Project Cosmos are just as striking as the engineering. Winch Design yacht exteriors associate James Russell spoke about the need for a timeless design with a dash of Heesen's forward-thinking DNA. A project of this magnitude requires meticulous planning both inside and out, and with outfitting now underway, the extraordinary level of detail will soon become apparent. Every piece of furniture that will go on the boat will be customized to fit the interiors. All the bathrooms will be clad in marble while other areas will use luxurious materials like black onyx, straw marquetry and crystal panels.
She will also have a one-off tender designed to look like a miniature version. Its finest feature, however, will be its 131-ft sundeck. The renderings appear to show the area dominated by a helipad, but at the click of a button, the area is transformed into a lounging area, complete with cushy sofas, a cinematic screen and state-of-the-art speakers.
Cavendish said: "Those are the kinds of lengths that the owner wanted for his boat. To have a deck that can switch between a helicopter landing platform and a few seconds later be a lounging area with screens and speakers. The furniture pops up and down from the deck. That's pretty cool."
Although not nearly finished, the ongoing smoothness and success of Project Cosmos suggest Heesen is ready to become a mainstay in the gigayacht game. Cavendish urged caution in that regard, insisting that while he would welcome more orders the capacity of the shipyard and production means the transition to building larger yachts would be gradual.
He said: "We would like to say that we've got lots of people queued up to buy 80m (262-ft) boats. We haven't yet and it will take time. But when we started building much bigger boats back with Galactica Star at 65m (213-ft), today we are building this boat at 80m, we're building a 67m (220-ft) steel boat, we're building a 60m (197-ft) lightweight aluminum fast boat which will be over 30 knots. We're building a 60m steel boat and several 55m (180-ft) boats.
"It's an incremental movement. You build one big boat and slowly the rest of the production behind you moves up a notch. I think this boat here will have the same effect, it will drag us up into the next level so maybe we'll start building more in the 60m and 70m (229-ft) sector.
"We do have to be a little bit careful because of the capacity in the shipyard. We only have one 90m (295-ft) drydock that can take this. We have a 70m drydock and then we have quite a lot of nearly 60m drydocks so we can't let ourselves get flooded with 80m orders."