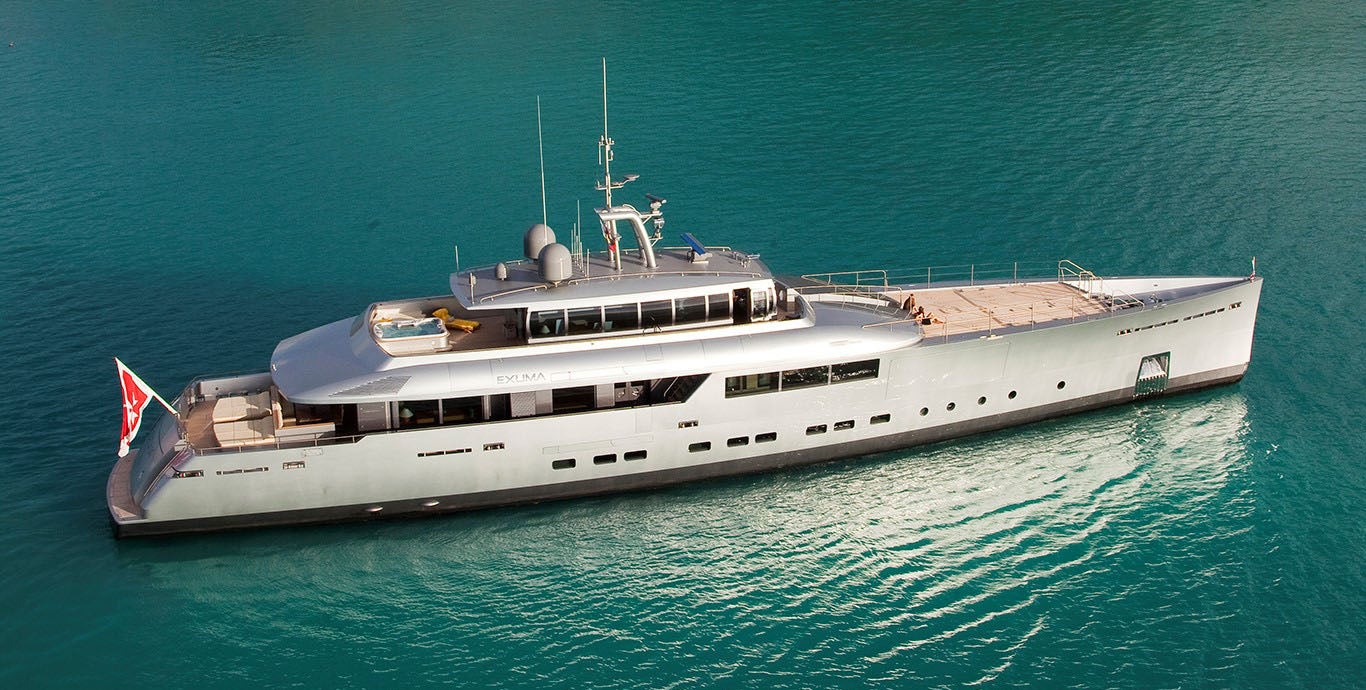 After a decade of loyal service, the ground-breaking superyacht Exuma has been put up for sale by her owner. The Picchiotti-built vessel was presented by brokers Fraser at a presentation at Yacht Club de Monaco last month.
Designer Philippe Briand brought sail performance principles to a motor yacht for the first time, making Exuma a genuine world first in the industry. Briand, a sail yacht specialist, was a maverick choice to design such a hi-tech yacht as was shipyard Picchiotti, which at that time had not built a single full motor yacht.
Explaining his decision, the owner said: "I took a risk by choosing a designer who was a sailboat specialist, and a yard who had never built a pure motor yacht before. The reason why is that I was sure that these people were concerned with the streamlining of the hull. The result has been excellent because Exuma has a fuel economy which is quite remarkable: she uses 20-30% less fuel than a yacht of similar length."
Briand said: "I had designed many large sailing yachts especially designed for racing in the America's Cup. Exuma's owner had the precise specs and was unable to find a shipyard that could respond to his requirements. I proposed designing a superyacht that complied with his vision of traveling the world, so an explorer yacht. There was a list of considerations and being green was at the heart of it. At this time there were no motor yachts that were recognized as green."
Briand not only made the 164-ft Exuma a world leader in environmental terms but in exploration, too. Exuma's 7ft 5in draft and all-aluminium construction mean she can go just about anywhere in the world, a feature her owner has taken full advantage of many times since taking delivery.
The owner's penchant for adventure is further highlighted with Exuma's amphibious 4×4 that allows guests to disembark and explore without limits. The vehicle was custom-designed and is arguably her most famous feature.
He said: "I felt the need for having an explorer boat with an amphibious vehicle. This was absolutely essential, so the boat is ideal for this amphibious 4×4. Some people don't realize how useful it is, but it has been extremely useful. We can use it in any country, including difficult places like Papua New Guinea. All these islands where there were no rental cars or taxis, we could just drop it into the water, climb the beach and tour the island."
Exuma is available for €16.9m (approx. $19.9m).
Contact David Legrand at Fraser, david.legrand@fraseryachts.com, fraseryachts.com