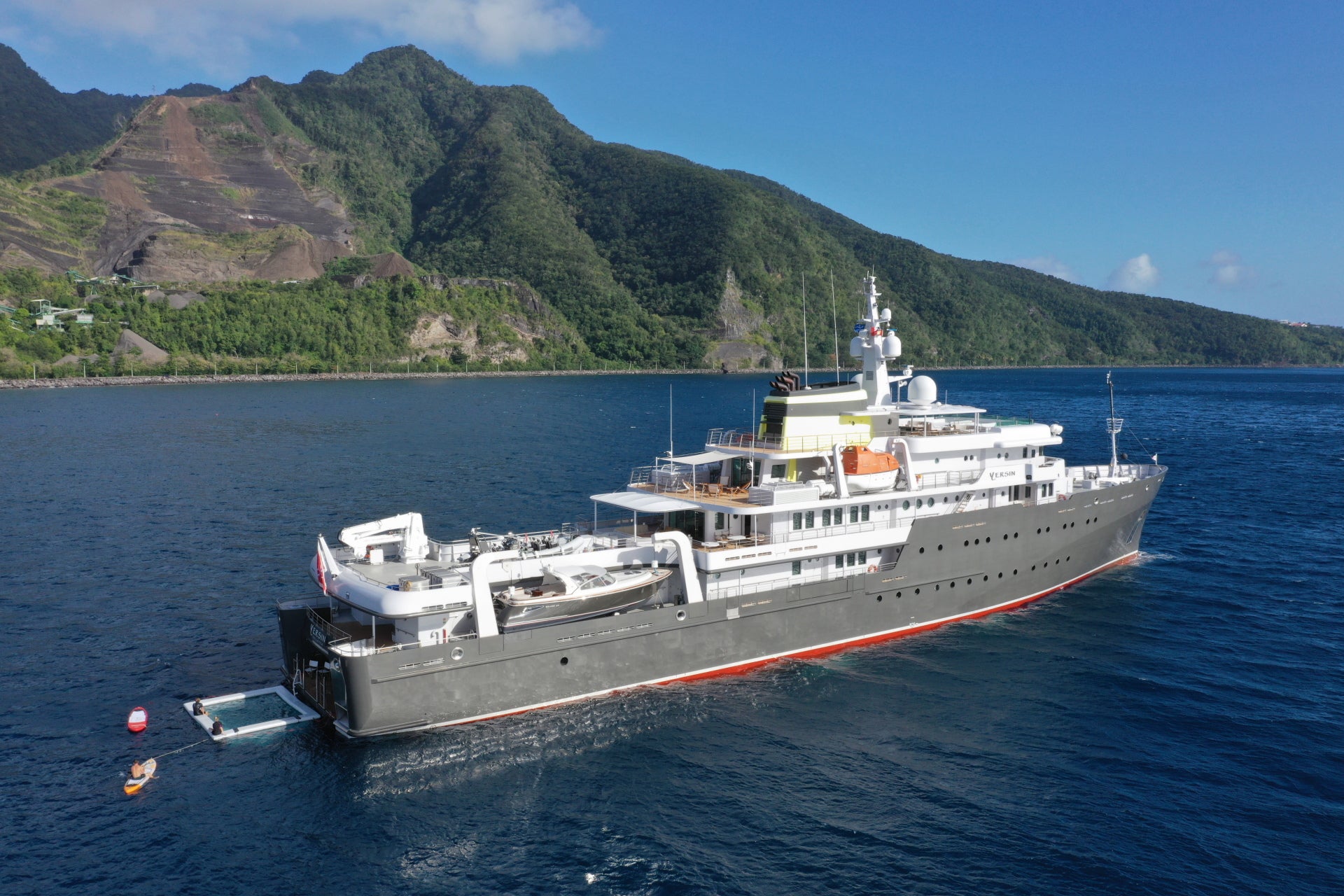 It's not often that the words 'sustainability' and 'green' grace the yachting pages of Elite Traveler. But Yersin, a 251-ft explorer vessel, breaks the mold in terms of clean cruising. For conscientious travelers there really is no larger and more guilt-free way of sailing the seven seas. And when I say the seven seas, I really do mean the ends of the earth, as the superyacht Yersin is ice classed and Polar Code compliant.
For those looking to avoid the normal cruising hot spots, and in fact other people altogether, Yersin can accommodate groups of up to 18, has a range of 12,000nm and can store enough provisions onboard to cruise comfortably, bellies full, for 50 days. This all sounds a bit rough and ready, but have no illusion — Yersin is a traditional superyacht in terms of onboard amenities and opulent comfort. She has extensive wellness facilities including a spa, hamman and gym, and a private cinema and Jacuzzi for relaxing.
Brokers David Legrand and Antoine X. Larricq shared with us some of the thinking behind Yersin's green credentials: "Yersin is one of the most advanced and sustainable explorers of her generation. She is engineered to the highest standards, resulting in very low environmental impact with minimal consumption. Created to face challenging expeditions in the utmost comfort and style, Yersin aligns adventure and exploration with sustainability and positive impact. Maintained and crewed to the highest standards, she is ready to explore any destination."
€73,500,000 (approx $93.5m)
Contact David Legrand and Antoine X. Larricq, brokers, david.legrand@fraseryachts.com, fraseryachts.com
Fibonacci Waves
Award-winning design house Icona is perhaps best-known for its high-tech automotive projects (the Nucleus, a futuristic-looking concept vehicle with fully autonomous driving, is pegged as 'the ultimate self-driving living room'). Now, the Italian company is dipping its toes into the world of yacht design. The Fibonacci, named for the Italian mathematician, is an electric catamaran concept that holds the same innovative philosophy as the Nucleus — except on water. Inspired by the smooth lines of a piano, the elegant boat has been developed as a flowing movement between the main deck and hulls, with a sweeping parabolic wooden deck that creates a pass-through. The nifty vessel will be perfect for a weekend jaunt at sea.