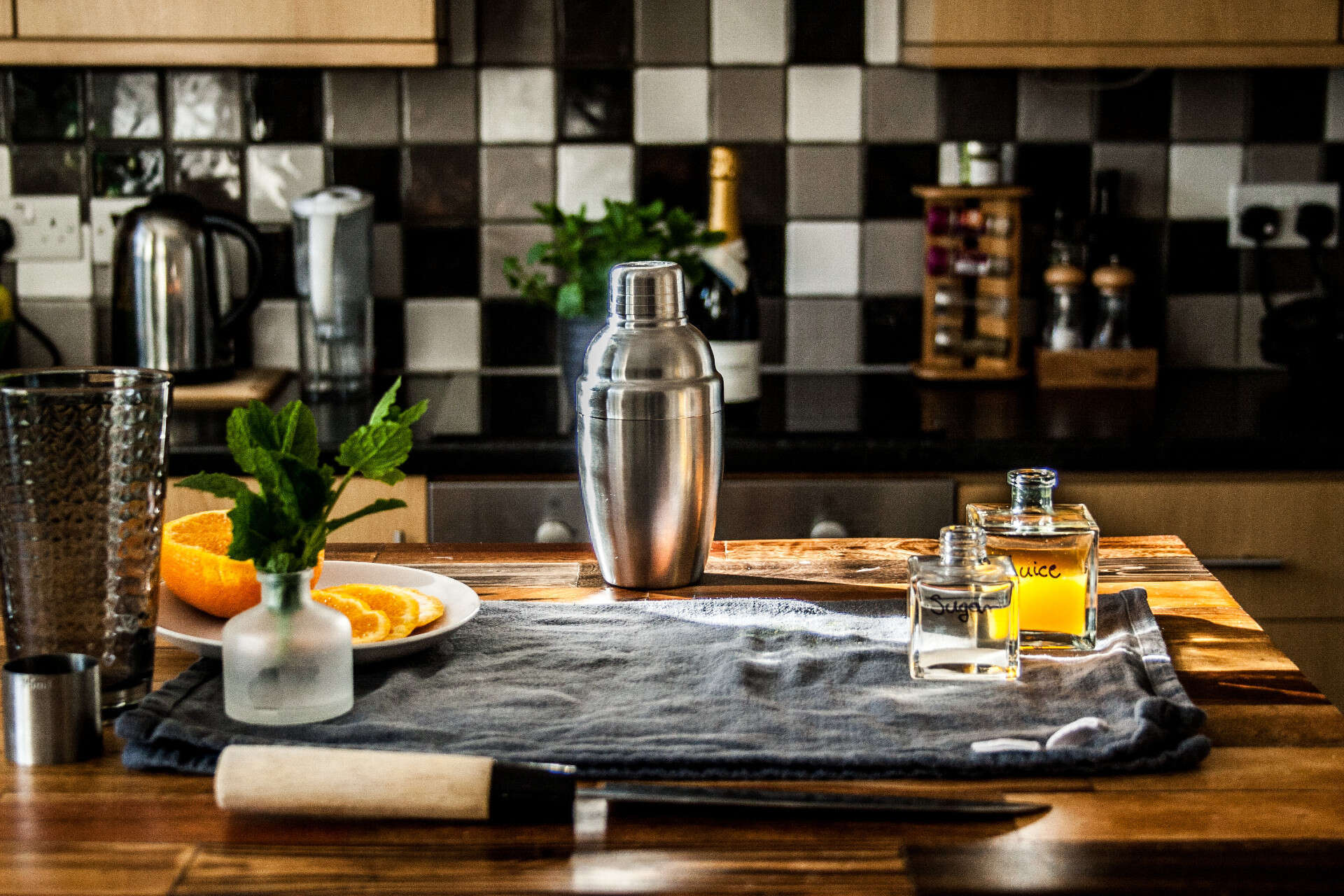 With everyone spending more time at home, it's understandable that the design of our spaces is more important than ever. Now is a great time to make changes to elevate decor and find new accessories that will perfectly complement the design of your home. This could even include creating or updating an elegant home bar, bringing the feeling of your favorite spot into your home while hotels, bars and restaurants are closed. For those looking for inspiration, Elite Traveler has curated a list of luxurious home bar accessories guaranteed to be the envy of all who see them.
Michael Aram, Twist Bar Tool Set With Stand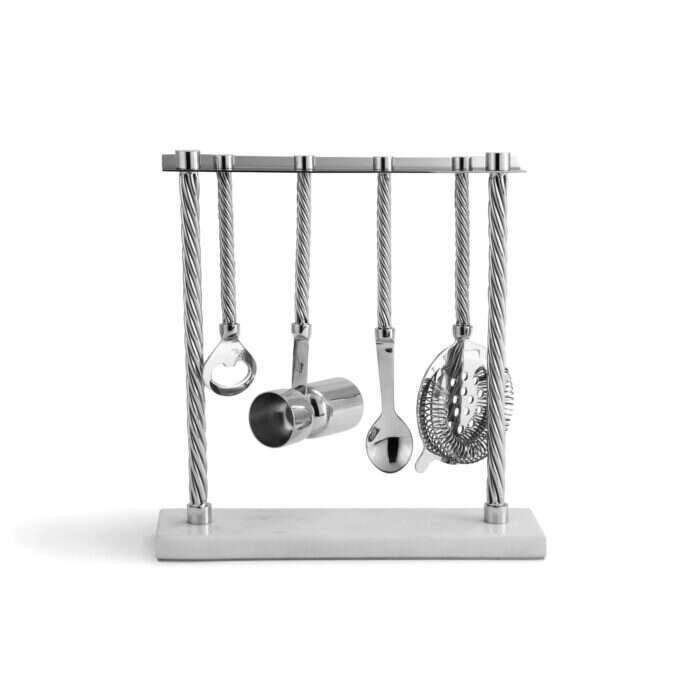 Award-winning artist Michael Aram has dedicated his career to craft-based design, often using traditional hand-working methods for his unique objects. Both a working set of tools and a sculpture in itself, this Twist Bar tool set and stand were created to be practical and elegant; their woven wires have been designed to create a sense of calm. Made with stainless steel, the set features a bottle opener, jigger, stirrer and strainer.
$300, michaelaram.com
Georg Jensen, Sky Ice Cubes 
No one enjoys watered-down cocktails. Instead of opting for ice, choose these chic stainless-steel ice cubes. Best known for its Scandinavian design, Georg Jensen has created these four simple yet beautiful ice cubes to be kept in the freezer – simply pop them in a glass when your drink is ready to serve. The Sky Ice Cube set was designed by Aurelian Barbry, whose designs often feature sculptural asymmetric shapes.
$39, georgjensen.com
Baccarat, Mille Nuits Bowl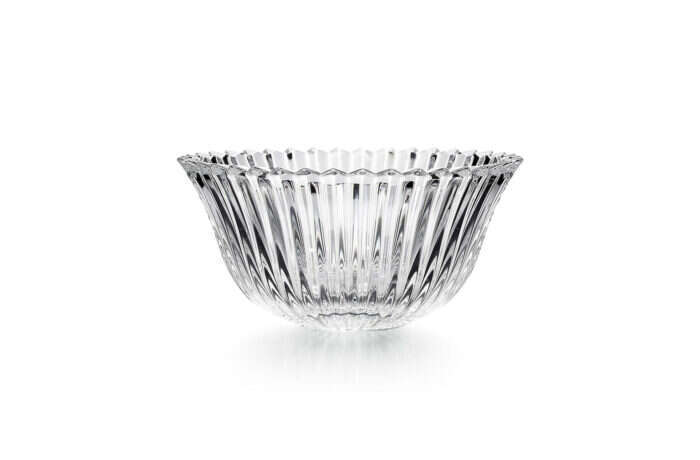 Though it may be one of the smaller bar accessories on this list, this Baccarat crystal Mille Nuits bowl has a subtle grandeur that makes it worthy of a place on your home bar's countertop. The style and cut of the bowl is reminiscent of Baroque design, while its name is a reference to the Arabian stories of 1,001 nights. Versatile and elegant, the Mille Nuits bowl will take bar-side snacking to a whole new level.
$155, baccarat.com
[See also: The Luxury Design Gift Guide 2020]
Trove, Rattan Bar Trolley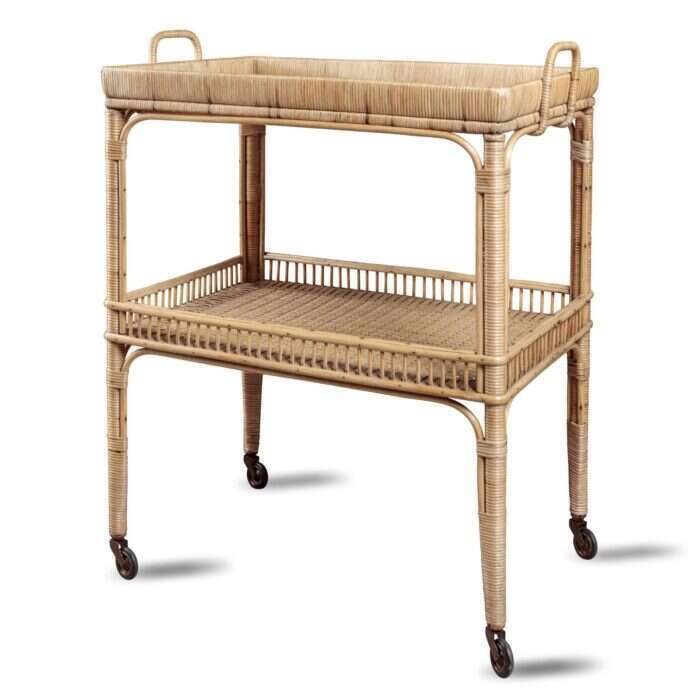 Depending on the design of your bar, you might be looking to mix contemporary objects with vintage pieces. Equally, you could be going for a themed space such as a tiki bar or a one with retro touches. Whatever your style, this rattan bar trolley is sure to make a statement. Dated circa 1900, this vintage French trolley has two shelves and a generous amount of space for all your cocktail essentials.
$1,860, thetrove.co.uk
L'Imperium France, Hussard Champagne Saber
L'Imperium France's Hussard champagne saber is dedicated to the highest level of craftsmanship possible. This saber has been handmade in France using a fossilized Siberian mammoth molar on the handle and Damascus stainless steel blade. Mammoth molar is extremely rare and is used only by the best craftsmen to make luxury cutlery. There is also a brilliant shaped diamond set into the handle of the saber, and it comes in a case with a python sheath.
$7,450, limperium.fr
Aerin, Martina Cocktail Picks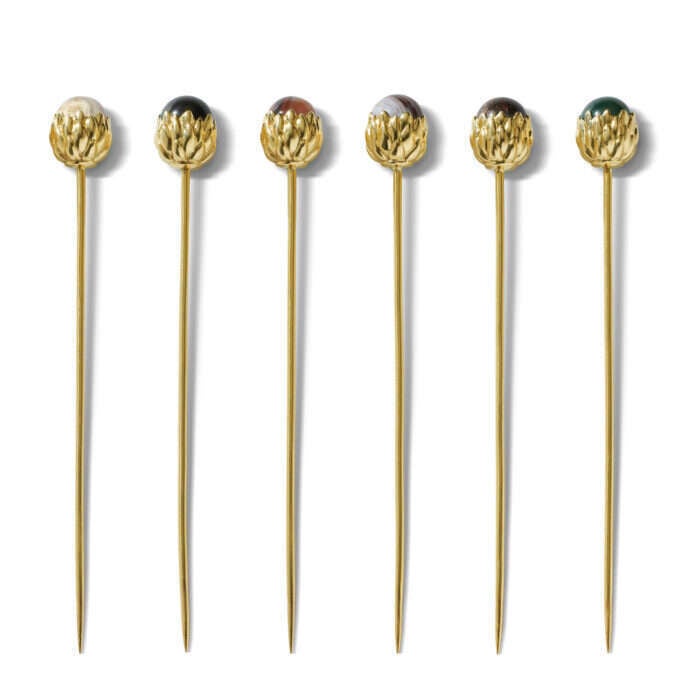 Another small accessory on our list, these Martina cocktail picks are ideal for entertaining guests or a group – and with their delightful acorn design, they might just steal the show. Each of the set of six features a semiprecious gemstone wrapped in the brass acorn design. As each stone is different, these Martina cocktail picks are also a great option for personalizing cocktails or ensuring each guest has their own snacking utensil.
$250, aerin.com
Nkuku, Obra Bar With Wine Glass Storage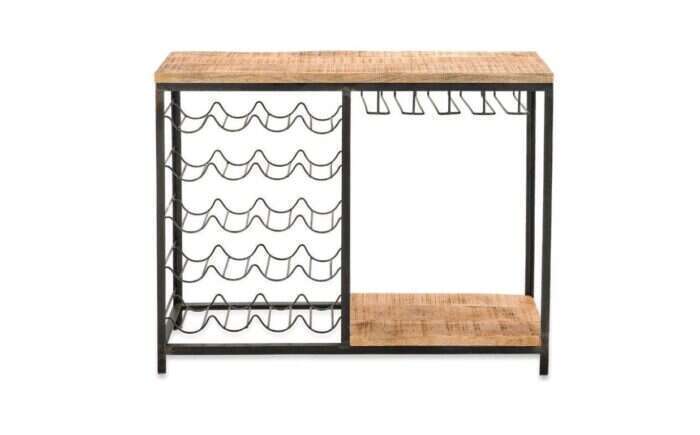 A charming, practical piece, the Obra Bar with Wine Glass Storage is a great complement to a wine cellar, enabling you to choose and store your favorite wines closer to where the action happens. The design also includes a low wooden shelf for larger bottles or spirits, overhead hanging storage for up to 16 glasses and a natural mango wood bar top that has been created from sustainable mango wood.
$688, nkuku.com
Asprey, Rocket Cocktail Shaker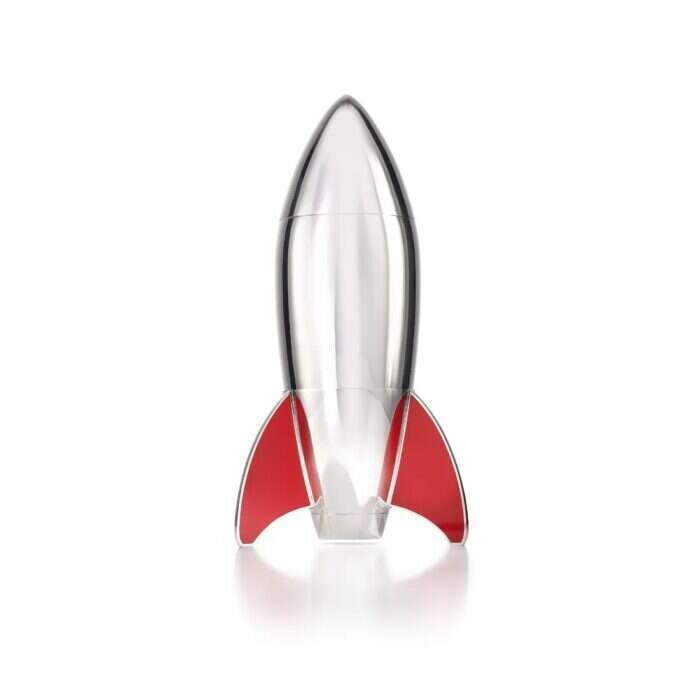 Asprey is famous for its skilled silversmiths who create a range of designs, including iconic cocktail shakers. Inspired by early 20th century design, this rocket shaker might be one of the most notable designs yet. Made using sterling silver in Asprey's London workshop, the 11.5-inch shaker has red enamel detailing on its fins and a maximum volume of one liter – perfect for whipping up several cocktails at once.
$12,600, asprey.com
Anna New York, Héritage Tray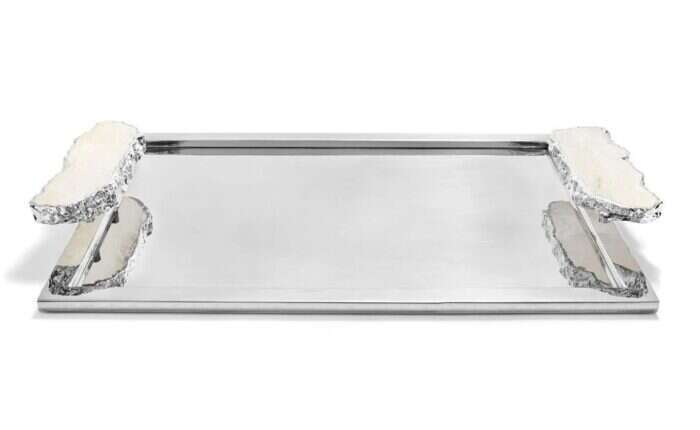 Serve drinks, snacks or hors d'oeuvres in style with this Héritage gemstone tray from Anna New York. Assembled in the USA, each tray is made from stainless steel and features handles with silver-plated gemstones, making each one unique, as the size, color and pattern of the stone will change. There are two versions of the Héritage tray: one with crystal (a gemstone associated with clarity) and one with amethyst (associated with empowerment and strength).
$595, annanewyork.com