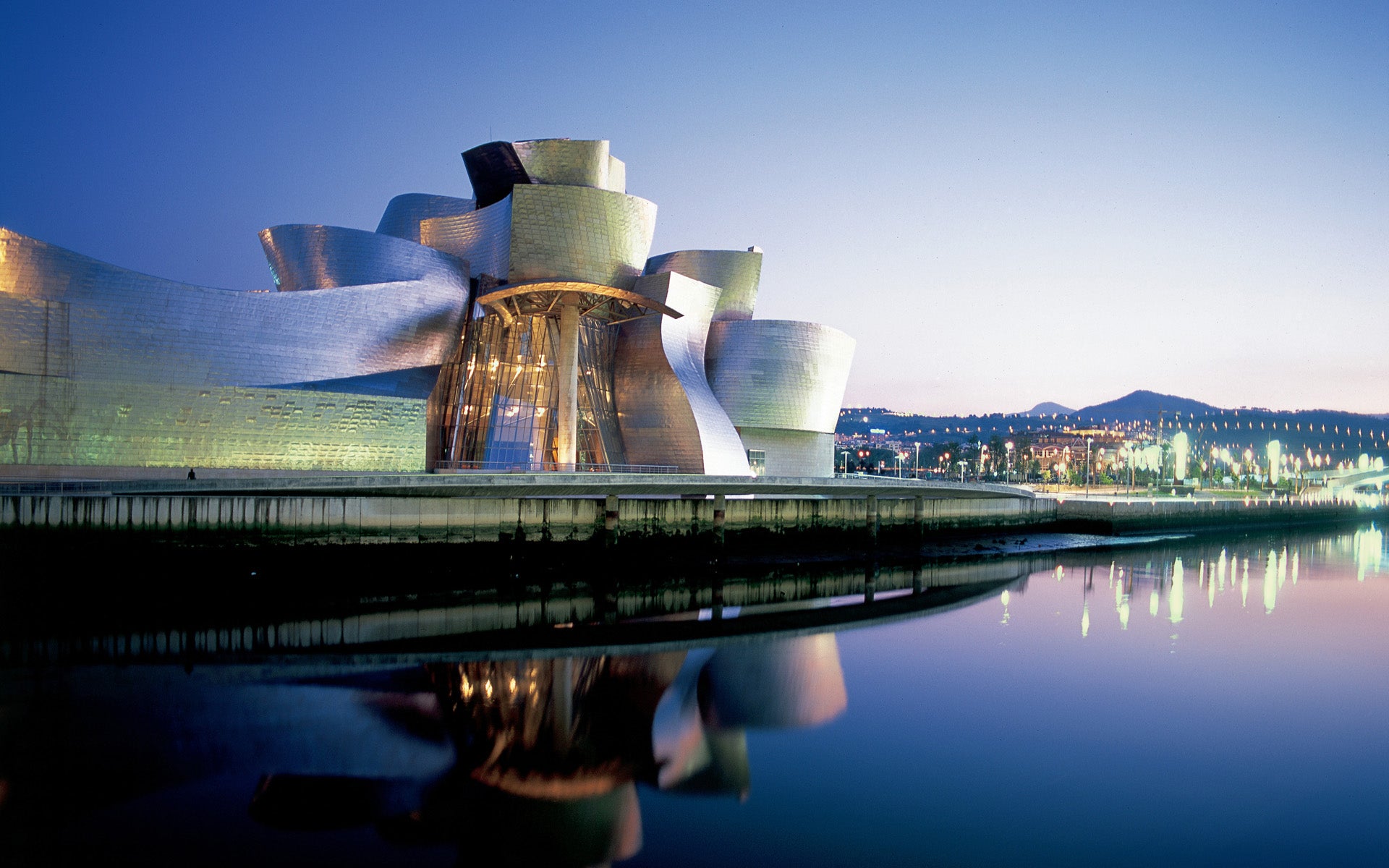 The ongoing spread of the novel coronavirus Covid-19 has put paid to hundreds of thousands of travel plans across the world. Millions of people are once again being forced or advised to remain inside, and art galleries and museums will close their doors. But thanks to modern technology, you can explore thousands of galleries and museums from the comfort and safety of your living room. Here, we pick some of the best virtual museum and art gallery tours to take during lockdown.
Guggenheim, Bilbao
The Guggenheim is perhaps more famous for the stunning titanium and steel building within which its located. The distinctive structure was designed by Frank Gehry as a tribute to Bilbao's naval and industrial heritage. But in the absence of visiting this architectural treasure, you can explore its extensive collection of modern art through its interactive tour. Some of the more notable artworks include Untitled by Mark Rothko and Nine Discourses On Commodus by Cy Twombly. Its most iconic piece, Maman by Louise Bourgeois, stands just outside of the museum.
Natural History Museum, London
The Natural History Museum in London is beloved by both tourists and locals. Housing hundreds and thousands of treasures, visitors can wander around its storied corridors for hours on end and still not see all it has to offer Although its doors are now closed, you can enjoy much of what it has to offer in its interactive online guide. See the Emperor penguin eggs brought home by some of the first Antarctic expeditions and see some of the oldest human skeletons ever found in the Darwin Center.
J Paul Getty Museum, Los Angeles
With pieces dating back 6,000 years, the Getty offers one of the most complete collections of artistic treasures in the world. Its most prized pieces, Irises by Vincent van Gogh and La Promenade by Renior, both feature on the virtual tour. A museum view is also available on the Google Arts and Culture tool. From there, you can explore the Getty Center's many outdoor sculptures as well as its Center of Photographs. The latter is widely regarded as the finest collection of photographs in world, dating from the earliest days of camera technology.
Vatican Museums, Rome
Italy has been struck hardest by the coronavirus and due to its elderly population, Vatican City was quickly locked down. While it remains closed for the foreseeable future, its treasures remain in place. The website offers a virtual tour of its most stunning sites, which allows you to marvel at Michelangelo's ceiling inside the Sistine Chapel. Other marvels to visit include The You Visit tour allows you to wander around the world's smallest country digitally and even has a tour guide option that offers information on each significant site.
museivaticani.va/en/collezioni/musei/
Van Gogh Museum, Amsterdam
Amsterdam is one of Europe's most visited cities and the Van Gogh Museum is one of the most visited sights within the city. Van Gogh's story of tragedy and genius resonates with millions of people around the world, many of whom come here to marvel at over 200 paintings, 500 drawings and 750 personal letters. The Google Arts & Culture tool now offers access to the entire museum, allowing you to get up close and personal with some of the most treasured artwork in the world.
artsandculture.google.com/van-gogh-museum
Guggenheim Museum, New York
Marvel at one of the most Instagrammable staircases in the world before absorbing a huge collection of art from the Impressionist, Modern and Contemporary eras. A visit to the Guggenheim is a unique experience unlike any offered by a conventional art gallery – architect Frank Lloyd Wright designed the museum as a journey, with visitors walking up (or down) a gently sloping spiral. The galleries are divided like membranes in citrus fruit, with self-contained yet interdependent sections. Visitors can view pieces by great artists like Picasso, Kandinsky and Miró at their via Google Arts & Culture.
artsandculture.google.com/solomon-r-guggenheim-museum
Picasso Museum, Barcelona
The Picasso Museum, located in the heart of Barcelona's Latin Quarter, is visited by millions every year. They come to marvel at the best works of perhaps the most famous painter of all, but stay to marvel at the best-preserved Medieval architecture in Barcelona. The online tour offers a large selection of Picasso's finest works as well as virtual tours of the museum's beautiful courtyards.
Metropolitan Museum of Modern Art, New York
You can explore 129 artworks from arguably the most famous museum in the world through the Google Arts & Culture program. That includes some of its most prized assets, such as Van Gogh's Starry Night and Rousseau's The Sleeping Gypsy. In total, MoMA boasts a collection of over 150,000 paintings, sculptures, drawings, prints, photographs, architectural models and drawings, and design objects. Even for the most learned aficionado, there are myriad opportunities to discover and learn something new about modern art.
British Museum, London
The British Museum was the first national museum in the world. Opened in 1759, it serves the same purpose as it did back then, offering a view of human history with priceless artifacts from every corner of the globe. From a rock tool carved by early humans 1.8m years ago to items made as recently as the 1950s, the British Museum's virtual tour grants you access to some of its most prized possessions such as the Rosetta Stone and the Elgin Marbles.
Musée d'Orsay, Paris
Musée d'Orsay was originally built as a grand railway station and hotel, but today houses the largest collection of impressionist and post-Impressionist works in the world. Much of this can now be experienced through its own virtual tour, offering a complete history of the impressionist era through the works of Monet and Gauguin amongst many others. There is also an online exhibition on the storied history of the building itself.
artsandculture.google.com/musee-dorsay-paris
National Palace Museum, Taipei
With a permanent collection of almost 700,000 pieces stretching back 8,000 years, the National Palace Museum in Taipei boasts one of the most extensive collections of Chinese artifacts and artworks. Its virtual online platform allows you to explore the huge space and all of its permanent exhibitions. However, with such an extensive collection, you will be best served taking one of the featured tour routes, which allows you to quickly browse the museum's most treasured items.