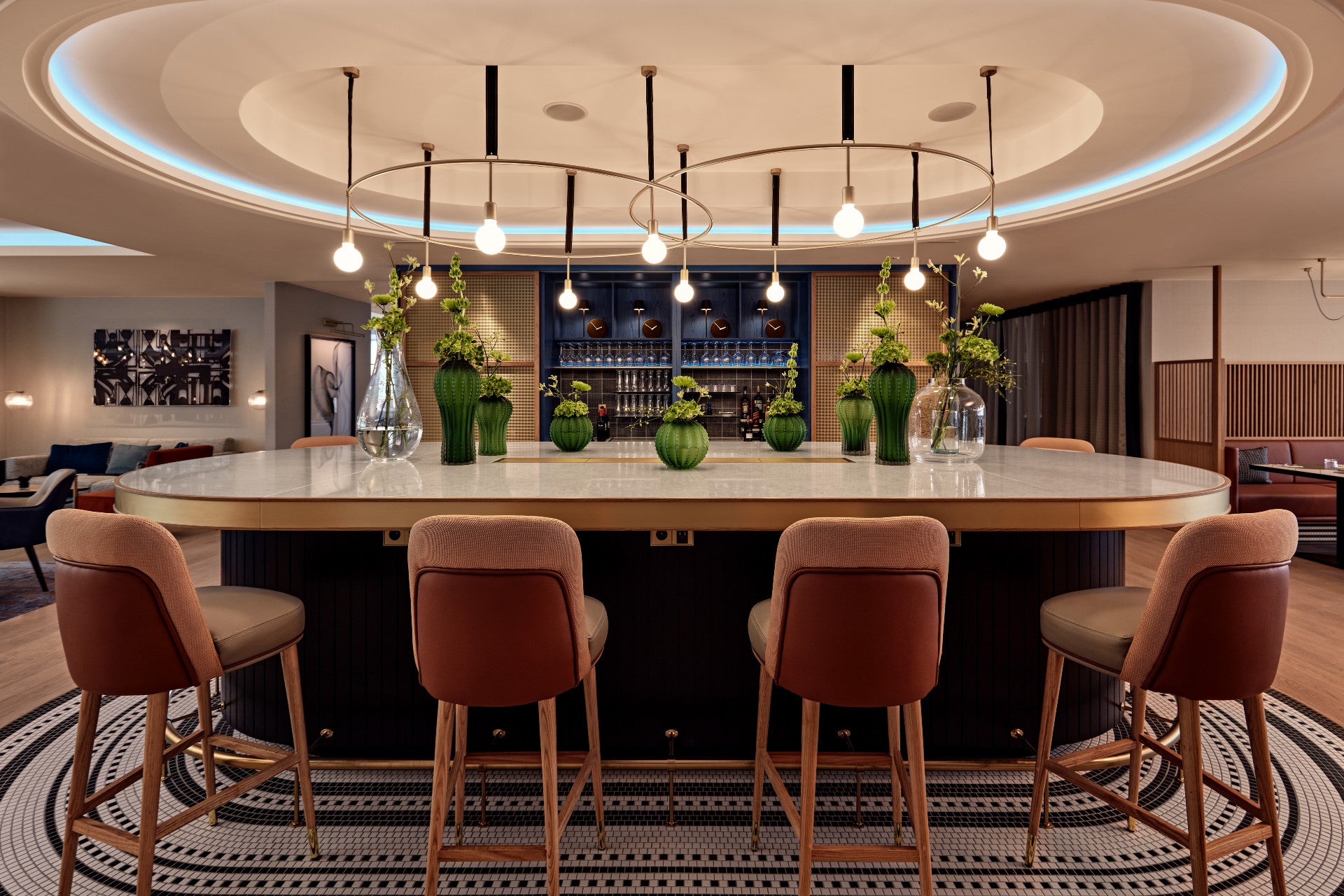 It is normal for interior design trends to emerge or die down each year, but this year has been significantly different from the rest, not least because of the Covid-19 pandemic. Several such trends have sprung up in the wake of the current climate and are set to continue garnering interest well into the new year. With this in mind, we spoke to five interior designers – Charu Gandhi, Jo Littlefair, Ed Ng, Winch Design and Elisabeth Rogoff – to discover their insights into the interior design trends that will be most prevalent in 2021.
Reimagining Furniture
Whether it's investing in a campaign-inspired desk, or the return of the drinks cabinet and trolley, antiquated furniture has slowly been making a comeback, thanks to the growing interest in owning pieces that are full of craftsmanship and heritage. As Littlefair, co-founder of Goddard Littlefair, mentions, "Drinks trolleys in hotels have been popular for some time, and we've seen the theater that they can bring to a cocktail evening, whilst linking to a more decadent period of time such as the swinging '20s." "In the home, [these pieces fill our need for] a bit of self-indulgence or pampering," agrees the co-founder of AB Concept Ed Ng. "These kinds of [pieces] also anchor memories and set the milestones in our lives."
Award-winning design studio Elicyon has definitely noticed this, says its founder, Charu Gandhi. "We recently worked on a private apartment within Chelsea Barracks where we incorporated a bespoke small chest of drawers with an adjoining upholstered bench – a contemporary take on the traditional telephone table. Looking ahead, the roll-top desk could be set for a comeback," Gandhi predicts. "Not only are they beautifully crafted pieces, but they serve a practical purpose, allowing those working from home to hide away laptops and work paraphernalia at the end of the day.
[See more: Chelsea Barracks Launches Exclusive Furniture Collection]
Paint as Material
Textures and fabrics usually go hand in hand, but a new way of creating texture in an interior has recently come on the scene – by using paint and plaster in innovative ways. While paint is used to simply refer to the color of the walls or ceiling, "paint texture is becoming a pivotal element of a design scheme, and we've noted a much more experimental approach being taken," says Gandhi.
"High gloss paints and even '80s-style sponge techniques are being used to add texture, depth and interest to walls," Elicyon's founder continues. "Another popular choice is textured plaster – we love to work with polished plaster in a bathroom."
New Neutrals
According to Gandhi, the new neutrals "comprise ivory base notes and a scattering of additional tones including rust, pink, beige, mustard and burnt orange," and is a color palette that is being seen more and more in the projects her studio is involved in. Coincidently, these colors work perfectly in tandem with Dulux's 2021 Color of the Year: Brave Ground, which Gandhi says is "the ideal base to build from" when using orange or pink tones.
"I find Brave Ground has a place as a warm, nurturing color," agrees Elisabeth Rogoff, a principal at Champalimaud Design. "It sets an earthy tone." As it is neutral enough to invite splashes of more bold colors, Brave Ground is a versatile and comforting choice for the 2021 Color of the Year. It "speaks to our desire to invite calm and stability back into our lives and to make choices that won't flit in and out of fashion," says Littlefair.
"There is always an ease of living with a neutral backdrop where smaller elements can be played with to change the tempo," the co-founder of the international design studio continues. "Cushions and decorative lighting choices are simple to change and can amplify the sense of color and decoration one step at a time."
Natural Materials
Now more than ever, interior designers are finding that there is a move toward using natural materials – something that many hope will not simply be a trend but become a stable consideration for future projects. "As a studio, we are focusing heavily on using natural materials such as linen, wool, rattan and light blonde timbers," Gandhi confirms. Rogoff suggests that this change to using natural materials could be to do with the "global warming and environmental concerns [that are becoming] paramount."
"[It] seems completely logical considering our current circumstances," Littlefair agrees. "We have a heightened awareness of the environment, how nature has impacted our lives and the legacy that we leave behind. We are pushing for greener and more sustainable ways to design, from materiality to design style, combined with cleaner lines of design, which perhaps appeals to the sensitivities around cleanliness post-2020."
"Our interiors team have been working hard incorporating an extensive selection of sustainable materials into their main sample library so that they can offer environmentally friendly solutions with every design," says a spokesperson from the luxury interior design studio Winch Design. "Traditional finishes such as shagreen and horn can be substituted with faux versions with great success. Examples include olive-tanned and plant-based leathers, as well as fabrics such as organic cotton and bamboo, which are much kinder to our planet."
Sculptural Furniture
With many of us spending more time indoors and in our homes, the spaces we live in are beginning to become more informal and multifunctional. Traditional entertaining and dining areas are less desirable when a space has to serve a range of purposes; instead, there is a growing trend of creating laid-back arrangements, which has given rise to an increase of sculptural furniture. "It's become the accent piece, the gem and the highlight of a space – and now has become a required part of any polished interior look," says Ng.
"Sculptural furniture helps to break up a space and creates a more fluid ambience," explains Gandhi. "We're using a lot of textured fabrics such as suede, wool and bouclé for our upholstery pieces, and these lend themselves to rounder, softer pieces. It's also all about the placement of the pieces – a curved sofa, for example, can draw the eye to a particular view or lead you through to another room. They also speak to the fun and decadent spirit of the Art Deco 1920s."
"Bespoke sculptural furniture has increasingly become a prominent part of our designs," says Winch Design. "It allows for the furniture to fully integrate with the energy and backdrop of each room. Most recently, Winch has created a bar for a yacht project which was developed to mimic the forms found in moving water. It perfectly matches the spirit that our interior team has created, and offers up complete originality."
Outdoor Spaces
A trend that has risen to the fore as a result of the current climate is the desire for well-designed outdoor spaces and "extending living spaces outdoors," says Rogoff. These outdoor environments are perceived as safer spaces to socialize; as a result, many hospitality venues are investing in their outdoor offerings, enticing guests in with the promise of a cozy, safe environment.
"We [have sensed] the calm that our clients feel by being connected to nature and, as such, how this enhances their well-being," Littlefair mentions. "As interior designers, we always aspire to integrate outdoor space into interior spaces as much as possible. The effect is to create additional 'rooms' that link to the interior and then zones that blend into the greater landscape behind it."
Gandhi has found that for her studio, whether they be an expansive garden, courtyard or terrace, outdoor spaces are now a "key consideration on many of our projects," she says. "We have [also] seen a growing demand for statement outdoor furniture and accessories such as wall lights and lanterns, durable throws and cushions, and innovative heating solutions."