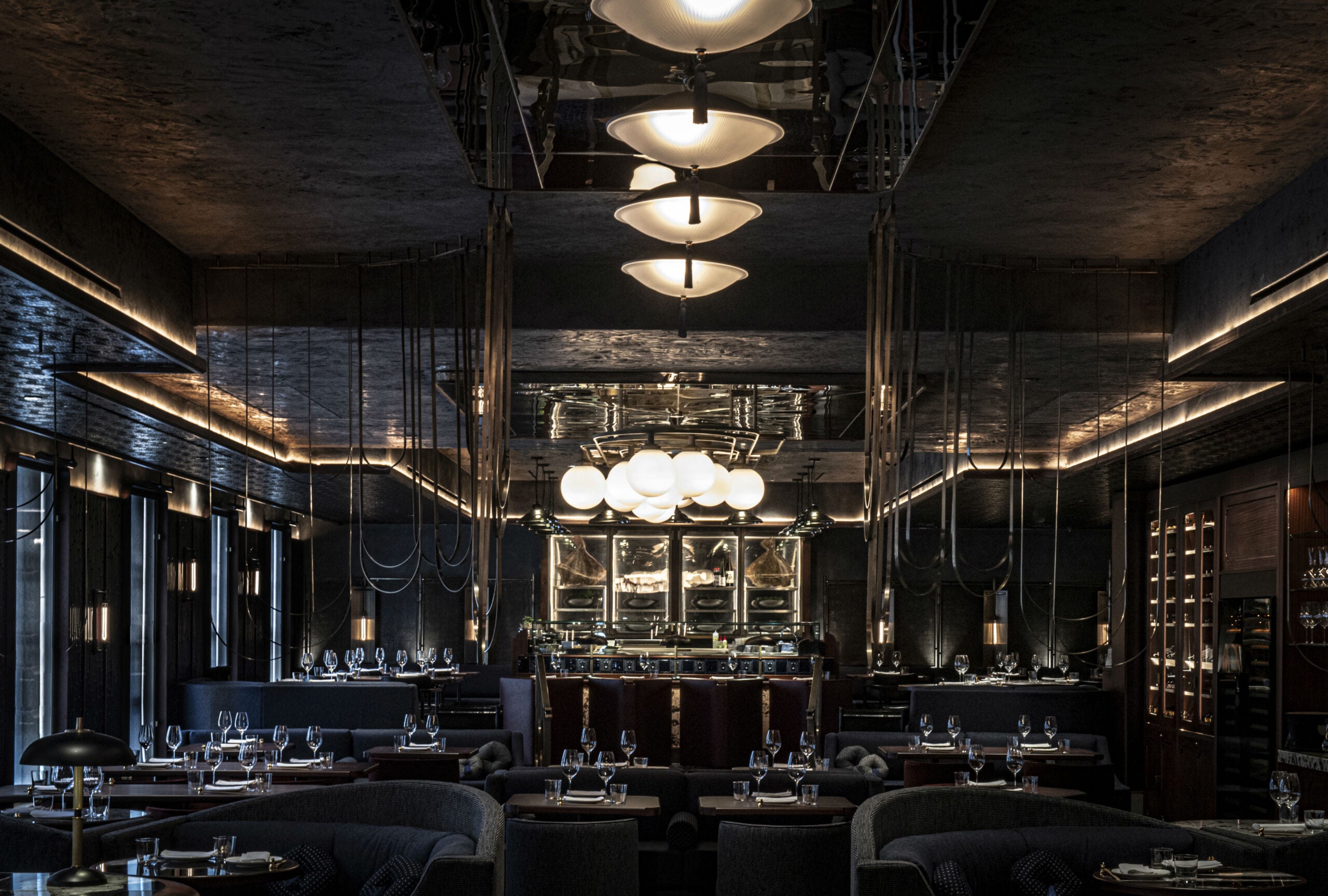 Well known for its unique approach to hospitality design, internationally-acclaimed design firm Afroditi Krassa Studio often creates whole worlds for a project's interior. Recently, the studio has unveiled the design for its latest project: Gordon Ramsay's new restaurant, Lucky Cat. Described as an 'Asian eating house', Lucky Cat is Ramsay's first new major London restaurant in over a decade.
Every element of Lucky Cat has been designed by Krassa and her team, with the finished restaurant taking inspiration from a range of design styles. We spoke to Krassa to find out more about Lucky Cat's design, where the concept came from, and what this means for the design studio.
When Krassa first met Ramsay and his team to start work on Lucky Cat's design, "they had already designed a menu." It picked on a lot of small, casual plates from different parts of Asia, so was "slightly pan-Asian," Krassa mentions. She was tasked with creating a "concept that would not be gimmicky. It needed to last for many years and become a center point in Grosvenor Square."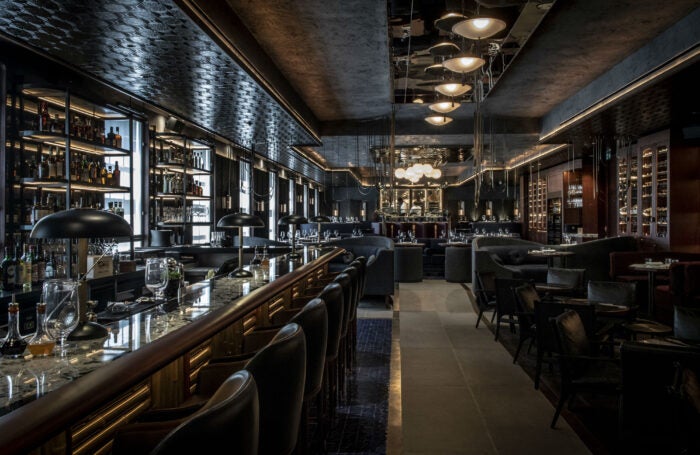 As well as the Asian influences, Krassa says that the Lucky Cat team gave her a "lot of interesting references from places they admire, including subtle, beautiful designs in Scandinavia." Apart from these references, the brief for the restaurant was left open­—the only condition was that the restaurant team wanted to "create something with integrity, authenticity, and weight."
While looking for inspiration for Lucky Cat, Krassa came across Japanese concepts called Kissas, which were "great spaces in Tokyo" that were popular in the 1930s and 40s. "These were effectively jazz bars that were slightly illegal," Krassa explains. "At the time, jazz music and European music was illegal in Japan. They were slightly subversive, underground spaces, almost like a Japanese speakeasy."
The Kissas that she was researching were "slightly European in their look," Krassa continues. "They didn't look typically Japanese, because they were trying to emulate the look of Europe. Instead, they had this slight Art Deco, European look and feel, and we thought it was quite interesting not to look typically Japanese or expected Asian."
With this influence in mind, Krassa created a sophisticated, urban environment for Lucky Cat. The restaurant—like the Kissas of the 40s—is not 'expected Asian'. Art Deco touch points and an open-plan layout that ensures every table in the restaurant has a unique perspective of the space. "Even down to the lights, they all hint at the typical Japanese design, but all of it is slightly abstracted and twisted," she says.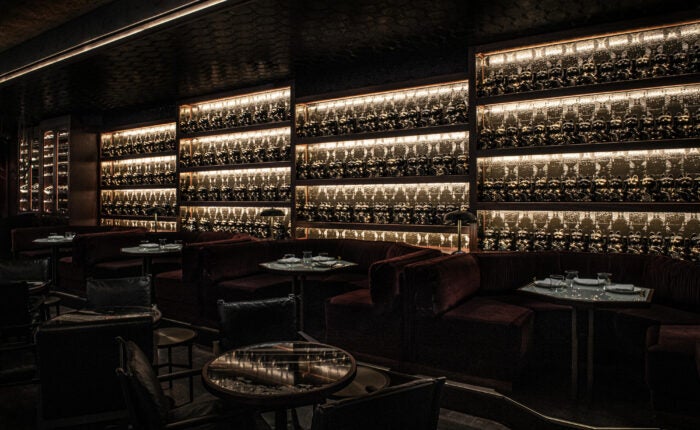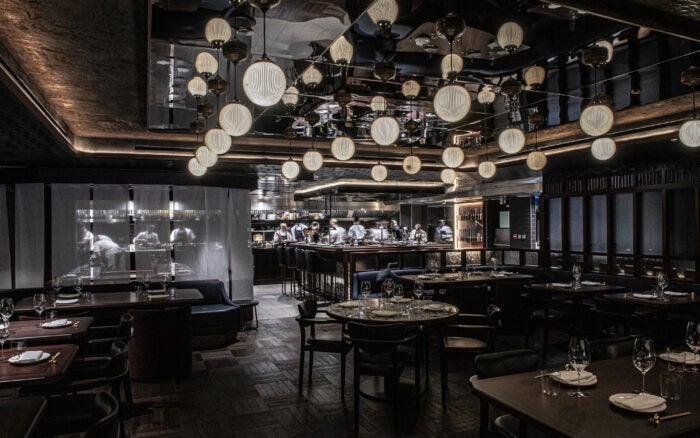 "There are a lot of geometric motifs, which goes back to the Japanese mentality of everything being linear and geometric. We wanted to refer to that world without being typical. We wanted Lucky Cat to be urbanized and very city-like, not for it to follow minimalism. It's the opposite—it's quite rich without becoming full opulent."
While Lucky Cat's overarching design creates a seamless flow through the venue, the restaurant includes three different spaces focus on a particular element of Lucky Cat's offering. The first is the long, cast brass bamboo bar, which greets diners as they enter the restaurant. The second is the Raw Bar, where guests can watch sushi and sashimi being made.
The third is the two Chef's Tables, situated in the heart of the restaurant. One features a traditional Japanese design, set low into the space, while the other has high bar stools and a more relaxed approach. Diners can also hire out a private dining room for events and celebrations— its interiors echo the main restaurant's space, with splashes of indigo, leather chairs, and warm, low lighting.
Throughout the restaurant, Krassa has introduced design features that subtly enhance the Asian flair of the space. Intricate, curved brass and layered linen screens dot the venue, creating an intimate feeling. Antique mirrors, black bamboo paneling, and geometric patterns build on the design and catch the eye, while the distressed leather seating and Japanese indigo dyed fabrics create a playful finish.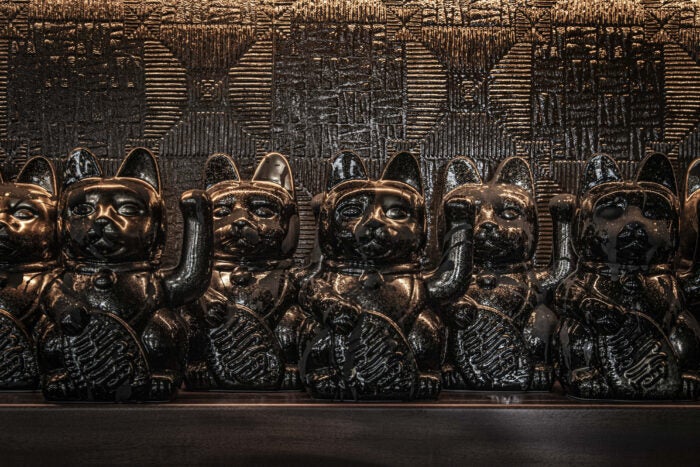 "We've used a lot of bamboo as a surface but it's painted and lacquered; there's weaved materials, and wickers, which transport you to the warm environment," Krassa mentions. "There's a lot of bespoke and unique elements, from the ceramic cat tiles to the wall of 300 Maneki-Neko cats that have been hand-painted. It's stretched the capabilities of the client as well as our capabilities."
Subtle references to the 'Lucky Cat' name run throughout the restaurant, but where did this inspired name come from? "The cat symbolism is strong across all of Asia, in terms of bringing luck and being a symbol of prosperity and welcoming," Krassa says, but admits this is not the only reason the name was chosen. "We were trying to describe the type of people that would hang out in these spaces," she continues.
Krassa mentions that when 'Lucky Cat' was presented to Ramsay (along with several other potential names), it was the one he instinctively warmed to.  "It's a strong name, it's punchy," she says. "You remember it, you build stories around it and it plays with so many things we were going with." Though Lucky Cat is one of the most anticipated openings this summer, only time will tell if Ramsay's new restaurant will live up to its name.
afroditi.com
gordonramsayrestaurants.com