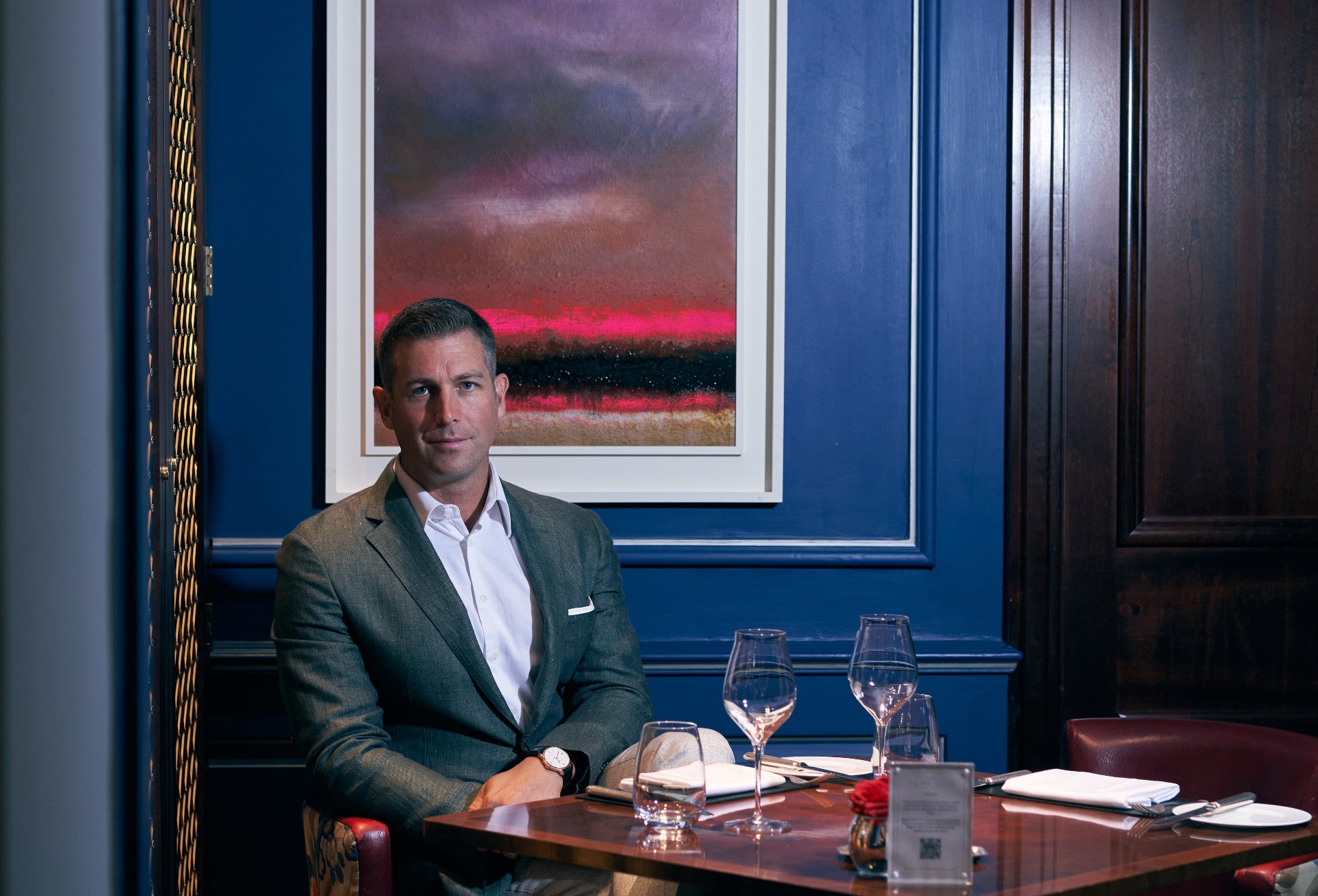 Founded in 2015 by Dale Atkinson, Rosendale Design is one of the UK's leading interior design studios, specializing in luxury hospitality, retail and residential projects. Catering to all aspects of design — from interiors through to furniture and lighting — the studio has a rich history of working with some of the world's most renowned chefs, property developers, and hoteliers.
Most recently, Rosendale Design has revealed its interiors for 17 Main House rooms and the brand new Park Suite at London's iconic hotel, The Stafford. We spoke to Dale Atkinson to find out more about the studio, finding inspiration, and designing for The Stafford hotel.
Tell us more about yourself?
I was born and raised in Western Canada, at the foothills of the Rocky Mountains. When I was 20, I moved to the UK to further my studies, and then decided to utilize my British passport and move to Europe to explore and experience it much as possible. After completing my Masters at the Bartlett School of Architecture (UCL), I moved to Italy for a year and a half, before returning to London to continue my professional career, including working at Foster + Partners.
What sparked your initial interest in design and architecture?
My father's company used to build large scale projects, such as the Toronto Blue Jays Stadium, the Miami-Dade Courthouse, as well as various hospitals and universities throughout North America. Growing up, I would accompany him to the sites at various stages of the build and I would see the projects progress and how they came together. Sometimes he would even take me to the architect's studio and on occasion their home, to see how they worked, discuss the concept, and see various sketches of details.
Why did you decide to set up Rosendale Design?
From early on, it was something that I always knew I wanted to do. This was one thing that I was clear about when I started studying. I always had a certain path that I set out and luckily, it ended being the right one! After completing a few projects and hearing from the clients that I should set up my own practice, I knew the time was right and that I was ready.
How do you ensure your designs stand out in a crowded market, and also stand the test of time?
We have always looked to achieve projects that are refined and timeless. When a project is handed over, we do not want it to look polished and brand new. Ideally, the project looks as though it has already been there for a few years. Most importantly, we treat each project individually — we want it to reflect the client. Whether it be a hotel, a restaurant, or a residential project, we get to know the client and their team.
Are there any architects or designers, past or present, who you specifically admire?
Adolf Loos, Roberto Peregalli, Renzo Mongiardino, William Turner, Chaim Soutine, Bill Reid, Ulafur Elliasson and Henry Moore, to name but a few.
Tell us about the inspiration in your designs: are your projects trend-led? Are there any destinations that inspire your designs?
We try to avoid following trends at all costs. For us, design is such a personal process and we believe that individuality is achieved by relating to the person or brand behind the project and attempting to manifest their ethos, interests, and personality in the project. After all, they are the ones who will be living or working in the space long after we are involved.
For hotels, we look to marry the ethos of the hotel, consider the demographic and the vernacular culture. With restaurants, we may look to the menu of the restaurant for anchors to base the design on. But if there is a certain region that needs consideration, we will also research the history of that region or area. A large amount of time spent on our projects is in the first two phases — research takes up a great deal of that time! Without the research, however, the project will never be rooted and today's clientele are incredibly discerning; they will see that a mile away.
How has luxury hospitality design across hotels and restaurants pivoted to match the "new normal", and what are the challenges because of this?
We are seeing a massive surge in people heading to the countryside to escape the city for short breaks. People feel safer in rural areas and I think that this will be a trend that holds for quite some time. We are also still viewing many sites with clients in the city, and here the two aspects that are being sought after more frequently are terraces and outdoor spaces. Failing that, clients are looking for a large glazed and openable frontage, allowing as much fresh air into the space as possible.
Hotels are also going to need to, at least, feel more spacious. As humans, we crave and need interactions —this will never change— but the industry will need to give confidence back to its clientele, especially those in the city centers. We have also been approached about looking into luxury serviced cottages, where families can have all the luxuries without mixing with people they do not know and where they have fresh country air.
Which Rosendale Design project(s) have you enjoyed working on the most?
I think the greatest compliment we can receive is when a client re-employs us or recommends us to their colleagues, friends, or family. We have been very lucky in that we have a close relationship with Chef Jason Atherton, with whom we have worked on five projects together, including their house. Chef Michel Roux, of Le Gavroche and Roux at Parliament Square, recommended us to his daughter, Emily Roux, and her husband, Diego Ferarri (ex-head chef at Gavroche) after a very successful collaboration.
In fact, to date, 90% of our projects are through word of mouth, return clients or client recommendations. Our projects and design process are so personal, we inevitably build relationships with our clients. In fact, we still keep in close contact with many of our clients. We love what we do, and the people are a massive part of that!
What drew you to The Stafford Hotel project? Can you tell us more about your work here, past and present?
When we started work on the Stafford, it was the first hotel we had worked with, which was very exciting. Thanks to our work on the Game Bird, we were asked to return to look at their destination bar, the American Bar. The timeline was very tight; the hotel was running on 90% occupancy and could not shut down. We had a two-week window to implement the designs. Thankfully the design was a great success — this year we won a design award for our work on the American Bar, for the "Best Bar/ Lounge/ Club in Europe" at the International Hotel and Property Awards.
Following the successful handover of the American Bar, Rosendale Design was invited back and entrusted with the redesign of the rooms of the main house. As mentioned earlier, the hotel cannot shut down, so we are looking at redesigning each floor or a selection of floors each year. We have also been asked to look at the main lobby and the historic cellars.
The latest set of rooms we have finished includes the Park Suite, which was once two of the smaller rooms on offer. After researching the layouts and discovering a direct relationship between the rooms (which were above one another), we proposed creating a grand maisonette suite that would boast a sprawling scenic terrace with views over the rooftops of central London all the way to the London Eye and Parliament. Specialist British craftsmen made much of the suite's bespoke furniture, such as the burr walnut tabletops, giving the hotel guests a quintessential British experience.
Did you have to make any adjustments to The Stafford's newest rooms from initial design to completion in light of the pandemic?
Actually, the biggest adjustments were seen in the furniture and fixtures. Throws and bolster cushions have been put on hold as these can carry bacteria and viruses. We are looking into fabric treatments moving forward but much is still unclear, so we are awaiting government advice and standards to be released. The hotel invested in a fully reinstated air conditioning system. When we relook at the lobby area we will need to readdress the experience of the customer, as they are welcomed and received, giving confidence without the client feeling alienated.
What's next for you and Rosendale Design?
Currently, we are working with Chef Jason Atherton on an F&B offering at the Santa Marina Resort, in Mykonos. This is due to open in May 2021. We are also working on a few residential projects in London and a new restaurant concept in Mayfair.