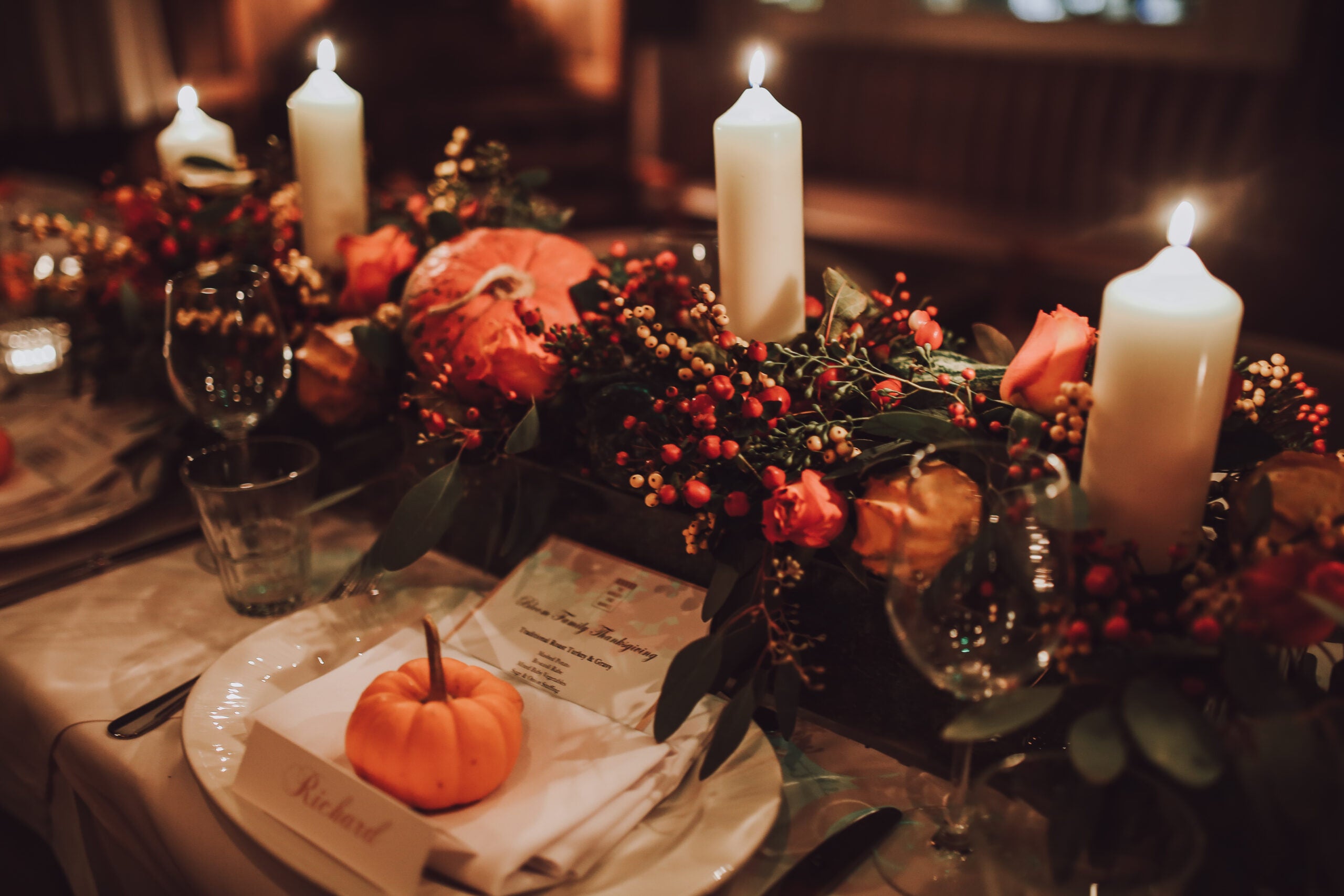 As 2020 draws to a close, what better way is there to find some comfort and normality after facing such an uncertain year, than by having Thanksgiving dinner surrounded by family and friends? Hosting the holiday also gives you the chance to get into the festive season and decorate your space, whether that's pulling out the family heirlooms or showcasing a beautiful new centerpiece. A well-decorated Thanksgiving table should be warm and welcoming, and is the perfect opportunity to get creative and share your unique style.
For those looking for a fresh look or some new pieces to add to your Thanksgiving table, Elite Traveler has put together a list of some of our favorite homeware, including everything from pots and pans to napkins and cheeseboards. Whether you're having Thanksgiving dinner with immediate family, or hosting a large gathering, we're sure you'll find something you love.
Drinks
When guests arrive, one of the easiest ways to make them comfortable and excited for the festivities is to pop the champagne and get them settled with a drink in hand. We love Riedel's Sommelier's Vintage Champagne flutes, which have a slimline shape to encourage the bead in any sparkling wine. For drivers, children, and other non-drinkers, a fruit punch or sparkling cider served in Baccarat's clear crystal Harmonie Pitcher is sure to hit the spot.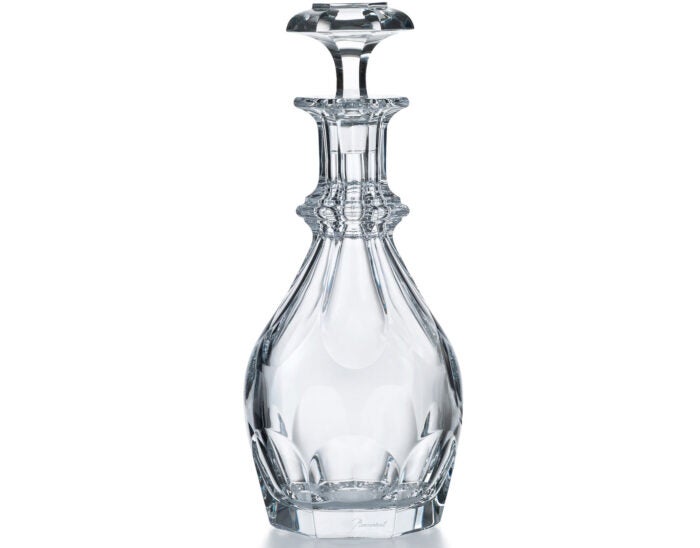 With the turkey in the oven and everyone enjoying a pre-dinner drink, now is the perfect time to decant that vintage you've been saving. Reputed for its iconic design and having been used by important figures across the globe, including the King of Morocco and Pope John-Paul II, Baccarat's Harcourt 1841 Decanter is our vessel of choice. Why not pair this elegant decanter with the individually-cut Medusa D'Or Wine Glass from Versace?
Cooking
Whether you're a whizz in the kitchen, or like to leave the cooking to someone else, it always helps to have cookware that is both stylish and functional — especially for a large meal like Thanksgiving dinner. For those who prefer copper cookware, opt for Ruffoni: these artisanal pots and pans have been hand-made in Italy by the same family since 1931. The Six Piece Set comes in a wooden box, also making them the perfect gift.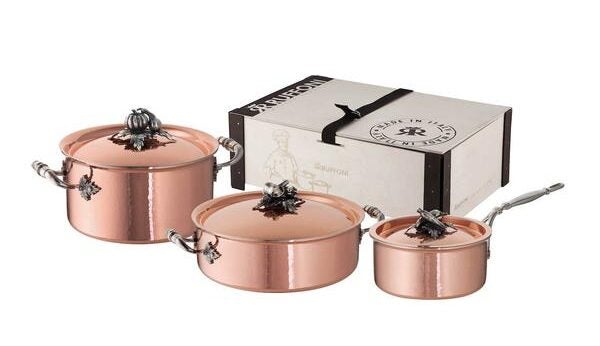 If you prefer a silver finish to your cookware, try Ondine's titanium stainless steel pieces, which are designed to last a lifetime. The entire Plantine Cookware Collection is available online, and includes seven different pots and pans. For roasting and baking, however, there's nothing quite like cast iron. Our favorite is Le Creuset — we love the 8-Piece Cast Iron Set, which comes in a range of colors to suit your kitchen decor.
Setting the Table
With friends and family around for the holidays, there's nothing more aesthetically pleasing than a well decorated dining table, with an elegant centerpiece — Michael Aram's Vine Candleholders has our vote. But what if your table won't seat all your guests, or has been stained by one too many wine glasses? It might be time to invest in a new table, and depending on your design tastes, we've got a few options that are well worth consideration.
The first is the Barbara Legno table, designed by Renato Zamberlan for Horm. With a concrete base, it is available with an oval or round top that comes in either walnut or oak, and is perfect for more intimate gatherings. For a more traditional, larger table, Vermont Woods Studio's Modern Shaker dining set is made to order, and coordinates with many design styles. Those with a more contemporary dining room will enjoy WUD Furniture's airy Jasper Dining Table, which can be customized in a range of finishes.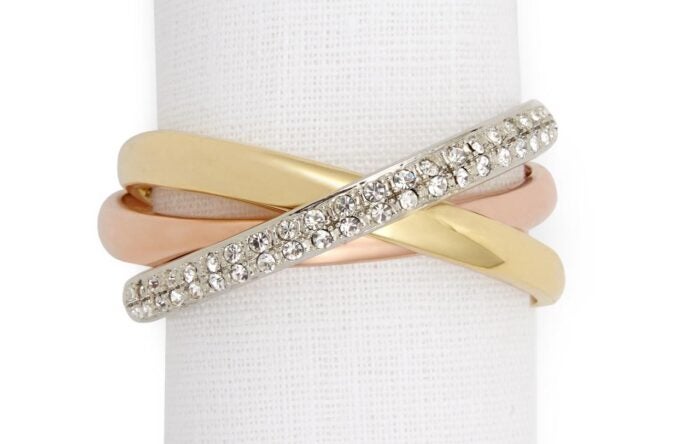 Another way to change the dining room decor without having to change the table is simply to invest in a new tablecloth — preferably one that has the 'wow' factor to set it apart from everyday dining. We love the forest-inspired Domaniale Tablecloth by Alexandre Turpault. If you want to match your tablecloth with your table runner, placemats, and napkins, try Weissfee's Gala Gold collection. Pair your napkins with some Three Ring Crystal napkin rings from L'Objet to give your table that final, elegant touch.
Serving and Dining
Before guests sit down to dinner, it's worth deciding whether you plan to carve the turkey at the table or if fully plated meals will be served directly from the kitchen. Either way, the number of courses you have should dictate what flatware is on the table. Make things easier by choosing flatware that matches: we love Christofle's Silver Plated flatware, which comes in sets for six, eight, or twelve.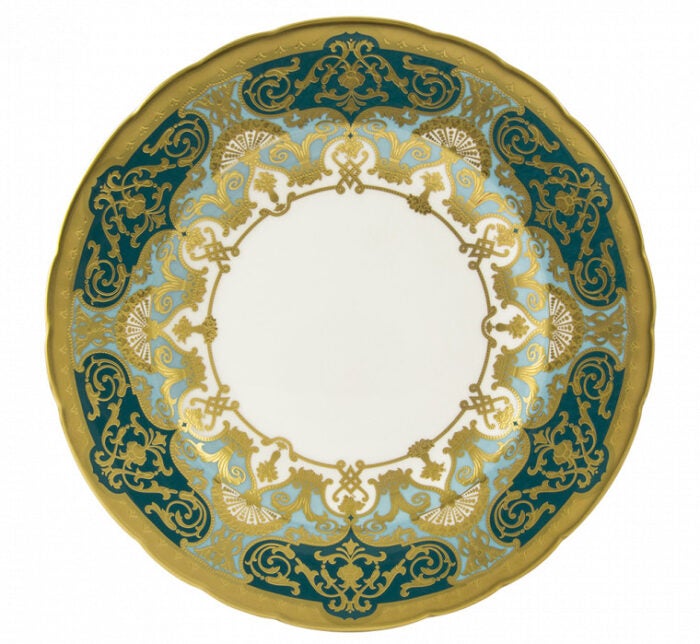 Many households pull out the heirloom crockery for Thanksgiving dinner, but the holiday season is the perfect time to start your own traditions and purchase new pieces that can be handed down through generations. For a true heritage feel, try Royal Crown Derby's ornate tableware. The British brand has a range of collections to suit any tastes, including the Heritage Forest Green & Turquoise set.
If you've chosen a more informal affair, putting Thanksgiving dinner on the table and allowing guests to serve themselves, how dinner is presented is still worth consideration. While serving food directly from your cast iron pots might give a more homely feel, trays and platters are a useful and sophisticated alternative. We love Anna New York: the luxury brand has everything from the wooden Nado Platter to the unique Drip Gemstone Platter or, for the more traditional approach, the Heritage Tray.
After Dinner
The table has been set, the dinner has been served, and family and friends have been nourished by your food and hospitality — but the decadence of Thanksgiving dinner doesn't have to finish with the main meal. There's one more opportunity to impress and entertain, and that's with dessert, cheese, and after-dinner coffee. Make the most of your final moments at the table with the Lapis Coffee Set from L'Objet.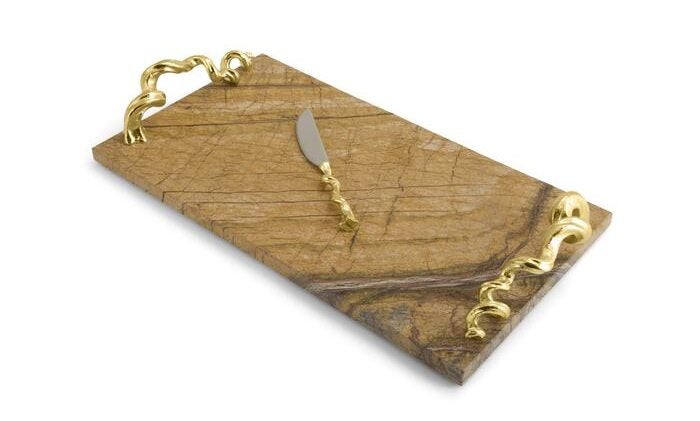 Depending on your guests' tastes, they may be in the mood for a cheese course. Michael Aram's Vine Cheeseboard is perfect for this: it comes equipped with its own cheese knife, and allows guests to serve themselves. Finally, serve dessert on a stand as impressive as the cake or pie itself — Versace's Baroque footed cake plate will certainly draw the eye. For smaller, individual desserts, choose a multi-tiered cake stand like the Oklahoma Tray from Reflections Copenhagen, which will perfectly complement any sweet treat.