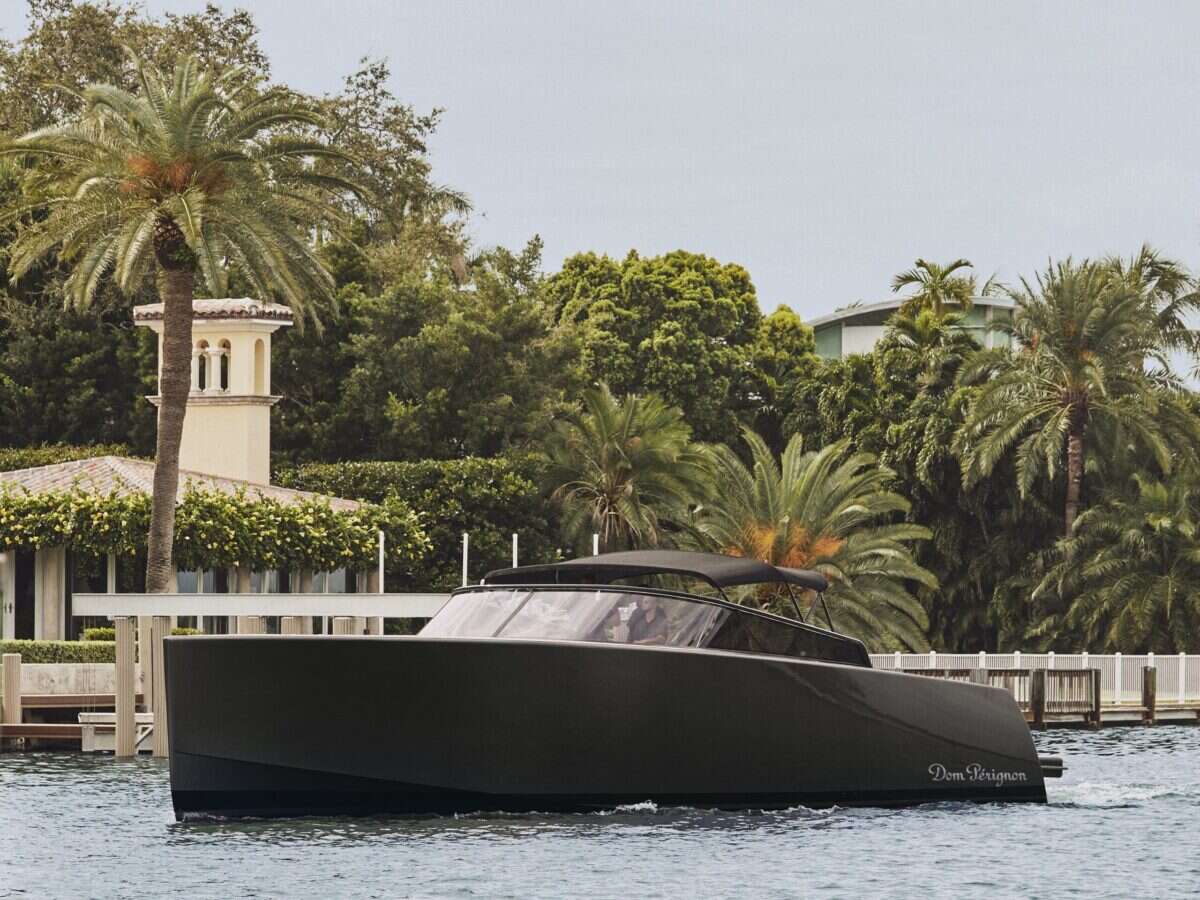 Following a 2020 hiatus due to the pandemic, Art Basel Miami Beach is returning to South Florida this December. The prestigious event will attract thousands of artists, gallery owners, critics and celebrities, eager to attend the fair's must-visit exhibitions and legendary after parties. For those hoping to throw a shindig of their own, Dom Pérignon will be keeping the bubbly flowing with the launch of its exclusive yacht concierge service.
Between December 1 and 4 (coinciding with the art fair), the vintage champagne brand's customized yacht will set sail, hand-delivering cases of fizz to anchored boats within Biscayne Bay and waterfront residences on the ultra-exclusive Venetian Islands; Star, Palm and Hibiscus Islands; and Sunset Islands.
Revelers can choose from three different packages and opt for drone footage of delivery for a truly memorable celebration. The 'harmony' package (priced at $5,000) is ideal for smaller get-togethers, featuring six bottles of Blanc 2010 vintage, three bottles of 2006 Rosé, an ice bucket, elegant Dom Pérignon glassware and a caviar pairing.
For larger parties, the $10,000 'energy' package includes 12 bottles of Dom Pérignon, including vintage 2008 1.5-liter magnums that light up in the dark, and mouthwatering caviar and stone crab pairings. And for an extravagant blowout, one super-exclusive $30,000 'icon' package will be available, featuring 33 bottles of coveted vintage bubbly, ice chests, and a personalized tasting with a champagne expert.
"Our yacht concierge is a premium experience like no other, not only offered to those participating in Art Basel, but also to those in Miami looking to add an extra layer of luxury and to accompany the artistic, cultural moment," says brand director at Dom Pérignon, Enzo Gouedar. "Each package immerses you into the universe of Dom Pérignon on different levels, through a personalized, private experience along the Biscayne Bay."
Founded in 1970 by Basel gallery owners Ernst Beyeler, Trudl Bruckner and Balz Hilt, Art Basel has gone from strength to strength, developing thriving art programs in Basel, Miami Beach and Hong Kong. This year's Art Basel Miami Beach fair includes an array of galleries showcasing contemporary art from both emerging and established artists, and a Conversations series featuring discussions between prominent members of the international art world.
The Dom Pérignon yacht concierge is available during the Art Basel Miami Beach fair and can be reserved with 24-hr advance notice at ourcellar.com