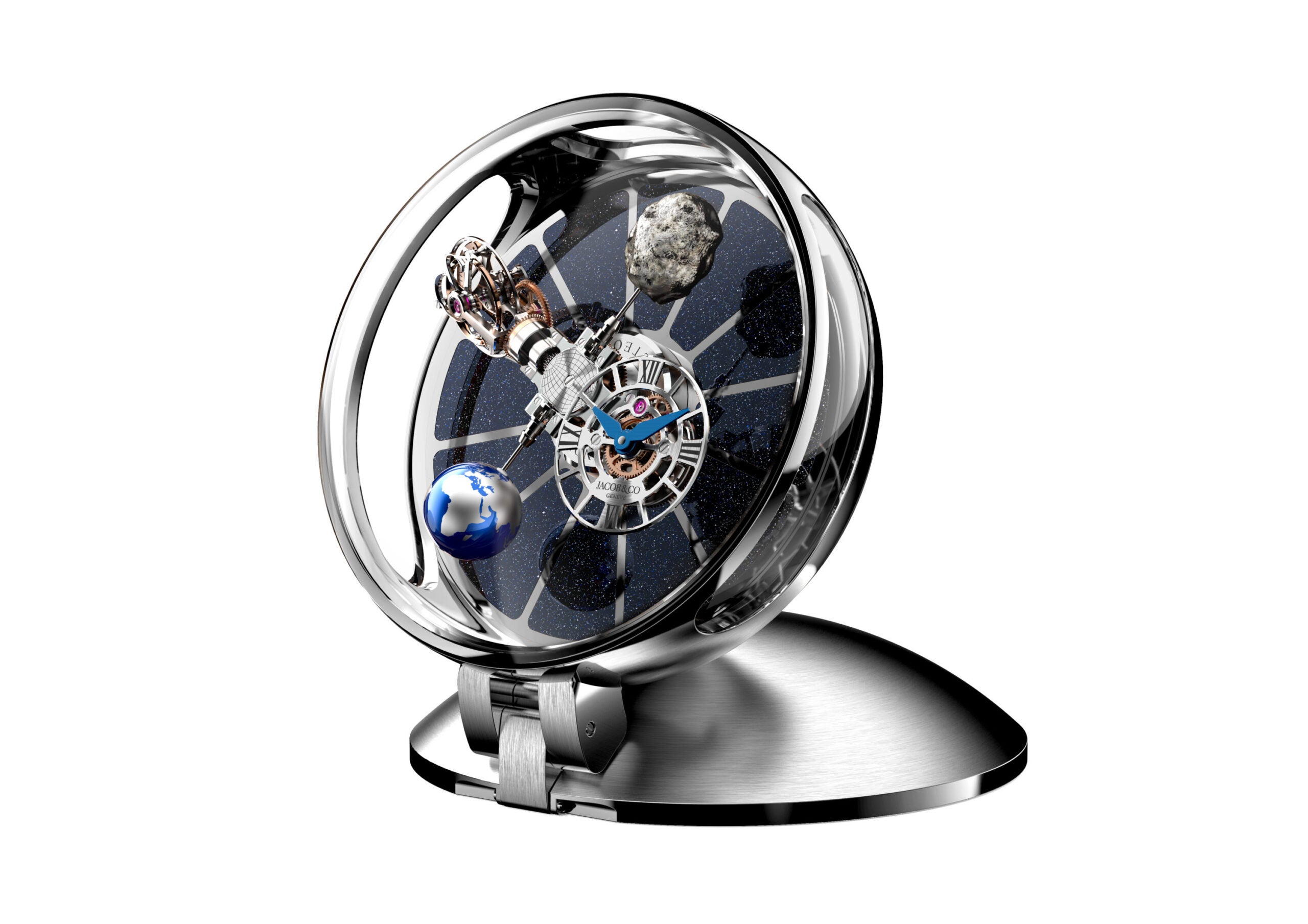 As we celebrate 2019's Top 50 Watches, here we highlight the original form of timekeeping: clocks. Today's clocks are both incredible technical masterpieces and works of art. As manufacturers are not bound by the constraints of small case sizes, their ingenuity, technical prowess and creativity can be on full display.
MB&F, Medusa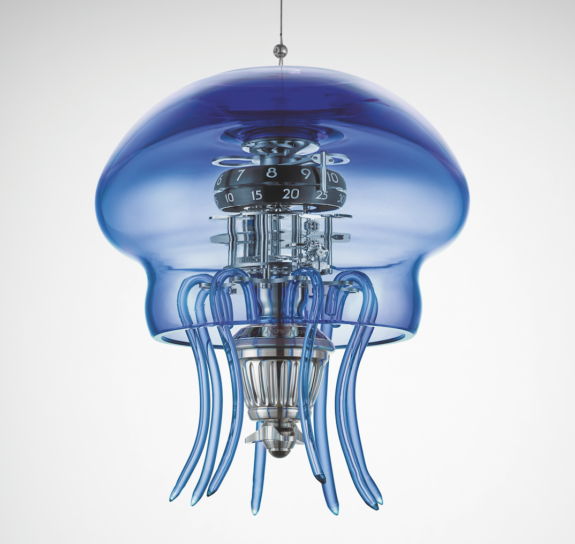 Price: $27,850
Together with its longtime friend, L'Epée 1839, MB&F releases its 10th collaboration: Medusa, which takes the form of a jellyfish. Its smooth, organic appearance belies the incredibly tricky craftsmanship behind the piece: The handblown Murano glass was so difficult to create that only one artisan could craft it, and he had to devise a new technique to achieve the perfect balance of grace and strength.
The clock has a steel frame with legs so it can perch on a desk or, for more whimsy, you can attach matching glass tentacles and hang it from the ceiling, which is a truly impressive feat for a clock. (L'Epée 1839 released the world's first hanging clock just last year.)
It indicates hours and minutes from within the Murano glass, it has a seven-day power reserve, and it is wound by the propeller at the base of the movement. The integrated winding key is cleverly hidden in plain sight, allowing it to be wound while hanging.
Contact: Cellini Jewelers in New York, +1 212 888 0505, mbandf.com
Urwerk, AMC

Price: $2.7m
By far one of the world's most impressive and complex timekeeping devices, Urwerk's AMC atomic clock and accompanying mechanical watch showcase the Swiss brand's complete dedication to chronometry, as well as its pioneering spirit.
The Atomolith, the master clock unit, was developed in partnership with SpectraTime and is a sight to behold. A rugged 77-lb unit within a solid aluminum case holds an atomic clock, the most precise type of clock on Earth; it will not stray more than one second from atomic time for 317 years.
Of course, wearable watches cannot achieve the same level of accuracy, so Urwerk has ingeniously paired the two. The clock was designed to serve as a base unit for the watch. When the watch is placed in the cradle, the base unit will wind the movement, synchronize the time to the exact minutes and seconds of the atomic clock, and ensure the rate of the watch is correct. It's an astounding feat of engineering and precision, and is priced accordingly.
Contact: +41 22 900 20 25, info@urwerk.com, urwerk.com
L'Epée, 1839 Time Fast D8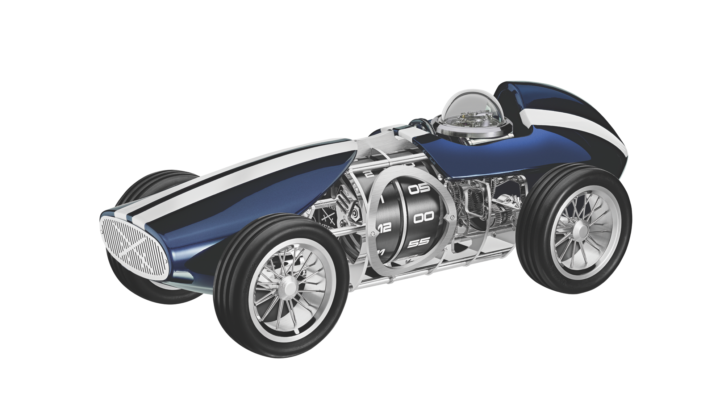 Price: $30,000
Racing enthusiasts will adore L'Epée 1839's latest creation. On its own, it would be a beautiful object. But its time-telling and the charming ways in which automotive references are integrated into the timekeeping is what sets it apart.
To start, setting the time does not use a hidden crown; rather, it's set by rotating the steering wheel, an act sure to delight each time it is set — although with an eight-day power reserve, you hopefully won't need to set the time very frequently.
To wind the movement, L'Epée 1839 looks back to many people's first experiences with motoring: a pull-back toy car. By pulling the car backwards, the wheels wind the movement (they also produce very satisfying clicks). The balance is covered with a domed glass, which looks like the helmet of a miniature driver. To top it off, each is painted with automotive paint for a truly authentic look. There are six colors available, and 100 pieces will be made of each.
Contact: Provident Jewelry in Jupiter, Florida, +1 561 747 4449, lepee1839.ch
Jacob & Co, Astronomia Tableclock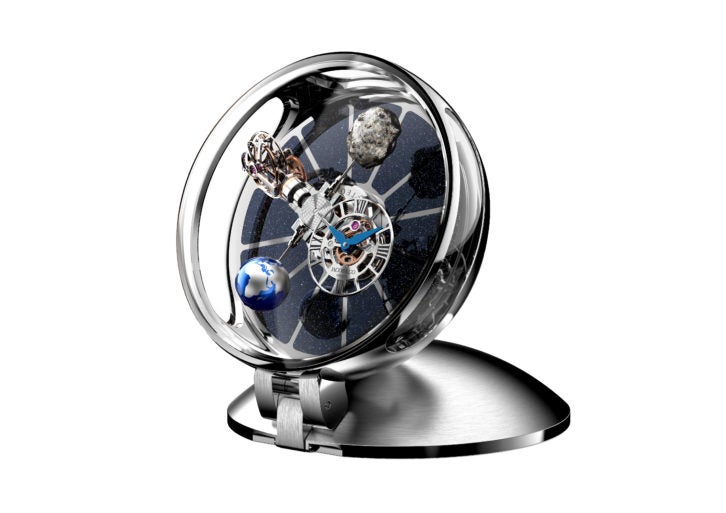 Price: $160,000
Jacob & Co's famed Astronomia watches are spellbindingly beautiful, and now their beauty is on full display in a stunning table clock. The Astronomia movement is quite unique. Two axes are suspended from the center of the watch in a four-armed carrier system, which rotates in a hypnotic dance (it takes 20 minutes to complete each rotation, and each component rotates at a different speed).
There's a triple-axis tourbillon, which twirls in a manner reminiscent of a satellite in orbit; a revolving piece of meteorite; a spinning Earth; and a small openworked dial indicating hours and minutes, which is always right-side up due to a differential system. It's one of the most unique and complicated watch movements ever created, and it's truly captivating to see time pass on this clock.
Luca Soprano, the watchmaker who collaborated on the original watch movement, describes it as a moving sculpture, and now in a clock form, it truly is. It is encased in domed glass, so you can admire it from every angle.
Contact: Jacob & Co in New York, +1 212 719 5887, jacobandco.com