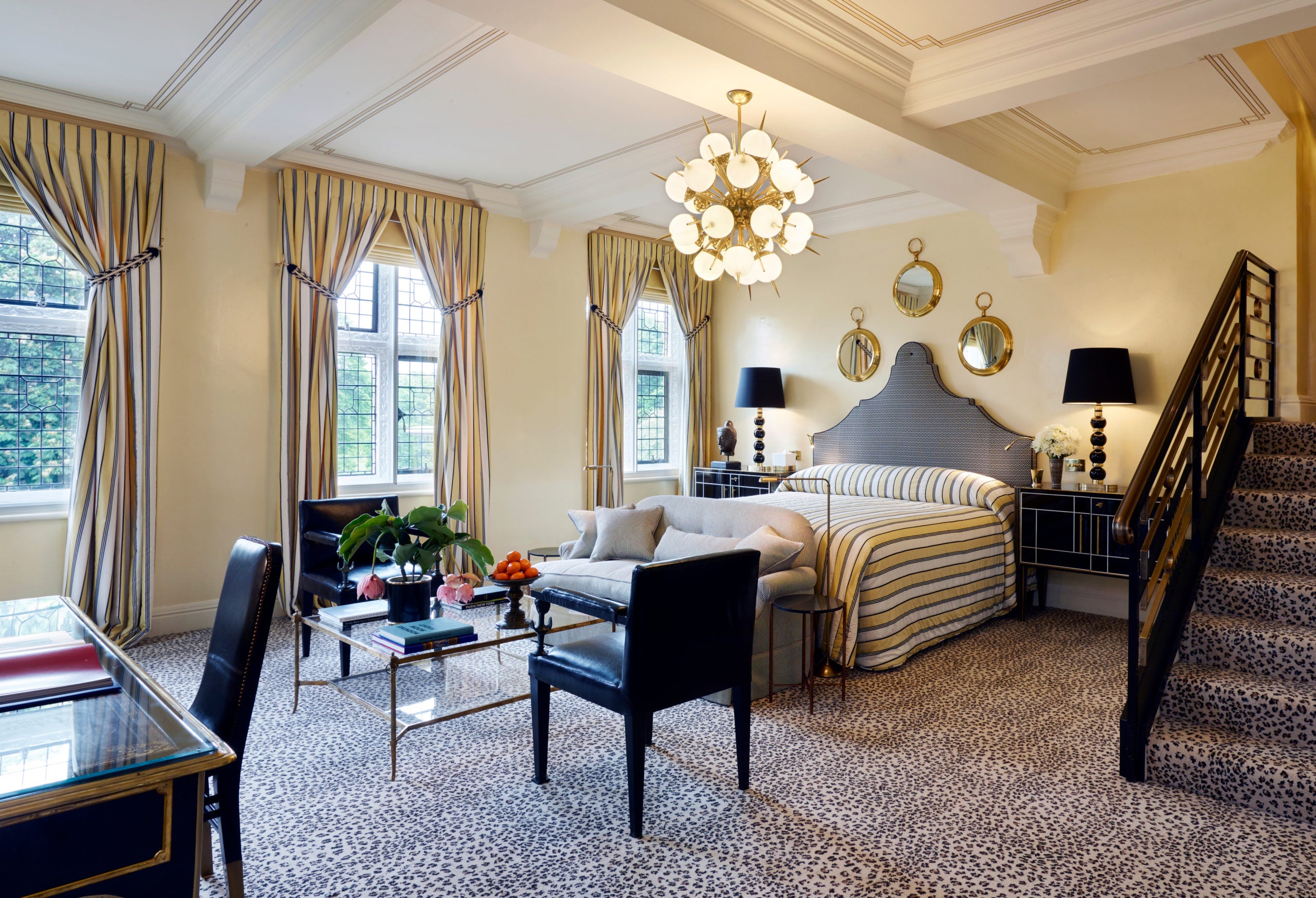 As much of the world moves into its second month of lockdown, many frequent travelers are starting to miss the comforts of a luxury hotel. The travel industry has been devastated by the Covid-19 pandemic, and it could be many months yet before we are enjoying high-end amenities and attentive service again.
In the meantime, there are plenty of things you can do to make your own home feel more like a luxury hotel. As Executive Housekeeper at Milestone Hotel & Residences, it is Tzveta Ivanova's job to make guests feel pampered during their stay.
Tzveta is one of the best in the business and won the coveted Housekeeper of the Year award at The Cateys in 2019. With no guests to indulge, she shares her tips so you can bring some of that luxury hotel coziness into your own space while you stay at home.
Soften straight lines
"Rooms that are dominated by harsh lines can look uninviting, but you can easily transform your home into a comforting and appealing space by breaking up straight lines and introducing more round objects where you can. Adding cushions to square sofas can really help, and plumping up your pillows can soften a boxy bed frame. Even something as simple as tossing a soft throw or blanket over a corner can really help to trick the eye and break up an otherwise straight line."
Tuck yourself into the perfect bed
"In luxury hotels, it is critical that the bed is as elegant and inviting as possible. To create a similar effect at home, make your bed up with white linen, if you have it, as it gives the sense of being enveloped in cloud-like softness. Be sure to change your bedding regularly – experts agree on an average of once a week for your bed at home. With a few easy tweaks, you can up the luxuriousness of your bedroom, such as popping some extra pillows and cushions onto your bed and stacking them upright rather than laying them flat.
"Fold a quilt or blanket over the foot of your bed to create layers and add texture. Some carefully positioned, artful objects or beautiful looking books on your nightstand will complete the look."
Fresh flowers or foraged foliage
"Five-star hotels display artful floral arrangements in their communal spaces and rooms because they really draw the eye, inject some color and make a space feel complete. If you have access to flowers in your garden then consider picking some and creating a bouquet for the area of the house in which you are spending the most time. Alternatively, if you can find some attractive-looking foliage during your daily exercise walk, you can create a tabletop centerpiece with a more rustic feel. Some elegantly arranged tendrils of ivy can also bring a sense of the outdoors inside and help to keep you connected to nature during this period."
Dress your walls
"Art is incredibly important for finishing off a space, and arranging carefully-considered pictures and photographs on the walls can add personality to any room. The Milestone and our sister properties across the Red Carnation Hotel Collection display lovingly hand-selected artworks that complement the design, including pieces by grandmasters such as Picasso, Matisse, Chagall, Cecil Beaton, Miró, Henry Moore, Lowry and Toulouse-Lautrec.
"Social distancing might give us some time to finally sort through photographs of our loved ones and help us feel more connected to them, and this could be the perfect opportunity to hang any pictures that have been gathering dust. If you can't drill into your walls you can always lean frames against them, or peg photographs or postcards onto a piece of string and hang them over a mirror or headboard. If you are sharing your home with children you could have fun creating art together for the walls; or creating a mantelpiece display with of photos from your favorite holidays might help to keep your wanderlust in check until we're able to travel again."
Light the way
"Getting the lighting right is a highly effective way to transform a room. Experiment by moving table lamps around and consider adjusting the angles because by up or down lighting you can create a totally different feel. Avoid blue-tinted or bright white bulbs – instead choose warmer options that will give you that softer "good lighting" glow. If you aren't going out to the supermarket at the moment and new bulbs are not an option you could hang the fairy lights from your Christmas tree for an instant effect."
Ditch the clutter
"Plenty of time at home is the perfect opportunity to downgrade the clutter and tackle any piles of clothing, post, kids' toys, old books, or anything else that you might find is encroaching on your space. By reducing the volume of stuff in a room, and filtering through the knickknacks you have on display, you can draw the eye to your signature and most artful pieces, creating interesting focal points."
Fragranced candles and room fragrances
"Scent can play a big part in a room's ambiance, so this is a great time to take out any fragranced candles or diffusers that you might have been given at Christmas from the back of the cupboard. Lighting an artistic arrangement of candles is also a very cost-effective way of creating warm and cozy light. Just remember never to leave candles burning unsupervised and always take care to ensure that they're fully extinguished before you leave a room or go to bed."
Create a reading nook
"Hotel rooms and suites are designed to be versatile spaces in which guests can rest, relax or work comfortably during their stay. Often this will include the provision of a comfortable chair or two in a light spot that is optimal for reading. This time at home is a great opportunity to catch up on the books we've been meaning to get through, so why not create your own reading nook by moving an armchair into a cozy space, adding a reading lamp, a blanket, some pillows and – if you can – some peace and quiet."
Turndown treats
"We always like to spoil our guests with thoughtful little surprises in their rooms, and turndown treats. You can do something similar at home by baking some fresh cookies, putting them into a pretty box and enjoying one when you have a cup of tea. They will smell delicious as they're cooking, which will instantly make your home extra-heavenly, and if you have small children you can get them involved in the baking as a way of keeping them amused. We all need a treat or two during this strange time and you definitely deserve it."
Keep your dressing gown and slippers handy
"Luxury hotels always offer their guests a quality pair of slippers and a fluffy robe to use during their stay. They are the ultimate in coziness and will keep you lovely and warm. Keep your slippers next to your bed or by your front door so that you can slip into them easily, and enjoy wrapping up in your dressing gown when you change into your pajamas. Bliss!"