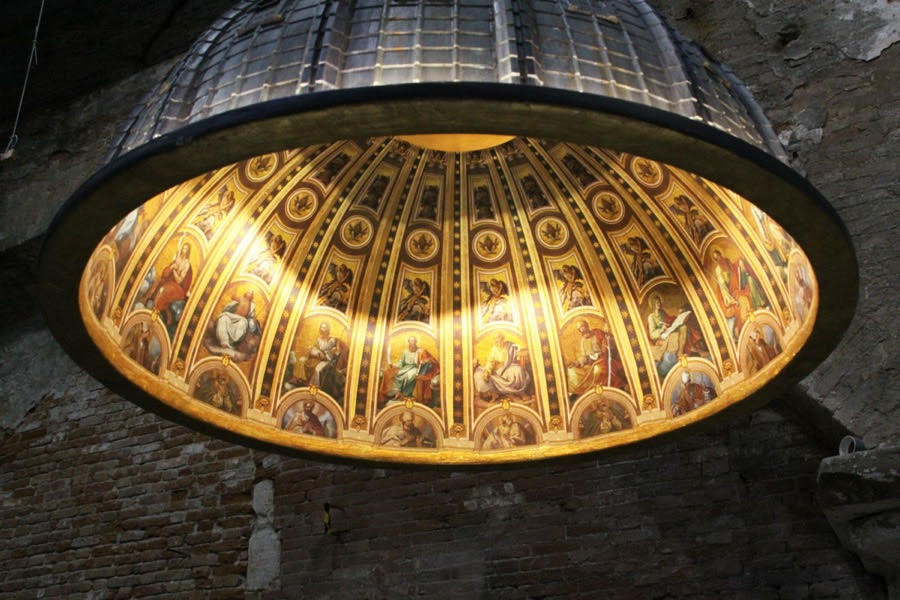 Anyone who has made the pilgrimage to St Peter's Basilica in Rome knows just how holy the experience is. The Renaissance-style church, built within the papal enclave, Vatican City, was completed in the 17th century.
Its biggest attraction is the wondrous dome designed by famed Italian artist Michelangelo, which features intricate portraits of Jesus, his disciples, the Virgin Mary and Joseph, among others.
After spending a night admiring the basilica from Piazza San Pietro, founders of Milan-based interdisciplinary design firm AMeBE Studio, Alessandra Mantovani and Eleonora Barbareschi, were inspired to create a piece of art that captured its magic. The result is an exquisite chandelier, nearly four feet high and over three feet wide, that evokes their ethereal encounter.
The design duo, who focus on sculpture and industrial design, describe feeling that night that they "experienced a deity." This hyper-realistic masterpiece allows people to have that same divine feeling at home.
The exterior resembles the actual basilica, while the interior features the exact holy depictions as the original. It's made of polyurethane resin, fiberglass, nylon, silver and brass; only eight mesmerizing cupolas will be made.
From $98,000. Contact Eleanor Taylor, communications manager, info@davidgillgallery.com, +44 20 3195 6600, davidgillgallery.com
This article originally appeared in the Spring 2020 issue of Elite Traveler.