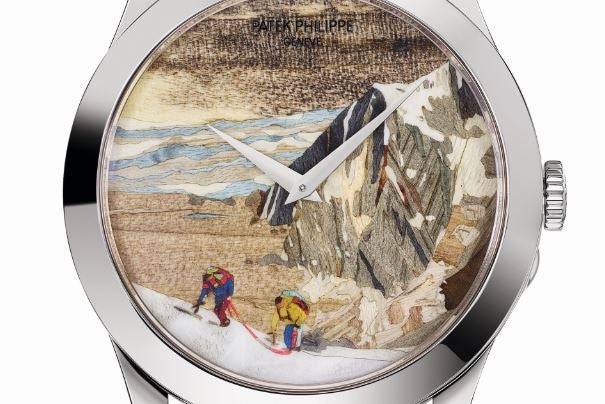 This story originally appeared in the November/December 2018 issue of Elite Traveler.
Patek Philippe dedicates countless hours to preserving uncommon artistic métiers in its ultra-exclusive collection of clocks and watches — Rare Handcrafts. Many pieces are never seen in public; they pass nearly directly from the workshop to the client's hands.
CLOISONNÉ ENAMEL

Patek Philippe creates only a handful of beautiful dome clocks each year, resulting in an extremely long waiting list; it's said that the sign of a true collector is having earned the privilege of buying one. Stern himself jokes that even he doesn't have a clock, as they are such a hot commodity. In this superb example of Grand Feu cloisonné enamel, an expert enameler creates a unique work of Cubist art using nearly 45 ft of fine gold wire. Within the wires, 51 different shades of transparent enamel form a sensational landscape, aptly entitled Cubist Fantasy. Each plate is fired nine times at a temperature over 1,500 degrees Fahrenheit to achieve the rich colors.
ENGRAVING
The back of this pocket watch displays an intricately detailed low-relief engraved nautical motif that pays homage to the grand explorers who conquered the ocean and discovered new lands. Fittingly, the master engraver used a decorating technique that would have been used at that time: low-relief engraving. Carving the galleon, including windows, pulleys, ropes and sails, into an 18K white gold case and the accompanying stand took over 230 hours. Then, the motif was tinted with black rhodium to highlight the contrasts and depth. The resulting engraving is breathtaking in its detail and artistry.
GUILLOCHÉ

The classic decoration's captivating curves are frequently seen on dials, but Patek Philippe's artisans take the craft to its highest artistic form. Using traditional straight line and rose engines (the machines are replicas of those from the 19th century), they hand-engrave hypnotic motifs on dials and cases. Each delicate line is mere hundredths of a millimeter deep and requires absolute precision. Here, an exquisite motif recalls bird's feathers, alluding to the eagle wood-marquetry on the back of the watch. The guilloché is then covered in transparent blue enamel.
WOOD MICRO-MARQUETRY
An exceedingly rare art, wood micro-marquetry uses minute pieces of wood to create a picture or motif. In this watch, an artisan recreates Lac d'Émosson, a painting of the Swiss Alps from artist Jacques Debelmas. Its captivating dial features 195 pieces of 22 different types of wood, each skillfully placed so the dial looks more like a reproduction of the painting rather than a superb example of marquetry. The artisan carefully selects different species of wood for their colors, textures and veining to achieve the final result.
Images: cloisonné enamel; wood micro-marquetry