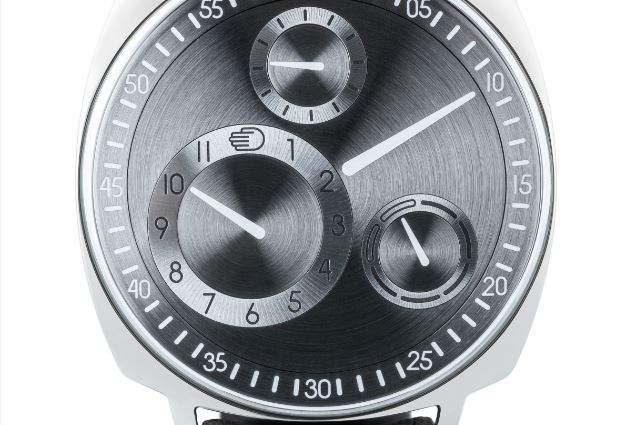 This story originally appeared in the September/October 2018 issue of Elite Traveler. 
The brightly colored dials at Ressence appear to be smartwatches at first glance, but don't let their fun displays fool you. These timepieces pack serious technological chops—one won the Horological Revelation Award in 2013 at the Grand Prix d'Horlogerie de Genève, the most prestigious awards in the watch industry. Founder Benoît Mintiens brings his background in industrial design to watchmaking using a philosophy that allows him to imagine concepts that a traditionally trained watchmaker might not, and incorporate them into mechanical watches. Next up is the soon-to-be-released Type 2, which combines an electronic crown that sets and adjusts the time on a mechanical watch, which Ressence calls the world's first self-setting mechanical watch.
Cellini Jewelers in New York, +1 212 888 0505, ressencewatches.com
Type 1
The first thing you'll notice is that the watch does not have hands atop the dial; its motto is actually "beyond hands." Instead, the main disc and the subdials have graphic lines, and the dials themselves revolve to tell the time. This means
the watch appears to be constantly in motion, much like time itself. The discs appear to be part of the sapphire glass that covers them due to their curve. The second thing you will notice is that there is no crown; the watch is wound and set with the rotating back of the watch.
$20,600
Type 3
With Type 3, Ressence built on Type 1, keeping the design codes but improving the movement. It also introduced oil between the sapphire glass and the dial, which eliminates the refraction of light and makes the dial appear closer, almost as if the glass wasn't there. Keeping the oil from the movement required serious innovation. The two parts are hermetically sealed by a titanium membrane but connected via micro magnets placed on both sides of the membrane. A set of seven bellows regulates the volume of oil, which contracts and expands as the temperature changes.
$42,200
Type 5
For the ultimate non-dive dive watch, look no further than Type 5. It is the first mechanical watch that is legible from any angle, even under water, and Ressence introduced a hydraulic shock absorber. This prevents the micro magnets from briefly decoupling if the watch is hit. While this might not matter in daily life, it can be crucially important while diving. Completely submerging the dial in oil protects the watch from increasing pressure as the diver descends, eliminating the need for thick glass, and creating a more wearable watch. The case continues the diving theme, inspired by the curve of a sea turtle's shell.
$35,800