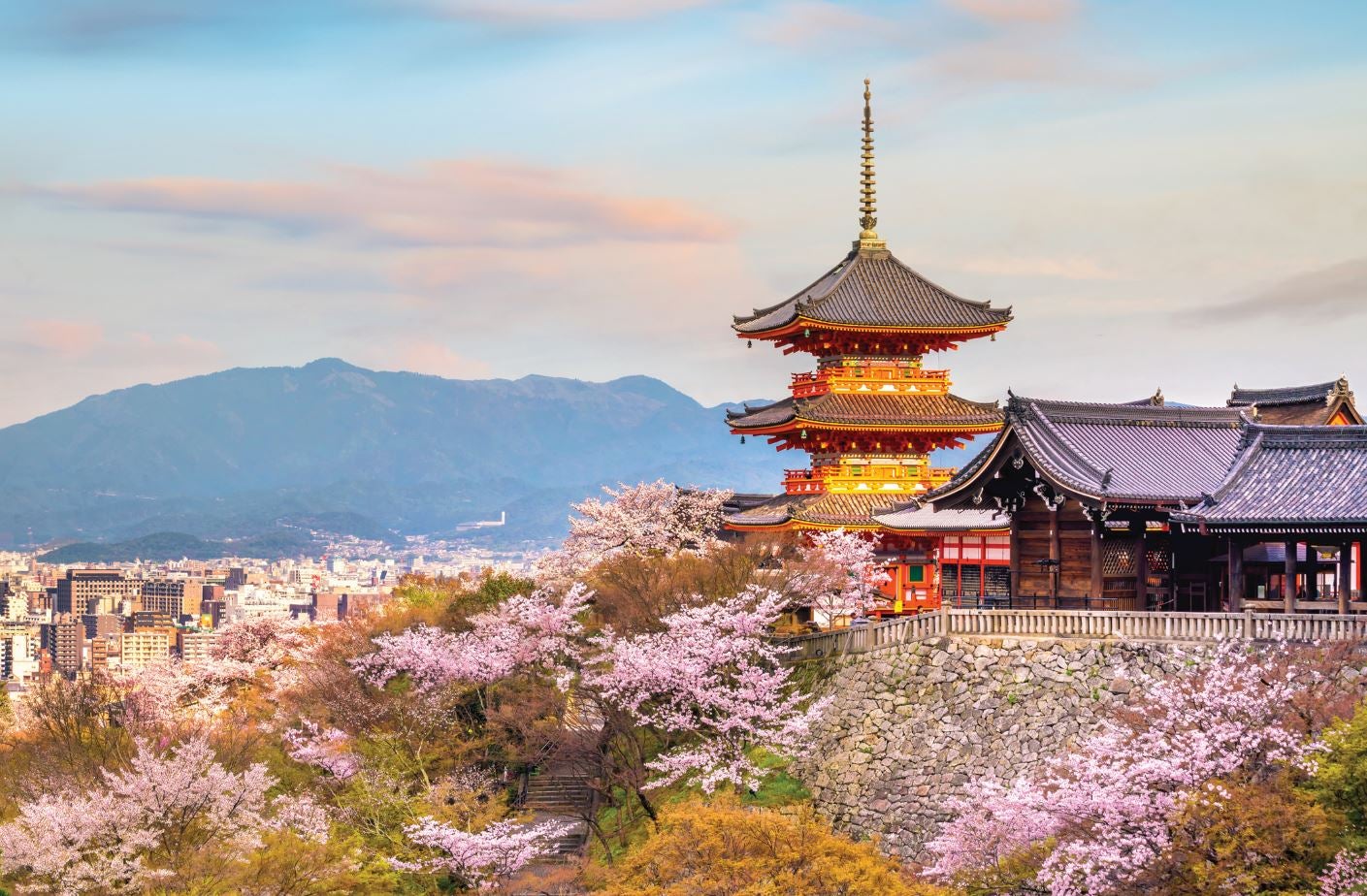 By Kate Springer
This story originally appeared in the March/April 2019 issue of Elite Traveler.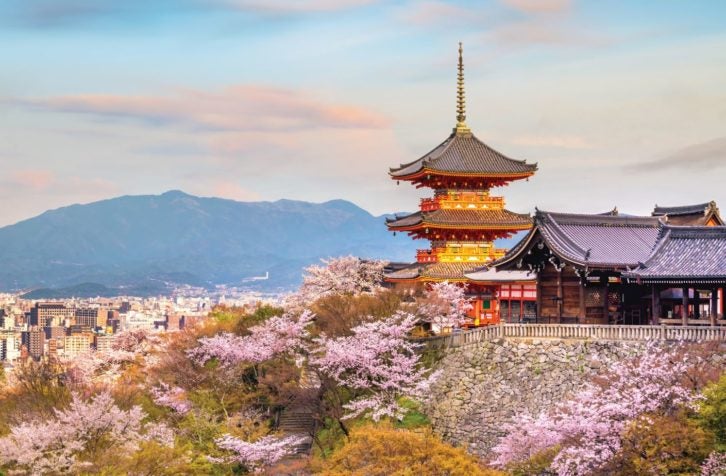 Established in the 7th century, Kyoto was once the capital of Japan and home of the Imperial family. Today, the city is still considered the epicenter of culture in Japan, boasting more than 1,600 temples, 17 Unesco World Heritage Sites and countless Zen gardens. Though postcard images of quaint flagstone lanes and graceful geishas might lead you to believe Kyoto is a tiny town, that perception couldn't be further from the truth. Since its Imperial days, the city has grown to become the country's eighth largest, with more than 1.4m residents. Despite its size, Kyoto is easy to navigate thanks to a user-friendly subway, pay-as-you-go rental bikes and tidy taxis. Still, the best way to explore is on foot, particularly in historic districts such as northern and southern Higashiyama, where you'll find tree-lined temples, Kyoto National Museum, the geisha neighbourhood of Gion and Ishibei-koji Lane — said to be the most beautiful and best-preserved street in all of Kyoto. Whether you have five days or five weeks, there's much to explore in this cultural wonderland.
When to go
To make the most of Kyoto, visit during spring or fall. Not only will the air feel fresh and crisp, but these are the best times to spot spring's baby-pink sakura (cherry blossoms) and the fall's blazing foliage.
Creative Cuisine
Aji Fukushima
A traditional Japanese restaurant in the Gion district, Michelin-starred Aji Fukushima takes diners back in time with paper walls, counter seats and a courtyard garden. One of the city's most respected chefs, Yoshikatsu Tsuji specializes in kappo-style cooking, chiefly a set menu of seasonal ceremonial dishes served omakase style. The menu constantly changes to reflect the available produce, but you can generally expect the nine-course menu to include sashimi, sea urchin, homemade broths, nutritious vegetables and minimalist presentations to accentuate the subtleties of each ingredient.
+81 755 614 848
Giro Giro Hitoshina
With locations in Kyoto and Honolulu, Giro Giro Hitoshina is one of those restaurants that sticks with you long after you've cleared your plate. Sitting on a quiet lane next to the Kyoto's Takase Canal, the two-story restaurant specializes in kaiseki dining (Kyoto's multi-course haute cuisine) with a creative twist. Snag a seat around the open kitchen and watch masters prepare a series of light, seasonal dishes made with only the freshest of ingredients. Depending when you visit, you might try juicy wagyu sashimi, oysters in a complex mushroom broth, delicate pea mousse or broad bean-filled gyoza dumplings.
Honke Owariya
At more than 550 years old, Honke Owariya has more than stood the test of time. Now helmed by the 16th-generation owner, this Japanese confectionery and soba noodle specialist is famed for its old-world ambience and superlative soba. Thought to be a symbol of prosperity and longevity, these chilled noodles can be enjoyed alone or as part of a set, which might include assorted tempura, seasonal vegetables, dashi (soup stock) or sliced egg. We'd also recommend the signature hourai soba, which include five stacked trays of noodles accompanied by a sampling of broths and seasonal toppings so you can mix and match to suit your taste.
Outdoor Experiences
No trip to Kyoto is complete without a visit to the mysterious Sagano Bamboo Forest, located just 30 minutes west of Kyoto. A morning stroll — before the tourists roll in —  promises an ethereal experience. Built to honor the deities of sake and rice, the 8th-century Fushimi Inari Shrine is among the city's most breathtaking Shinto shrines. While the shrine itself is beautiful, it's the hike up Mount Inari that usually steals the show. Best experienced at sunrise or sunset, the three-hour trek winds through thousands of orange torii gates, which were donated by worshippers. With more than 1,600 temples, it's impossible to see them all. The short list of must-visit sites includes the 13th-century Nanzen-ji Temple, famed for its rock gardens and impressive aqueduct. To the southwest, Saiho-ji Temple, a Unesco World Heritage Site, is a wonderland of nature with a lush green garden comprising more than 120 varieties of moss. Then there's the Tofuku-ji Temple, one of the best places to admire fall foliage thanks to the forests of majestic maple trees.
Garden Suites
Suiran Presidential Corner Suite Suiran, a Luxury Collection Hotel, Kyoto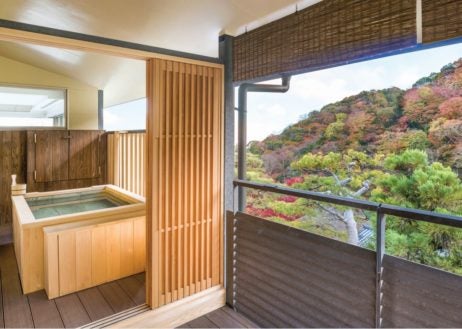 Sitting pretty on the jade-green Hozu River in the Arashiyama district, the Suiran is one of Kyoto's most sought-after addresses. Aristocrats have been retreating to this picture-perfect district for more than 1,000 years. Today, the area is most often associated with the iconic cherry blossom season, ancient shrines, Meiji-era architecture and utter serenity. At the 39-room boutique hotel, the namesake Suiran Presidential Corner Suite is the most exclusive. Stretching across 1,012 sq ft, it is wrapped in glass windows to show off the lush green surroundings. When it comes to design, every detail pays tribute to the city's natural and imperial glory, from the hardwood floors to the green-hued chairs and noble purple accents. But the pièce de résistance is the private, open-air onsen (hot spring bath), where you can soak up 180-degree views of the Arashiyama hills and Hozu River.
From $3,127 per night. Contact Yoshiko Sato, director of marketing, yoshiko.sato@suirankyoto.com, +81 758 720 101, suirankyoto.com
Presidential Suite Four Seasons Hotel Kyoto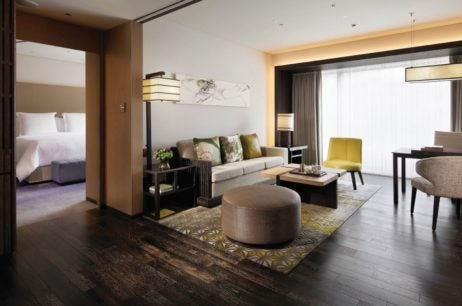 Set in an 800-year-old shakusuien (pond garden), Four Seasons Hotel Kyoto feels like it's been plucked from another era. A traditional teahouse, koi ponds and Japanese stilt buildings add to the atmosphere. Among the 180 rooms and suites, you'll find Kyoto's largest suite: the two-bedroom Presidential Suite. The 2,637-sq-ft sanctuary feels like a spacious modern Japanese residence with all the amenities of a hotel. While you're there, you'll learn a thing or two about kutsurogi, the Japanese art of relaxation, thanks to natural light, bamboo-forest-inspired interiors, a private terrace, multiple lounge areas and views of 12th-century Myoho-in Temple.
From $14,075 per night. Contact Takako Fujii, reservations manager, reservations.kyo@fourseasons.com, +81 755 418 288, fourseasons.com
Garden Terrace Tatami Suite The Ritz-Carlton, Kyoto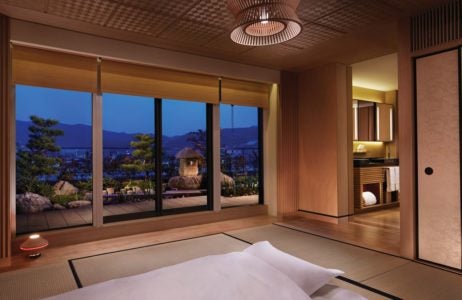 Awash in natural tones and warm wood, the Garden Terrace Tatami Suite at The Ritz-Carlton, Kyoto offers guests an immersive experience. A wall of floor-to-ceiling windows overlooks the hotel's traditional Japanese gardens, where the Higashiyama Mountains loom in the distance. It's peaceful and refined, complete with a private terrace and distinctive cherry blossom-inspired bathroom, where memorable amenities include Japanese-style yukata summer robes and handmade local soaps from Shabonya. Best of all, the hotel sits along the famous Kamogawa River, which means the historic Gion district is right on your doorstep.
From $1,000 per night. Contact Mark Neukomm, general manager, rc.ukyrz.reservation@ritzcarlton.com, +81 757 465 555, ritzcarlton.com
Nightlife
As the name suggests, Bar Calvador is known for its vast collection of calvados, a French apple brandy. Among the 300-strong collection, aficionados will look forward to a short list of rare vintages, some of which are more than 150 years old. Come for the brandy, but stay for the cocktails, whiskey and great conversation with owner Hiroyuki Takayama. An official Calvados ambassador, Takayama will happily explain his passion for the cider spirit and guide you through a memorable sampling. Touzan Bar is not your average hotel bar. Hidden away in the basement of the Kyoto Hyatt Regency, the cozy setting feels like an intimate living room, thanks to wooden beams, antiques and a wall full of vintage books. The skilled bartenders serve up an impressive range of premium local sake, beers, whiskies and cocktails, not to mention excellent Japanese food. Helmed by award-winning bartender-owner Michito Kaneko, Lamp Bar has collected a slew of accolades over the years. Rooted in the classics, Kaneko's imaginative drinks are always bespoke, created based on your mood and flavor preferences, and often served in unconventional glassware. The bar's intimate atmosphere is just as enticing — think retro luggage, copper stills and just eight seats at the gleaming wood bar counter.