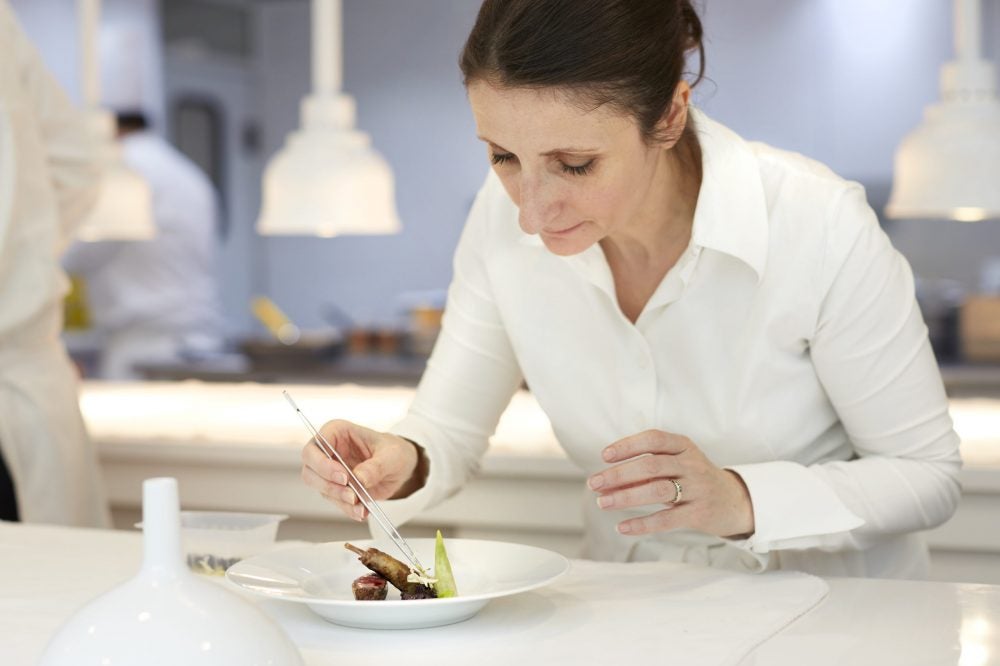 On a blustery day in London, I meet Anne-Sophie Pic in the elegant Art Deco-style bar at Four Seasons Hotel London at Ten Trinity Square, where her restaurant, La Dame de Pic London (this year's number 96 in Elite Traveler's Top 100 Resturants), is located.
It's the morning after their International Women's Day dinner; Pic invited Clare Smyth (of Core, the highest new entry this year at 50) to collaborate on a special menu to celebrate the event.
It was a huge success, with a full house (and a full kitchen of 22 chefs) and an electric atmosphere. Despite this, Pic assures me that all was quiet in the kitchen. Her soft-spoken, calm and humble demeanor attests to this, so it is interesting to hear her talk about how she champions using her emotions in her work, since displaying emotion (especially in a professional environment) is often seen as a derogatory trait — particularly in women. She believes emotion can be a good thing, not just for the cuisine but in every aspect — from the wine pairing to the service.
She certainly doesn't hold back her unabashed joy at winning this year's Chef of the Year award: "I'm so happy! I'm very honored. It's beautiful news; it means that we succeed in the restaurant and that people are happy to come. It's my work, but it is also the work of the whole team. It means a lot to me."
It is natural that emotion is so important to her craft; her family's culinary history is the stuff of legend. Her great-grandparents, Eugene and Sophie Pic, opened Maison Pic in Valence, France in 1889 and, under the guidance of their son Andre Pic (Anne-Sophie Pic's grandfather), the restaurant gained the coveted three-Michelin-star status in 1939.
Pic grew up in the restaurant, where her father, Jacques, also served as chef. Despite initially branching away from the family legacy (she studied and worked in management roles abroad in Japan and the US), she returned to Maison Pic in 1992 to learn the ropes under her father.
Sadly, Pic's father passed away three months later and, in another blow, Maison Pic lost its third Michelin star. She was determined to gain back her 'father's star' and returned to the kitchen once again, despite having no formal training. She succeeded in her mission and in 2007, Maison Pic was once again awarded the three-star status, almost 68 years after the first honor. It is clear that Pic doesn't rest on her laurels or any form of nepotism, and is passionate about evolving her technique.
"It is in my DNA: three generations with three Michelin stars; each time we gain one! It is very important to keep in mind where I come from, but also to continue forward and to challenge myself. I'm open to what's happening now and to trying new techniques. When I was younger, I was in a hurry — I wanted to know everything right away, but it is very important to build skill little by little so that it lasts. You have to be aware of lasting power."
When Pic took over the kitchen at Maison Pic, she was the only woman there, and now she is the first female chef to win Elite Traveler's Chef of the Year award, as well as being the only woman in France to receive three Michelin stars.
"When I was younger, I thought I had to be accepted by the male chefs so I didn't really focus on the fact that I am a woman. Even though I am convinced that, because I am a woman, I cook differently. I am very sincere with my cuisine, and I think women pay attention to emotions. It doesn't mean that women are better than men; it means we develop different tools that complement the men.
"Of course, the best team is mixed. While women might think more emotionally and men in a different way, it can give another twist, and it is interesting to combine everyone's vision. We all have the same goal, but we come to it differently; we want guests to be happy, to have precise cuisine and pairings, but the way we arrive at that goal can be different."
With four restaurants to oversee (the aforementioned Maison Pic in Valence, France; Restaurant Anne-Sophie Pic in Lausanne, Switzerland; La Dame de Pic in Paris; and La Dame de Pic London), Pic takes a little from each location and brings it to the next — different cultures are clearly a big source of inspiration.
"When I come to London, I feel a lot of good energy," she says. "I love my country, of course I love France, but I think the mentality is different here — everyone has an open mind and people are more daring. It opens my mind, too, and when I come back to France I am full of energy! The different mentality helps to develop your mind, the way you act, the way you create."
She talks about Borough Market and Covent Garden as sources of inspiration, how she discovered Stichelton cheese (an English blue cheese that is produced in small batches at Welbeck Estate in Sherwood Forest, Nottinghamshire) and how she is working on a recipe for a marinated pork dish with the rich, pungent cheese.
"It's a beautiful production, a really beautiful combination. I said to my chef in London, we have to add this to the menu!"
Experimenting with flavors and re-evaluating combinations is crucial; Pic ferments ingredients in Valence to create kombucha, which is tasted and evaluated every day. She is also distilling alcohol to use in sauce, and she spent six months creating a pepper and berry combination.
Playing the long game is an interesting change of pace in our modern frenetic landscape, and Pic prefers to blend the old with the new: "Everything is possible. When I was younger, we were still closed in our traditions, so I tried to work through that, even though I don't forget where I came from. I use ingredients that are fashionable but I go my own way. You have to follow your intuition."
Photos: Anne-EmmanuelleThion, Richard Waite