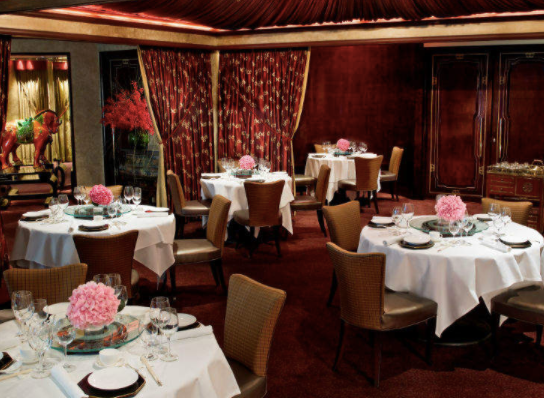 Hong Kong is a melting pot of cultures and cuisine, and with a thriving business scene it's no wonder the city is filled with some of the world's greatest hotels. Whether you're traveling for work or for please, Elite Traveler has put together a list of Hong Kong's best hotel restaurants.
Lung King Heen

Four Seasons Hotel Hong Kong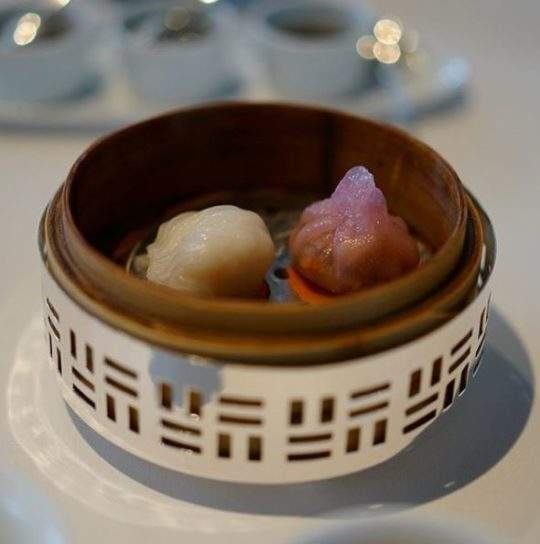 Located on the fourth floor of this Four Seasons Hotel, Lung King Hee benefits from glittering views of Victoria Harbour, which are reflected in the restaurant's silver-leaf ceiling. But the primary reason people come here is the three-Michelin-starred cuisine of executive chef Chan Yan Tak – the first Chinese chef to have won this coveted accolade. Here, the chef experiments with flavor, texture and presentation in a menu in which seafood and dim sum are considered the specialties. Come at the weekend for a special dim sum lunch—try the steamed rice rolls with lobster and water chestnut in fermented bean sauce—or go all-out with the Chef's Tasting Menu, which brings together artfully executed dishes such as crispy scallop with fresh pear and Yunnan ham, and wok-fried lobster with lily bulbs and gingko. Each dish comes with wine pairing.
Caprice

Four Seasons Hotel Hong Kong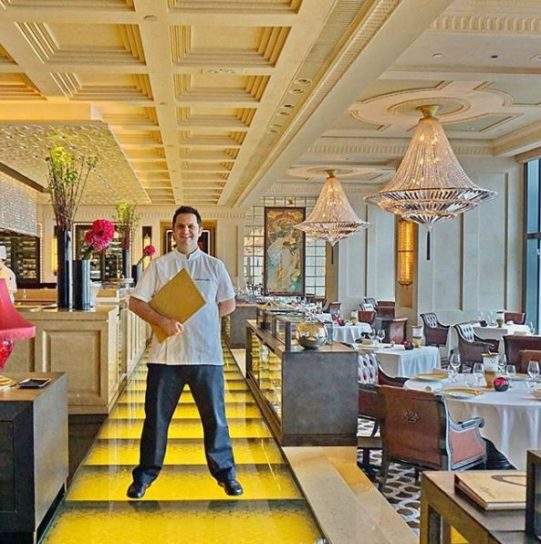 The other culinary highlight of Four Seasons Hotel Hong Kong is this two-Michelin-starred French restaurant by chef de cuisine Guillaume Galliot. In an opulent dining room of white table cloths, sparkling chandeliers, plush carpets and luxurious leather and velvet seating, modern French plates showcase the kitchen's premium ingredients. Follow French, Chinese or Iranian caviar with seafood plates such as Alaskan crab and Gillardeau oyster with prawn jelly and caviar Baerii from La Maison Nordique, and meat dishes like Racan pigeon from Maison Bellorr cooked in a cacao pod with onion puree, salsify and cacao jus. Indulge in the Menu Connaisseur for the full Caprice experience. If you still have space, try some of the cellar's artisanal French cheeses with wine from the Bordeaux and Burgundy regions.
Tin Lung Heen

The Ritz-Carlton, Hong Kong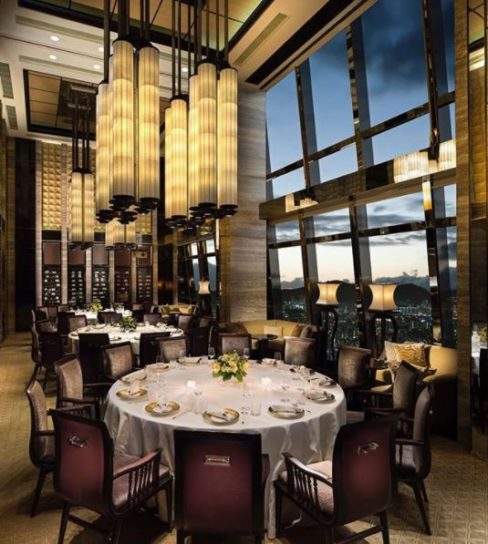 Among Hong Kong's two-Michelin-starred offering is this Cantonese restaurant specializing in traditional Cantonese dishes and dim sum, although you'd also be tempted to dine here for the spectacular views alone – Tin Lung Heen is situated on the Ritz-Carlton's 102nd floor, providing it with far reaching views over the city and its glittering lights after dark. In an elegant dining space combining contemporary décor with oriental design accents, dine on chef Paul Lau Ping's tasting menus featuring tempting plates such as sautéed lobster and Matsutake mushroom served with deep-fried homemade bean curd. Or take your pick from the exciting dim sum menu – go for a steamed rice roll with scallop and crab roe, steam shrimp dumpling with sea urchin or poached wagyu beef wonton with water chestnut.
Amber

Landmark Mandarin Oriental
To find out why Amber has won so many culinary awards and been named among the world's best restaurants—the restaurant is currently number 38 in the Elite Traveler Top 100 Restaurants—dine here during a stay at the hotel. A modern dining room featuring a striking ceiling light installation made from bronze is the ambient setting for memorable meals created under the expertise of culinary director Richard Ekkebus. On a menu in which much of the emphasis is placed on seafood, highlights include langoustine with airated aka uni, schrenki caviar, poached Kagoshima bamboo and granny smith fricassee. A collection of signature dishes are brought together in the 9- and 10-course degustation menus, which naturally have the option of wine pairing.
mandarinoriental.com/hong-kong
Rech by Alain Ducasse

InterContinental Hong Kong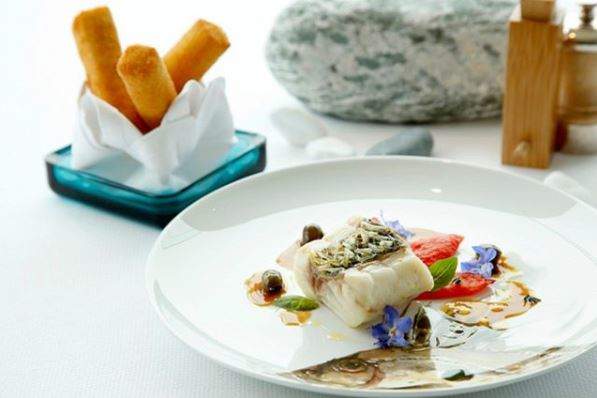 As the Hong Kong outpost of Parisian seafood restaurant Rech by prolific chef Alain Ducasse, this restaurant brings celebrated French seafood specialties to the InterContinental Hong Kong. Take a seat overlooking the water to dine on Michelin-starred dishes that showcase the seasonal fish, shellfish and oysters, such as local spiny lobster with golden and brown morels, and John Dory aiguillette and squid with fennel. Alternatively, opt for the Royal Platter of crab, langoustines, shrimp, clams, whelks and more. The five-course signature menu, meanwhile, adds herb-printed pasta, the restaurant's famous Camembert and hazelnut ice cream to the seafood experience. Enjoy this menu with wine pairing or free flow champagne.
hongkong-ic.intercontinental.com
Above & Beyond

Hotel ICON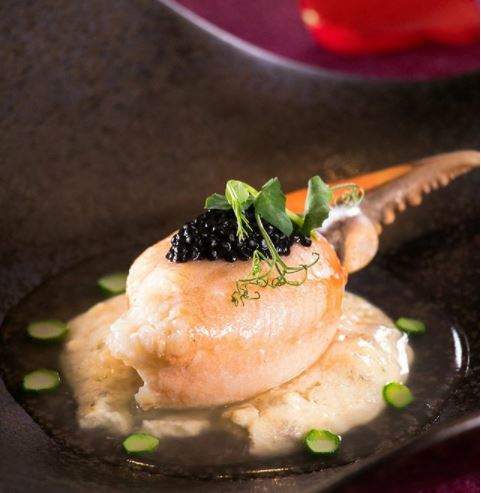 High over the city's streets, on the 28th floor of Hotel ICON, this Cantonese restaurant offers stunning views over Hong Kong as well as the accomplished cuisine of chef Paul Tsui. From a menu of both classic and contemporary Cantonese plates, signature dishes include wok-fried lobster with egg white and black truffles, and wok-fried diced whole abalone with lily bulb and asparagus in XO sauce. Flavorful Chinese barbecue plates include smoked pigeon with oolong tea leaves and honey-glazed barbecue pork, and the dedicated dim sum menu offers delicacies such as steamed lobster dumplings and baked whole abalone tart. Savor this cuisine in the light-filled modern interiors that are seen throughout this stylish hotel.
Osteria Marzia
Fleming Hotel
Set on the ground floor of the Fleming Hotel, Osteria Marzia offers coastal Italian cuisine in a central Hong Kong location. From the group behind the much-lauded New Punjab Club, Osteria Marzia is one of Black Sheep Restaurants' newest offerings. Decked out with beautiful wooden furnishings and white bamboo paneling throughout, the restaurant gives off a nautical feeling without going overboard. The menu merges classic Italian dishes with the luxury ingredients we've come to expect from Black Sheep Restaurants, so expect dishes such as chitarra pasta with Bostom lobster and tuna Maremma with panzanella salad.
T'ang Court
The Langham, Hong Kong
As one of only four Cantonese restaurants worldwide to receive three Michelin stars it's unsurprising to see T'ang Court make our list. Set within a beautiful dining room in The Langham, T'ang Court is filled with lavish furnishings and offers one of the world's most exciting Chinese menus on the planet. Having previously been included by our readers in the Elite Traveler Top 100 Restaurants in the World, it's safe to say T'ang Court has the ET stamp of approval.
T'ang Court's head chef Kwong Wai Keung has worked for The Langham for 30 years and has helped establish T'ang Court as one of the world's greatest Cantonese eateries. Focusing on offering traditional Cantonese dishes given subtle modern updates, diners can expect dishes such as braised sea cucumber and buckwheat in pumpkin broth and boiled bird's nest and peach gum accompanied with baked preserved yolk pastry.
Spring Moon
The Peninsula Hong Kong
Spring Moon is not only set inside one of Hong Kong's most prestigious hotels – The Peninsula Hong Kong – but is also home to one of the world's most beautiful dining rooms. With deep wood accented by the off-white furnishings sprawling through the restaurant, guests at Spring Moon are transported from modern day Hong Kong to what feels like a truly authentic Shanghainese banquet.
The food on offer at Spring Moon is typically Shanghainese, focusing on traditional ingredients (with the odd luxury addition) the menu takes guests through hundreds of years of culinary history, touching on everything from traditional broths right through to double-boiled sea conch. Some of the restaurant's standout dishes include scrambled fresh milk with bird's nest, crab meat and olives and braised duck stuffed with assorted meat, mushrooms, beans and salty eggs.
Man Wah
Mandarin Oriental
With an awe-inspiring interior filled with birdcage-esuqe ceiling lamps, rosewood detailing and silk paintings throughout, Man Wah is one of Hong Kong's most beautiful restaurants both in terms of its setting as well as its food. Set on the 25th floor of the Mandarin Oriental guests have an unrivalled view across the city and have the chance to dine on one of Hong Kong's best regional Chinese menus.
At lunchtime Man Wah serves dim sum dishes that are widely regarded as some of the best in the city, while their dinner menu includes dishes such as steamed garoupa with crispy ginger and crabmeat, and roast goose puff with yanmin sauce.
Café Gray Deluxe
Upper House Pacific Palace
From the 49th floor of the Upper House hotel guests have one of the most beautiful views of Hong Kong, with an completely unobstructed view of the harbour and the winding streets below. Also on the 49th floor is the modern European restaurant Café Gray Deluxe. Headed up by Gray Kunz, a chef who carved out a career for himself by championing organic seasonal ingredients from across the globe, the kitchen prepares each dish with precision, giving their predominantly traditional Western menu a modern take.
While Café Gray Deluxe is perhaps most popular at lunchtime due to its beautiful views across the city, the dinner menu is certainly nothing to be sniffed at with Gray's specialty dish of steak tartar ketjap being a particular highlight of the menu.