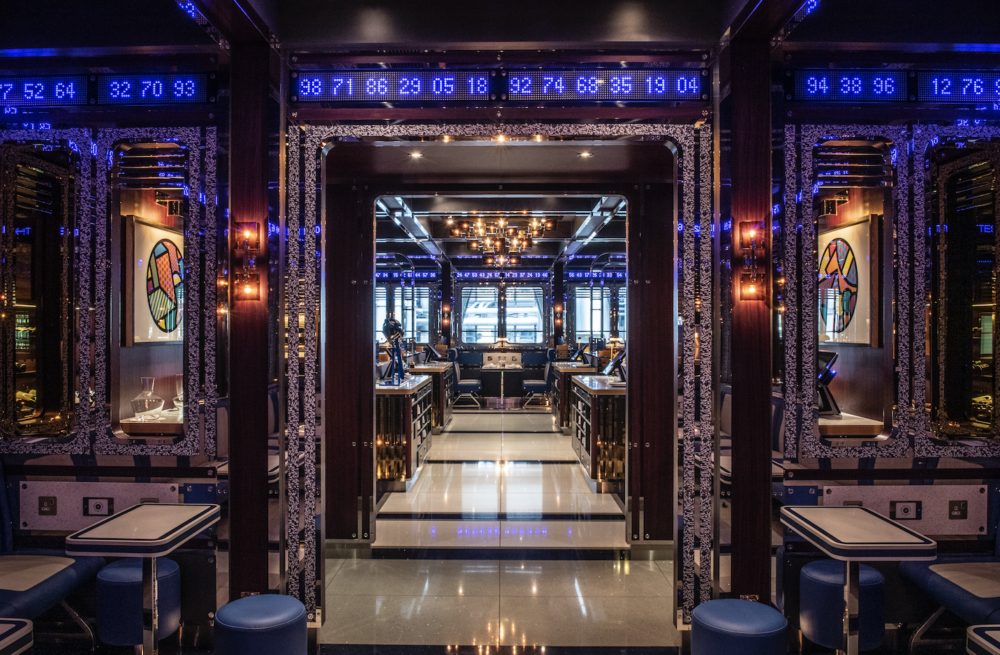 Bob Bob Cité will finally open its doors on May 10, bringing an end to a five-year project beset by 16 months of delays.
The London brasserie was originally slated to open 16 months ago, but the sheer scale of the project and obsessive attention to detail saw that date pushed back again and again.
Now, however, owner Leonid Shutov is ready to proudly present what he believes to be a truly unique restaurant, and London's most beautiful.
He said: "I truly believe Bob Bob Cité to be London's most unique restaurant and, hopefully, among the most beautiful; one where every meal becomes a special occasion, and where occasions cannot fail to be special."
The ambition was to create a space that celebrates both British craftsmanship and eccentricity while maintaining a level of opulence in-keeping with the restaurant's place in the Leadenhall Building.
Unlike Shutov's first restaurant, Bob Bob Ricard in Soho, this new outpost has shunned the Art Deco styling for something much more modern, yet still maintains a classic mid-20th-century brasserie feel.
To achieve that, they enlisted specialist joiners Stan Tarver, who crafted each and every one of the rosewood marquetry panels for the walls and ceilings offsite. Although adding several levels of complexity to the build, it allowed the craftsmen to achieve a level of precision that could not with on-site fabrication.
Royal warrant-holders Dernier & Hamlyn were charged with task of created over 800 bespoke light fittings, including 24 dazzling chandeliers, to fill the restaurant with light. Over 1,000 lightbulbs are required in total.
Almost eight miles of mirror-polished steel trim, weighing over five-and-a-half tons, allows the light from those 1,000 bulbs to shimmer across the entire space. Even the bolts – all 48,000 of them – have been made to order with a 'snake eyes' design and were individually hand-polished before being secured.
The sheer weight of the bolts alone meant a separate structural assessment had to be undertaken to ensure the floor plate could support the load. Any other restaurant owner would have settled for less, but compromise is not a word Shutov often uses.
In fact, he told the Evening Standard that the budget designated to the 48,000 bolts "would be comparable to what some restaurants will spend on the entire refurbishment."
"It's the sheer complexity of it, and the detail and the precision," Shutov told the London newspaper, "It was worth taking the time to make it as perfect as we can."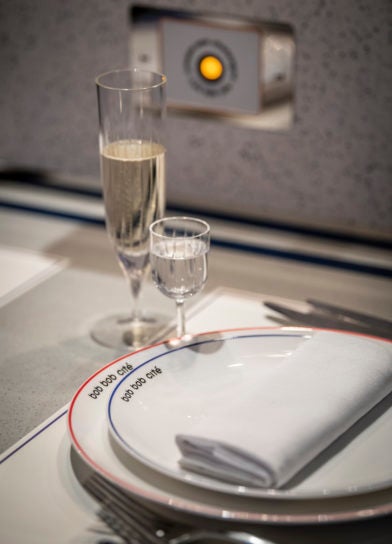 Regular customers of Bob Bob Ricard will be pleased to hear that the "Press for Champagne" button concept has been carried over to this new site but will instead read "Presser pour Champagne". Activating it will see your table number on the LED ticker tape that runs around the restaurant to change color, alerting the waiters to the request for more bubbly.
For those unmoved by champagne, there is an extraordinarily well-stocked wine cellar boasting a number of rare vintages. There is also one of the largest selections of vintage Armagnacs that you can find in London with over 50 available by the glass.
The executive chef of Bob Bob Ricard, Eric Chavot, has also created a completely reimagined menu. French Onion Soup, Escargots, Veal Blanquette and Daube de Boeuf Provencal.
This food will be served on Wedgewood bone china designed by Shutov himself while champagne will be poured into crystal sourced from Kvetna in Bohemia, one of the few non-British manufacturers chosen for their superior quality.
A passion project in every sense, Shutov wants Bob Bob Cité to be a special occasion restaurant and is determined to allow guests to enjoy the surroundings for as long as they want. There is plenty to admire.
Bob Bob Cité opens to the public on May 10. For more information, visit bobbobcite.com