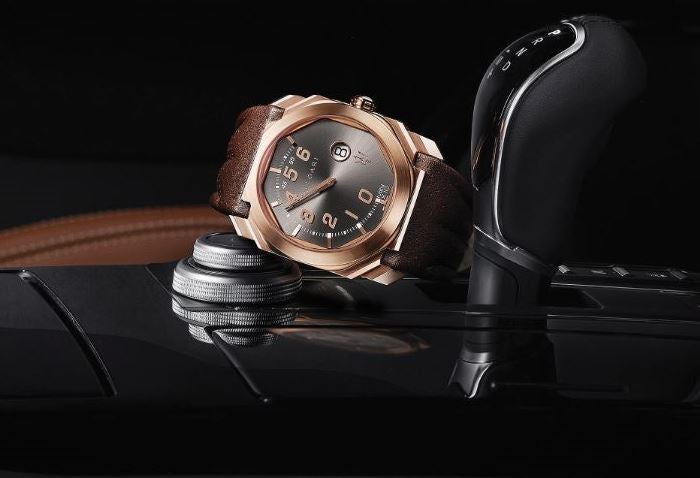 This story originally appeared in the January/February 2018 issue of Elite Traveler.
Car and watch collaborations are a dime a dozen—it seems like every prestigious car brand has a luxury watch bearing its name. How to stand out from the crowd? For starters, reserve the watches exclusively for the car owners. Add on a dial design inspired by a car's dashboard and two ultra-cool complications, and you're off to the races.
For Maserati and Bulgari's most recent timepiece collaborations, GranSport and GranLusso, Bulgari combines jumping hours and retrograde minutes in a new movement. Using these two complications together makes for a dial so unique that people will stop you to ask what's on your wrist. Instead of traditional hours and minutes that encircle the dial, there is an aperture at 3 o'clock for the jumping hours, and a curved scale from 6 o'clock to 1 o'clock that tells the minutes using a retrograde function. The minute scale goes from 0 to 6 and looks just like a rev counter on a Maserati dashboard, albeit one that moves much more slowly. As the minutes tick closer to the hour, the watch comes to life. Right as it hits the hour, the jumping-hour disc switches to the next hour and the retrograde minute hand flips  back to zero, faster than the human eye can detect. It's really quite fun to watch. Nods to Maserati are found throughout the design. Its signature trident is just below the jumping-hour aperture, and the sporty perforated leather strap with contrast topstitching feels very automotive.
To celebrate this collaboration, we headed to Palm Springs to drive the new Levante up one of California's most perilous highways. Highway 74 is a steep, windy stretch that climbs 1,400ft in what feels like the blink of an eye. Your ears will pop several times and your stomach will be churning as you watch the sheer drop-offs rise higher and higher with each turn of the wheel. At speed, this type of driving is best left to the professionals. Once at the summit—which has stunning views of the Coachella Valley—you'll be in the perfect place to take a picture of your watch on the hood of your Maserati.
Bulgari GranSport in black DLC-treated steel, $12,800, GranLusso in 18K pink gold, $30,700, available at Bulgari boutiques exclusively for Maserati owners, contact Anita Paredes, +1 800 285 4274, bulgari.com Maserati Levante from $74,050, maserati.com