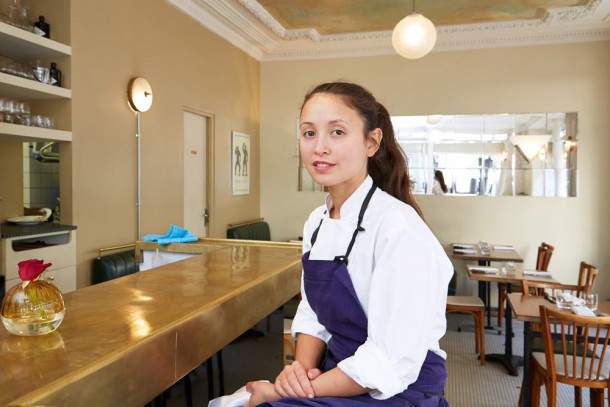 France is widely regarded as one of the greatest fine dining countries in the world, but with legacy chefs often taking the limelight, Elite Traveler thought it would be time to look at the next batch of culinary superstars taking the city by storm. From the innovative bistros of Paris right through to fusion food on the west coast, these are the chefs to look out for in France.
Anthony Lumet Le Pousse-Pied
The 2018 Michelin Guide France saw the inclusion of 50 new one-star restaurants. Among these was chef Anthony Lumet of Le Pousse-Pied in La Tranche-sur-Mer, who at the age of 27 is one of the youngest chefs to have made the list. With the restaurant positioned on the Vendée coast, Lumet places much of the focus on the local seafood along with fresh seasonal produce from the surrounding landscape. Menus are created on a daily basis, with a fresh, modern approach taken with each dish and its presentation. Owing to its continually evolving menu, any meal here is likely to different to what you've had before, but you could expect dishes such as hake with asparagus and peppercorns, and guinea fowl with salsify and foie gras, along with desserts like market garden rhubarb with brown sugar nougatine. These plates can be paired with an array of interesting French wines. Having already reached Michelin status at this point in his career, we think Lumet is one French chef to keep an eye out for.
Guillaume Mombroisse SEPT
Along with Anthony Lumet of Le Pousse-Pied, Guillaume Mombroisse was one of the youngest chefs to have been added to the 2018 Michelin Guide France. The chef won the Michelin inspectors attention for his work at restaurant SEPT in Toulouse. Originally from this city but taking inspiration from his travels, Mombroisse combines a respect for the local products and cuisine with an adventurous spirit and energy for innovation. By playing with flavor combinations and texture, the chef endeavors to create unique dishes with new and unexpected flavors. A discovery menu is offered each night with wine pairings selected by the chef and sommelier in collaboration. Mombroisse's bold creativity can be seen throughout any meal here, setting his cuisine apart on the city's restaurant scene.
Antonio Buono Mirazur
Following a competition between 10 of France's most talented young chefs, Antonio Buono was named the winner of the S.Pellegrino Young Chef France award, placing him firmly on the global culinary stage. The Italian-born chef has risen to prominence for the culinary skill shown at the two-Michelin-starred restaurant Mirazur in Menton where he works with the restaurant's esteemed chef Mauro Colagreco. As a chef who combines inspiration taken from the French Riviera with his Argentine and Italian heritage, Colagreco is the ideal mentor for Buono. The young chef will be competing for the international Young Chef title when he represents France in the Grand Final in May 2018 but whether or not he comes out on top, he is already proving to be a chef on his way up.
Masafumi Hamano Au 14 Fevrier
Just five new two-star restaurants were featured in the 2018 Michelin Guide France. One that reaffirmed France's love for Japanese cuisine—a long-running trend that's seen through the abundance of Japanese restaurants in Paris—is the restaurant Au 14 Fevrier in Saint-Amour. Here, chef Masafumi Hamano brings together elements of French and Japanese cuisine. Creatively presented dishes come in a series of tasting menus incorporating the finest local ingredients from the land, sea and the region's artisans. Current dishes include blue lobster with cognac, and Iberico pork with cured ham from Bayonne and fragrance of morels. As he combines two of the world's great cuisines with such finesse, it's no wonder Hamano has attracted such widespread attention.
Chiho Kanzaki Virtus
Another of France's most exciting Japanese chefs, Chiho Kanzaki is among the female chefs changing France's predominantly male culinary scene as well as the prominence of Japan's female chefs on the global stage. A number of years spent at restaurant Mirazur in Menton gave Kanzaki the opportunity to cook at the Lima culinary event Gelinaz as one of 24 leading chefs – a line-up that included Rene Redzepi and Massimo Bottura. Kanzaki can now be found cooking alongside the Argentine chef Marcelo Di Giacomo at the restaurant Virtus in Paris, which they opened together in 2016. The chefs spent their free time traveling to seek out France's best producers and ingredients, and this produce is what the focus of each menu falls on.
Fanny Rey L'Auberge de Saint-Remy de Provence
When she was awarded a Michelin star for the restaurant she owns with her partner (L'Auberge de Saint-Remy de Provence), Fanny Rey was one of only two female chefs behind the guide's 57 restaurants that were awarded new stars. And not only is she making waves by earning this accolade, she's also endeavoring to change the presence of women in the industry by hiring female chefs for her own kitchen. Rey is known for her authentic and refined cuisine, which is tailored to each season and reflective of her time spent in great kitchens such as that of the Ritz Paris, while exploding with flavor, color and texture. Try Rey's take on the traditional bouillabaisse.
Jessica Prealpato Alain Ducasse au Plaza Athenee
It's one of France's most prominent chefs Alain Ducasse who leads the way in shining the light on rising stars and female chefs. One way he does this is through supporting community initiatives such as Femmes en Avenir, and another is by employing more women chefs in his own kitchens. Jessica Prealpato is the head pastry chef at Alain Ducasse au Plaza Athenee. As the chef behind this three-Michelin-starred restaurant's desserts, Prealpato has a position that's naturally placed her in the international spotlight and a role that's testament to her culinary skills. Seasonal fruits feature in many of her desserts; the menu currently includes lemon from Nice with kombu seaweeds and tarragon, and citrus from Michel Baches with spicy yuzu snow.
Inaki Aizpitarte Le Chateaubriand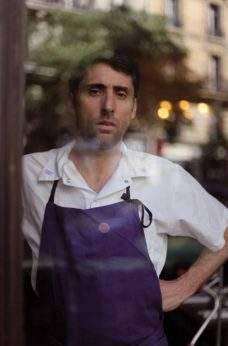 Growing up in France, but honing his cooking skills in Israel, Aizpitarte is widely regarded as one of Paris's most exciting young chefs. Having already laid claim to the Chevalier de l'Ordre des Arts et des Lettres (an Order of France given to recognize significant contribution to the arts, literature and cooking).
Aizpitarte now runs one of Paris's most exciting bistros in the form of Le Chateaubriand, where cooking focuses on deconstructing classic French dishes and giving them a Middle Eastern twist. Some of the stand out dishes include steak tartare with quail's egg and asparagus with tahini foam and sesame-seed brittle.
Tatiana Levha Le Servan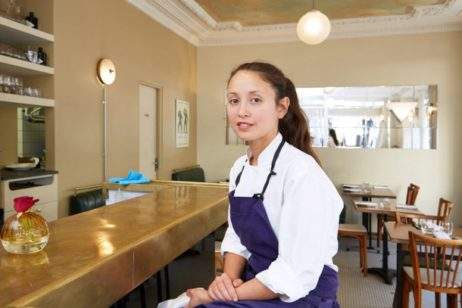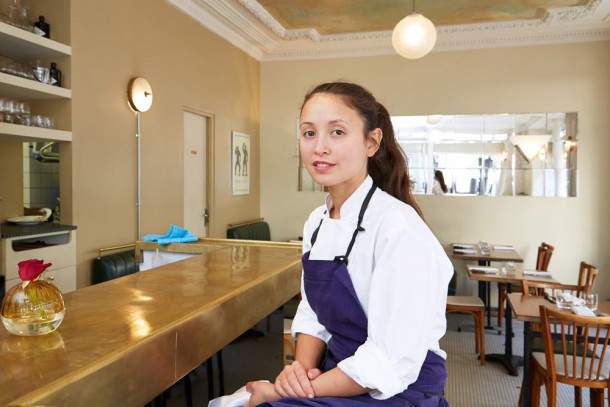 Born in Manila, Tatiana Levha and her sister, Katia, run Le Servan in Paris's 11th arrondissement. Having grown up in Paris and stints in Bangkok and Hong Kong, Le Servan focuses on offering an international menu inspired by their multicultural backgrounds. While Tatiana's cooking focuses on traditional French bistro dishes, served with a worldly twist, the basis is still very much traditional Parisian cuisine. Cockles are served with a basil broth, while the duck hearts are served with a chili sauce.
Having trained in L'Arpége and L'Astrance, Tatiana's skill matches her ambition, making her one of the most exciting chefs in all of Paris.
Arnaud Nicolas
While you can describe Arnaud Nicolas as a charcutier it feels somewhat reductive to put his cooking into a single category. Focusing on fusing fine dining techniques with traditional charcuterie dishes, Nicolas has been able to create some of the most mouthwatering creations we've ever seen. Nicolas's dishes range from Pate en croute with quail, pear and pistachio right through le couronne de cochon (a dish made with all parts of the pig).
Nicolas's background has always been in charcuterie, seeing him win the Meilleur Ouvrier de France (a leading competition for craftsmanship of all types) at the tender age of 24. Since then Nicolas has gone on to establish himself as one of Paris's greatest artisans.
Mickael Poyault Bistro Brute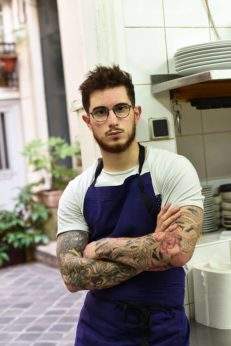 A short walk from the Champs Élysées sits Bistro Brute, the latest venture from Mickael Poyault. Having previously worked as head chef at Chez Jean as well as stints in Fauchon, Mandarin Oriental and Garance, Poyault has cemented his place as one of Paris's most exciting young chefs. Focusing on serving modern French cooking, Poyault's stand out dishes include the likes of sautéed turnip with barley, goat's cheese jam, whiskey and peaches as well as duck served with a chocolate and cherry sauce, zucchii and verbena. Still in his 20s, Poyault's skill in the kitchen is almost certainly the basis for an illustrious career.
bistrobrute.com
Adrien Ferrand eels
Having won Gault & Milau's Best Young Talent award in 2015, Adrien Ferrand's eels restaurant is one of the hottest dining spots in Paris's 10th arrondissement. Named after Ferrand's signature dish comrprised of smoked eel with liquorice root, apples and hazelnuts. Ferrand's cooking focuses on classic French dishes with a focus on traditional Scandinavian techniques such as curing and smoking, which fits perfectly considering eels has a very Scandinavian-inspired interior with a minimalist façade, matching their beautifully crafted menu.