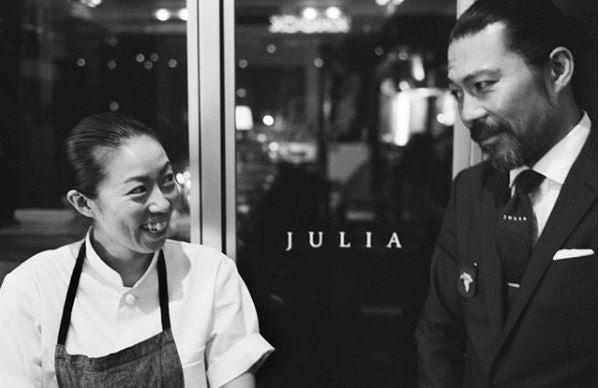 Tokyo has long overtaken Paris as the culinary capital of the world. Collectively the city holds over 300 Michelin stars (that's three times more than New York), so while the choice of places to eat has never been better in Tokyo, one question that has always lingered over the city's fine-dining scene is how sustainable it all is?
While many of the city's Michelin-starred restaurants will have kitchens filled with chefs who have trained for decades, there is a new set of rising stars in the Tokyo food scene, many of whom have worked across the globe and in some of the most innovative kitchens across the globe.
To celebrate, this is our list of the most exciting chefs in Tokyo right now.
Kotaro Meguro Abysse
Since the French restaurant Abysse opened in Aoyama back in 2015, its owner and chef Kotaru Meguro has been a prominent name on the Tokyo culinary scene. Here, lunch and dinner pre fixe menus place the focus on seafood with influence taken from the chef's time spent in Marseille working under the three-Michelin-star chef Gerald Passedat at Le Petit Nice, as well as his time at Tokyo's three-Michelin-starred Japanese-French restaurant Quintessence. He was soon awarded with his own Michelin star. Just 29 when he began his own restaurant venture, and with such a distinct signature style, we're sure there's more to come from the talented chef. It's well worth discovering the food he's creating while you're in town.
Teruki Murashima Argile
At his French restaurant Argile in Ginza chef Teruki Murashima makes diners feel at home as he serves up prettily plated French three- and five-course meals from an a la carte menu with additional appetizers and champagne. As an offshoot of the French restaurant Esquisse, which is located within the same building, Argile is similar in the ingredients and techniques used but entirely unique in its ambiance and decor – Argile has a low-lit contemporary space with tree elements, low hanging pendant lights and earthy tones. While the executive chef here is Lionel Beka of Esquisse, Teruki Murashima is the chef du cuisine. Murashima previously worked at Esquisse as well as L'Atelier de Joel Robuchon. In this space, Murashima creates more casual versions of the cuisine at Esquisse, combining French and Japanese influences. Try the day's fresh fish with matcha sauce, black abalone with seasonal vegetables or roasted Ezo forest deer with lotus root and beets. Pay a visit to this restaurant to try this chef's highly rated culinary creations.
Takashi Arisawa, Le Ginglet
For Takashi Arisawa it's all about the quality and freshness of his ingredients, and this is what drives him to source his seafood and fish from the famous market at Tsukiji each morning and continually hunt for new local artisan producers along with interesting ingredients from farther afield. This is reflected at his bistro style restaurant Le Ginglet in Chiyodu-ku where diners rave about the quality of ingredients, the fact you'll almost certainly have the chance to try something you'll never have seen before and the hands-on nature of the chef. Here, you're sure to be engaged in conversation about the story behind the food and drink you're being served, making a meal here an all-round more rewarding experience. Arisawa opened Le Ginglet after working at the city's acclaimed French fine-dining restaurant Ohara et Cie, which is experience his skilfully prepared dishes are testament to. His creativity and great passion for seeking out outstanding ingredients make Arisawa a chef to watch as he continually evolves his menu.
Kazutoshi Narita Esquisse Cinq
Another offshoot of Esquisse, Esquisse Cinq opened a year ago, with the restaurant's pastry chef going over to head up the kitchen of this new dessert spot. In this restaurant dedicated entirely to sweet plates, Kazutoshi Narita—who honed his craft in kitchens across the globe including the restaurants of Joel Robuchon—has free rein to create his exquisitely composed desserts. Captivating in their presentation, these desserts are based around three main themes: sucre, encompassing elaborate sugar work, soufflé and desserts created according to the seasons. These are offered alongside pancakes with caviar and smaller sweets and chocolates. Before Esquisse Cinq opened, the only way to try Narita's desserts was to finish a meal with a sweet plate at Esquisse but now you can focus entirely on this just this. This is the chef to pay attention to if you have an insatiable sweet tooth.
Kan Morieda, Salmon and Trout
This intimate seven-seat counter restaurant doesn't provide a conventional restaurant experience.  Here you're served an array of dishes prepared by Kan Morieda, without the structure of a set menu. Each dish that's served comes with an explanation of what's been placed in front of you, making dining here a more interactive and engaging experience and one that you know will be different every time you come to eat here. This creativity is of course based on expertise built up in revered kitchens around the world, from Tetsuya's in Sydney to the Mandarin Oriental and Kogetsu in Tokyo. The food at Salmon and Trout though is more casual in style, incorporating exceptional produce, interesting ingredients, great culinary skill and a lot of international influence – the chef calls his style of cooking 'punk cuisine'. Together, these elements make Morieda one of Tokyo's most exciting chefs right now.
Nao Julia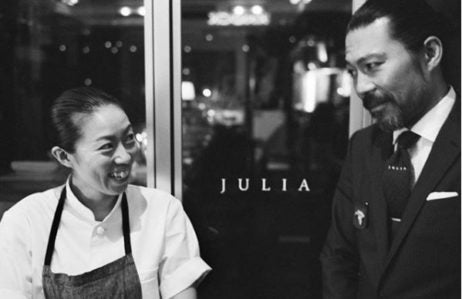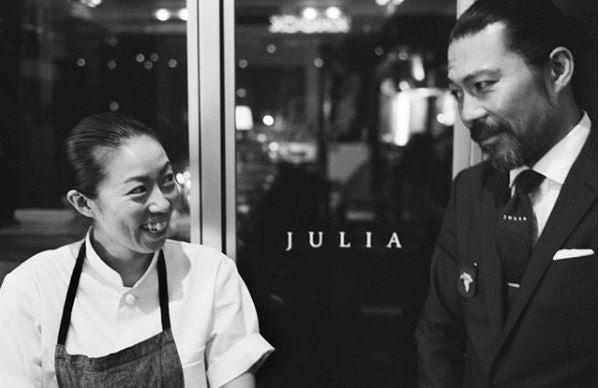 One of Tokyo's most celebrated female chefs, Nao (who only goes by one name) developed her skills and culinary style by working in the kitchen of French restaurants in Japan before opening her own place, Julia, in Ebisu. Launched in March 2017, this restaurant places the focus on contemporary American cuisine where diners share a 12-seat communal table to try the chef's celebrated menu. In this dining space, Nao serves up omakase, chef's table-style, meals of 10 to 12 courses, which are changed to make the most of the ingredients available. And while dishes are typically American in style, they incorporate the chef's Japanese roots, the country's fine produce and her French culinary influence. Wine and tea pairing is also available, with around 100 wine labels in the cellar to choose between. This is a chef that's behind some of the Tokyo dining scene's most exciting work.
Yuki Noda Kiki Harajuku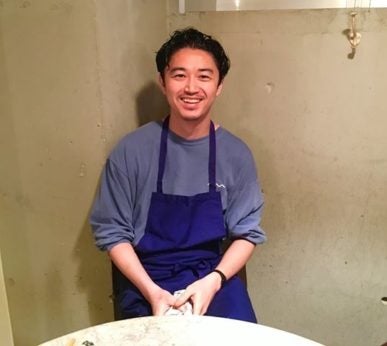 Yuki Noda's Kiki Harajuku can only be described as dining in what feels like a close friend's house. With an uber-casual café-esque space and a focus on using only the freshest ingredients (in particular infusing a lot of his dishes with a wide array of colorful fruits and vegetables), Noda has carved out a niche of his own in the Tokyo dining scene. Having worked in France during the early stages of his career, Noda took up roles in world-renowned Paris restaurant, Taillevent, before returning to Japan to work under Cristophe Paucod at Kagurazaka's Lugdunum Bouchon Lyonnais.
Since opening Kiki Harajuku, in 2011, Noda has been serving his French-inspired food to a huge crowd of discerning diners. Using his French techniques and Japanese ingredients some of Noda's standout dishes include roast pork with Mandarin orange and ginger sauce right through to scallop served with kadayif and a clam and green tea soup.
Yuki Tanaka Ise Seuyoshi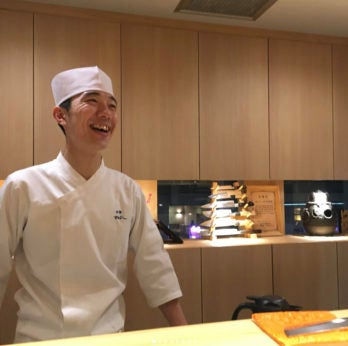 As one of the city's most exciting kaiseki chefs, it's unsurprising to see Yuki Tanaka on Elite Traveler's list of the best chefs in Tokyo. Having spent the majority of his career traveling the world and exploring global cuisine, Tanaka moved back to Japan in order to launch his own restaurant focusing on using food from a number of local farmers and producers in his native Mie.
The food on offer at Kaiseke's Ise Sueyoshi takes its inspiration from the ingredients from the ancient city of Ise. Guests can expect to find beautifully crafted food served in perhaps some of the most aesthetically pleasing ways possible, and with only five seats at the counter and six tables, it's easy to see why Ise Seuyoshi is one of the most difficult restaurants to get a table.
Shusaku Toba Gris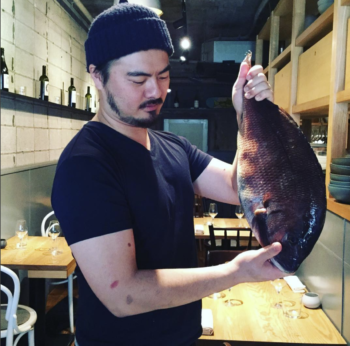 Shusaku Toba's path to stardom was an unusual one. Unlike many of his contemporaries who spent their early years studying the art of European cuisine abroad, Toba spent his time honing his cooking techniques in Tokyo.
At Gris, where Toba now heads up the kitchen, the food shows influences of both washoku and cuisine française, and with a menu that changes every two months you'll be hard pushed to find anywhere with such a variance of dishes available.
The majority of Gris's dishes focus on the use of market-fresh fish and shellfish, with guests exploring a huge number of different types of dishes over the nine course 'chef's menu'.
Kazunari Nakamura Le Bonne Table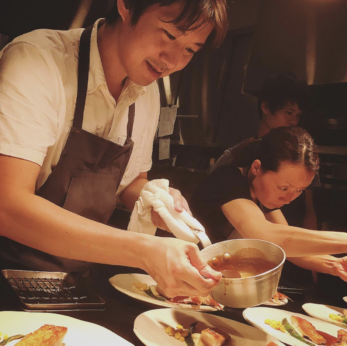 La Bonne Table is the most recent offshoot of L'Effervescence, one of Tokyo's most revered restaurants, and while many readers will already know the owner, Shinobu Namae, it's actually Kazunari Nakamura who is in charge of Le Bonne Table's kitchen. Guests can expect food of a similar standard as to that seen at L'Effervescence just with less presence and a significantly more relaxed dining experience.
Having worked as Namae's sous-chef earlier on in his career, Nakamura has made the move to head chef, and is now responsible for producing some of the most innovative French-inspired food available in the city. Some of the standout dishes include a pie stuffed with red-wine stewed beef tail, potato and lotus root, as well as boudin sausage with pickled vegetables. So while Nakamura focuses on using the less-expensive cuts of meat and vegetables that would often be discarded at more high-end venues, the end product is truly superb.