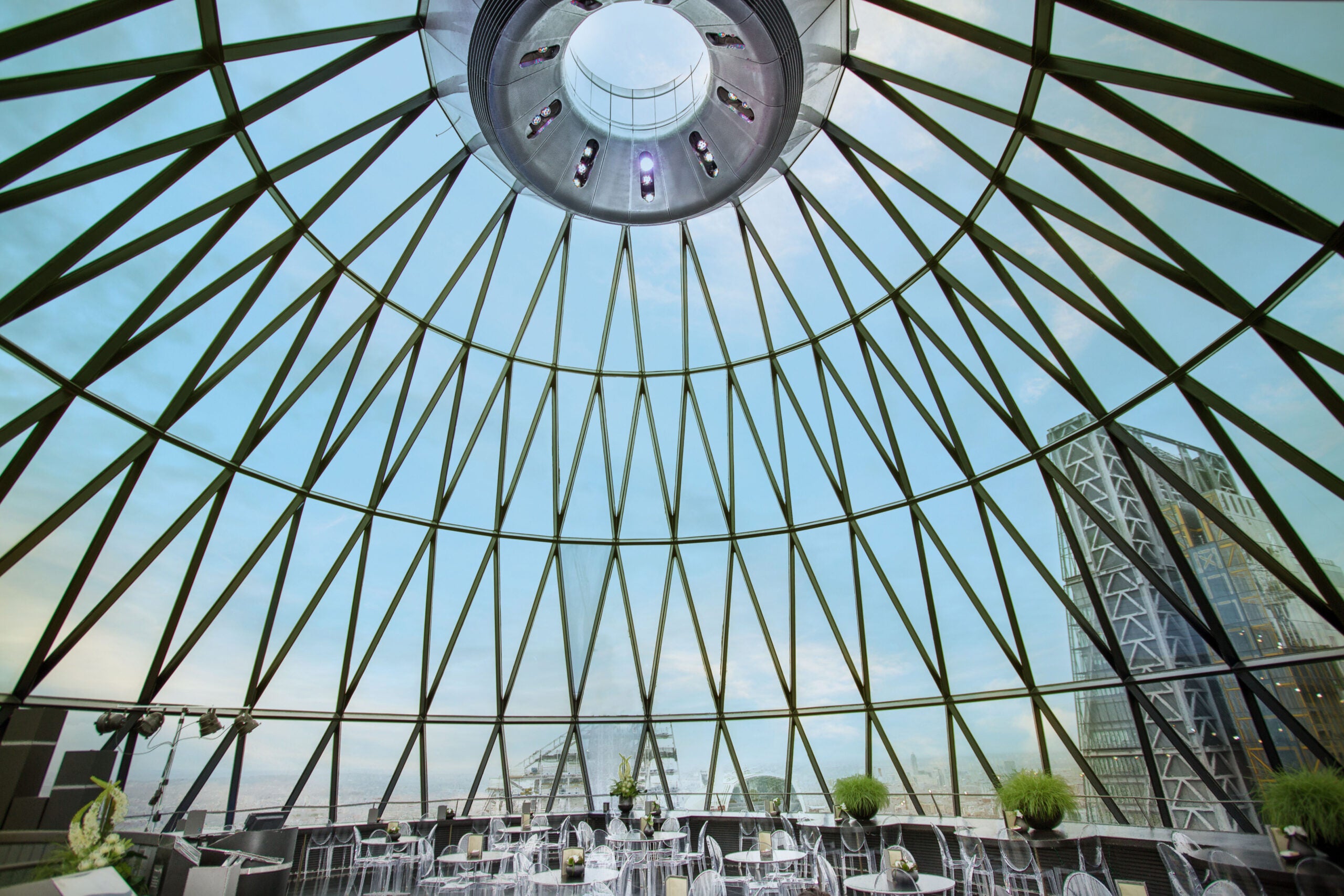 High up on the 39th floor in London's Gherkin skyscraper, you'll find The Helix Restaurant. Named for the latticed architecture, the domed structure has excellent 360-degree views over the city and is the setting for a sophisticated but fun new partnership between Helix and William Curley, master chocolatier.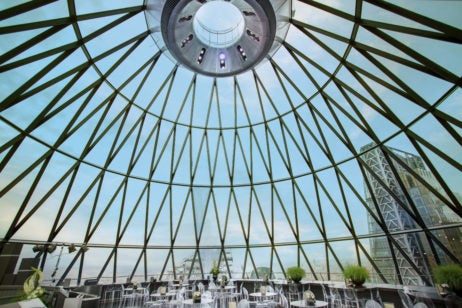 As Easter is very nearly upon us, a tasting menu is available at the restaurant until April 21 and is inspired by — you guessed it — chocolate. Before any thoughts of a sickly-sweet cuisine cross your mind, this is not the case. The flavors are enhanced with the use of dark chocolate and cacao nibs resulting in an rich, savoury delight.  
The four-course tasting menu is the brainchild of master chocolatier William Curley — he has won Britain's Best Chocolatier, The Craft Guild Pastry Chef of the Year award, the William Heptinstall award, and, when joining The Savoy Hotel at 27 years old, he was the youngest chef pâtissier in the hotel's history.  
The tasting menu begins with a cauliflower and Berkshire blue soup topped with cacao nibs and crumbled walnuts. It is thick and creamy and paired with a lovely South African chenin blanc from Dorrance that perfectly complements the creaminess of the soup. The cauliflower soup is poured over the other ingredients at your table for added flare (and a great Instagram opportunity).  
The main course is Rhug Estate venison loin cooked to absolute perfection; pink and juicy, with a griddled oyster mushroom, fluffy yet crunchy pork scratchings, heritage carrots, spring greens, a hearty game chocolate sauce and ready-to-burst blackberries. It goes splendidly with Sebastiani Alexander Valley cabernet sauvignon 2014 (my personal favourite of the evening).  
The next course is the sorbet: a refreshing palette cleanser and a curious mix of dark chocolate, white chocolate nibs and orange, before the main event — the dessert. Amedei dark chocolate mousse, cherry compote, kirsch ice-cream and croquant tuille.  
Finish the evening with a chocolate expresso martini and a selection of chocolates to enjoy at Helix or at home. The chocolates consist of a lime and spice caramel (a rich buttery caramel with chilli, nutmeg and ginger, finished with a burst of lime), blanco de criollo (Peruvian single origin ganache coated in Amedei 70 percent Toscano dark chocolate and topped with roasted cacao nibs) and early grey orange and honey (a light and aromatic honey ganache infused with earl grey tea and orange zest).  
Tasting menu $100 per person, $185 with wine pairing, searcys.co.uk