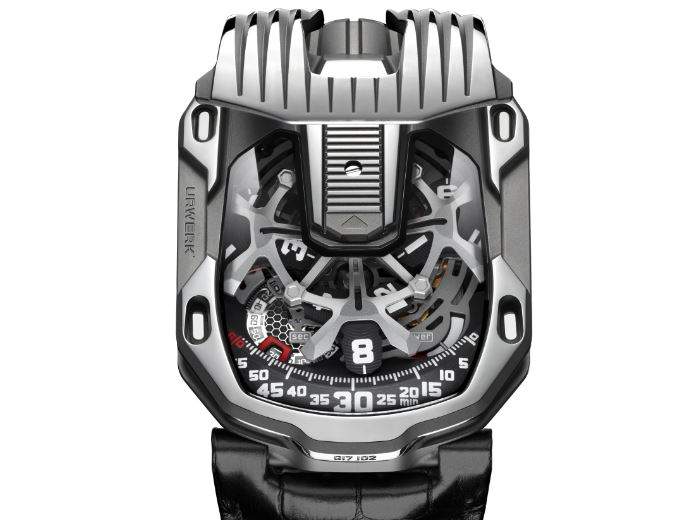 This story originally appeared in the May/June 2018 issue of Elite Traveler.
It can take a few minutes to wrap your head around an Urwerk movement, and for the firm's co-founders, Felix Baumgartner and Martin Frei, that is the point. They deepen the relationship between wearer and watch, and create innovative movements and complications that require you to think, and, in some pieces, choose how you interact with the piece. The Swiss brand's artisans test the boundaries of horology at workshops in Geneva and Zurich.
Available at Cellini Jewelers in New York, +1 212 888 0505, urwerk.com
UR-105 CT Streamliner
Last year, Urwerk celebrated its 20th anniversary, and the designers returned to an original source of inspiration: Manhattan. The Art Deco style of two of New York's most iconic skyscrapers, the Empire State Building and the Chrysler Building, heavily influenced the case design, notably the long, octagonal shape and deep channels. On the wrist, just the hour and a minutes scale are visible. When you open the top of the case, you'll see the fascinating movement, which uses four satellite discs to tell the hours. As the hour passes, the discs rotate past the minute scale.
$68,000, limited to 50 pieces
UR-210 Black Platinum
The UR-210 uses Urwerk's famous satellite hours, with an added retrograde-minutes complication. Three rotating cubes indicate the hour, with the current hour visible through the skeletonized minute arrow. This moves along the minute scale before it jumps back to zero, quicker than the human eye can see. There's also a very unique indicator that shows the movement's winding efficiency in the last two hours, allowing you to adjust the winding rate on the back of the watch, so it is more or less responsive to your motion.
$163,000, limited to 25 pieces
UR-106 Black Pink Lotus
Unlike brands that swap mechanical movements for quartz in women's watches, Urwerk shows its respect for female collectors with its first dedicated ladies' watch. Building on its wandering hours, Urwerk created a new carousel display system (based on the shape of a lotus flower) and added a moonphase, which emerges from the bottom of the movement as it sweeps around the dial. The black, PVD-coated steel case is discreetly set with black diamonds for an elegant touch.
$184,000, limited to 11 pieces