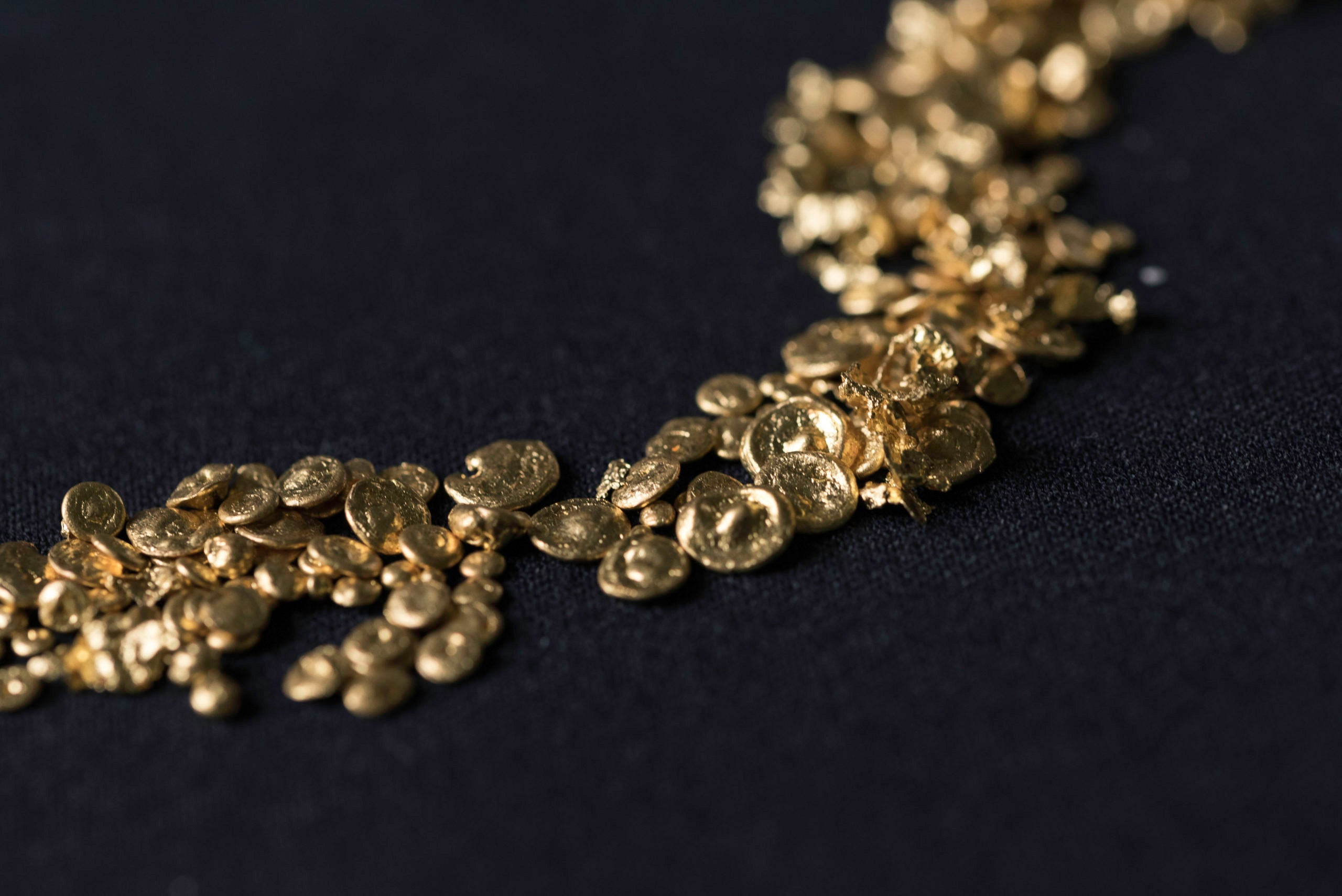 Just over an hour from Edinburgh, Scotland beneath the edge of The Trossachs National Park, a drill is currently tapping into a quartz vein in a glacial field to retrieve rare Scottish gold.
The incredibly remote location, and the fact that the glacial field is moving, makes extracting the gold a tricky feat of engineering. But this costly and difficult endeavor is well worth the effort: Scottish gold is the purest 22K yellow gold in the world, making it four times more valuable than the average global price per ounce.
To celebrate the beauty and rarity of this unique material, Hamilton & Inches — Scottish jewelers who have held a royal warrant from the British monarchy for over 120 years — has created an exquisite new collection using this rarest of golds. The Cononish Gold Mine is a quick helicopter ride from Edinburgh airport. Soar over the wild terrain and see the mine where your own nuggets will be selected from above.
The gold has SMO (Single Mine Origin) status, meaning its precise origin can be verified, and it has not come into contact with any other gold. The gold has been sensitively mined, too — when you see the pristine land for yourself, you'll understand why such measures were taken to protect it.
The environment is carefully monitored: An environmental clerk checks on the flora and fauna; an independent third party checks every condition throughout the planning; and two officers from the park (known as Batman and Robin) ensure that the bats who dwell in the tunnel are rehomed and taken care of.
Back at the Hamilton & Inches showroom in Edinburgh, expert craftsmen and women can make you your very own piece (you can even have a go at carving or engraving if you feel suitably inspired by the craft). The master jewelers create the pieces entirely by hand so that the gold doesn't come into contact with any other materials, guaranteeing its purity.
While your piece is being created, head back to The Balmoral Hotel — Hamilton & Inches has a long-standing relationship with this Rocco Forte hotel. The nearly 200-ft Gothic clock tower that soars above the landmark building and into the Edinburgh skyline has four 13-ft clock faces created by silversmiths in 1902.
Charmingly, the time was set three minutes early so that people wouldn't miss their trains during the golden age of rail travel, a quirk that endures today. As you reflect on the day's adventures, be sure to book a table at the Michelin-starred restaurant, Number One, followed by a nightcap at Scotch Whisky Bar — there are over 500 whiskies to choose from — before retreating to the outstanding Scone & Crombie suite.
Scone & Crombie suite from $5,200 per night. Contact Richard Cooke, general manager, reservations.balmoral@roccofortehotels.com, +44 131 556 2414, roccofortehotels.com