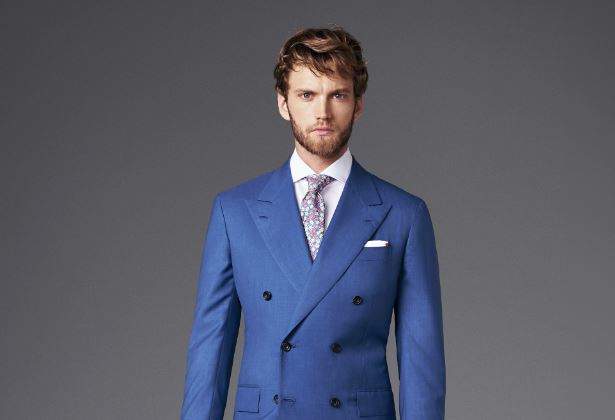 This story originally appeared in the March/April 2018 issue of Elite Traveler.
Over the past few years, the double-breasted suit has gone through a bit of a resurgence. It's a classic silhouette that has never really gone out of style per se, but it has certainly dipped in and out of favor among certain trend circles. The cut can seem a little intimidating, and there may be some uncertainty on how or when to wear it. Let's begin to demystify that, because based on the spring 2018 collections,  the silhouette is not going anywhere anytime soon. Just like their single-breasted  brethren, double-breasted suits can be worn in a variety of settings. A traditional suit from Ring Jacket is constructed with 'Mohair Solaro,' a wool-mohair blend developed exclusively for the brand. The medium-weight fabric lends itself to three-season garments that can be worn to the office or other formal environments.
If you think the double-breasted suit has an old and stodgy vibe, Savile Row tailor Richard James will help change your mind. His collection took inspiration from abstract artist Ellsworth Kelly. And using a color palette that includes a dusty pink, James certainly injects a youthful spirit into his tailoring, taking the suit outside the confines of the office and out on the town. Neapolitan clothier Kiton's slim-fitting double-breasted suit also exudes a distinct freshness. Crafted in the lightweight and rare 14-micron wool, the suit reflects the label's discerning taste. At Ermenegildo Zegna Couture, the silhouette was markedly more relaxed, some might even say sporty. A loose-fitting double-breasted suit was paired with a scoop-neck knit shirt, goggles and low-top sneakers, in line with the whole collection's casual and airy quality. Artistic director Alessandro Sartori's deconstructed looks were nonchalant yet still refined.
This season, Stefano Ricci, the Florence-based luxury brand, was inspired by the rich history of the southern Italian city of Matera, the third-oldest continuously inhabited human settlement (after Jericho and Aleppo), famed for its ancient Unesco-protected mountainside cave dwellings. One highlight from the impeccable Stefano Ricci collection shown at Matera is a double-breasted suit in a deep Mediterranean blue.
Kiton wool suit, price on request, available at Kiton in Milan, +39 027 639
0240, kiton.it
Ring Jacket medium-weight four-ply wool suit, $1,750, available at The Armoury in New York, +1 646 613 7613, thearmoury.com
Ermenegildo Zegna Couture silk jacket, $4,995, silk knit shirt, $890, silk trousers, $1,095, shoes, $495, available at Ermenegildo Zegna in New York, +1 212 421 4488, zegna.us
Stefano Ricci suit in exclusive SR wool and cashmere, price on request, available at Stefano Ricci in Beverly Hills, +1 310 858 9595, stefanoricci.com
Richard James wool suit, $1,205, cotton shirt, $280, silk pocket square, $75, available at Richard James in New York and London, +44 207 434 0605, richard-james.com