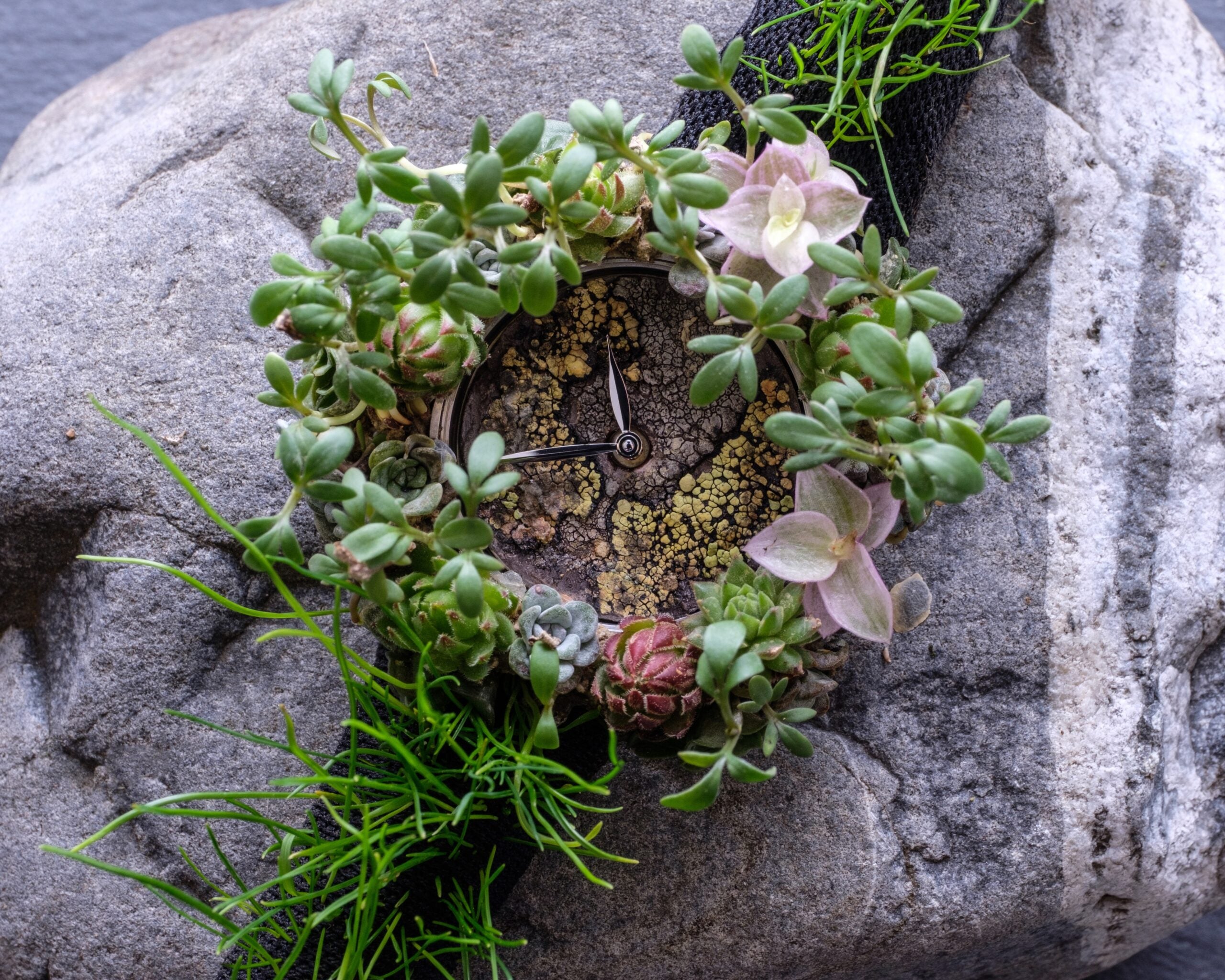 As people become more concerned about their carbon footprint, brands are taking into consideration what sustainability means to them. This Earth Day, we've rounded up some of our favorite designers and collections that are consciously producing products that every citizen of the Earth can feel good about wearing.
H Moser & Cie
Unveiled at SIHH earlier this year, H Moser & Cie's Nature Watch is a nod to the Swiss luxury watch brand's commitment to eco-friendliness and sustainability. The brand announced during that time that it plans to guarantee a zero carbon footprint in the manufacturing process while encouraging other watch brands to do the same. The watch actually grows plants, including succulents, moss, mini Echeveria, cress, spiderwort and onion sets and is to be watered twice a day. All the plants featured are native to Switzerland, of course, and grown at watch Manufacture's garden in Schaffhausen, Switzerland. Though there is only one, it does signify a major change for the brand. The watch, which houses a mechanical movement, is made to be passed on from owner to owner as each takes care of its precious greenery and signifies working together to protect our fragile ecosystem. From 2019 and on, the brand will use Fair Trade Gold as often as possible and continue to make an effort to reduce its carbon footprint. The brand is also hoping to join the Responsible Jewellery Council in 2019. Watch the watch grow, here.

AnaKatarina Fine Jewelry
For fine jewelry brand AnaKatarina, everyday is Earth Day – and her entire supply chain is vertically transparent, from responsible mining and making of her pieces to the cutting to setting. All of her pieces, which are made in New York City, are made using recycled 18K gold and palladium and use conflict-free and fair-trade diamonds, precious stones and fossils. She has a strong focus on social and environmental responsibility. This idea was formed when she served as a war correspondent during the Balkan War and believes in working with companies who can trace the origins of their stones. She personally believes that ethical jewelry leads to compassion and through her jewelry she is hoping to bring social justice and responsible practices to light. AnaKatarina's pieces are fun, quirky and always beautiful and creative.

Salvatore Ferragamo's '42 Degrees' Capsule Collection
Made 100 percent in Italy, Salvatore Ferragamo's new capsule collection 42 Degrees, designed by young, creative Salvatore Ferragamo designers Flavia Corridori and Luciano Dimotta, is a sustainable collection consisting of a men's sneaker, women's sneaker, backpack and shopping bag. It was inspired by the brand's iconic 1938 'Rainbow' sandal, and each product is made using Italian materials with a traceable supply chain using reputable Italian factories; plant-based dye; natural rubber in the soles of the shoes; and organic fibers, such as corn, kenaf and wool, made without chemical binders; and water-based linings. Additionally, the rainbow ribbon on each product is dyed with a system that uses lower level of water consumption and uses yarn from polymers that were once plastic bottles.
Dana Bronfman
Using reclaimed and fair-mined 18K gold and ethically sourced gemstones, New York City-based jewelry designer Dana Bronfman always strives to make her fine jewelry pieces as sustainable as possible, all while giving back. She gives back with each pieces by supporting environmental organizations and design-based youth empowerment programs. Her gold comes from small artisinal mines with low environmental impact, fair wages for its workers and don't employ children or have links to conflict situations.