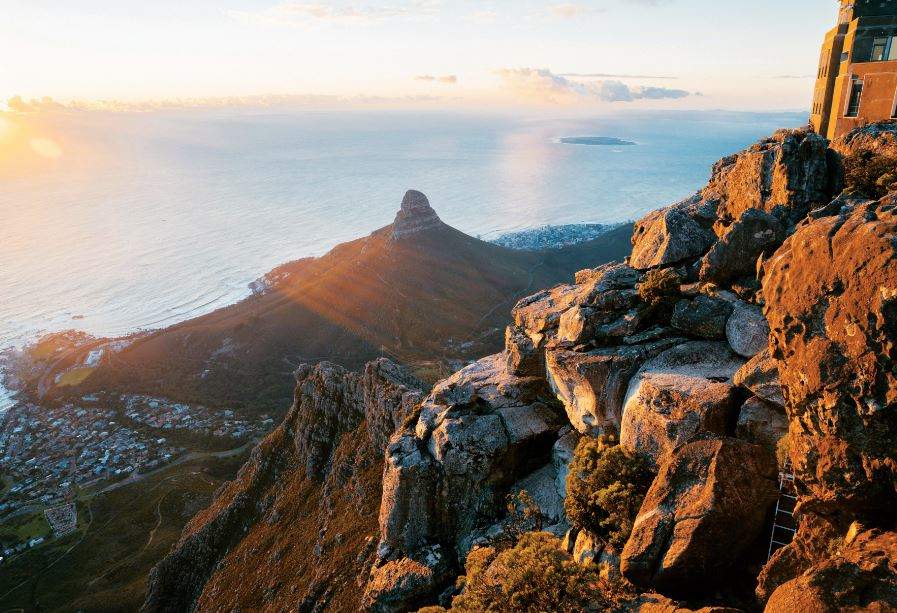 From the most incredible restaurants to opulent suites, Elite Traveler brings you the ultimate luxury guide to Cape Town.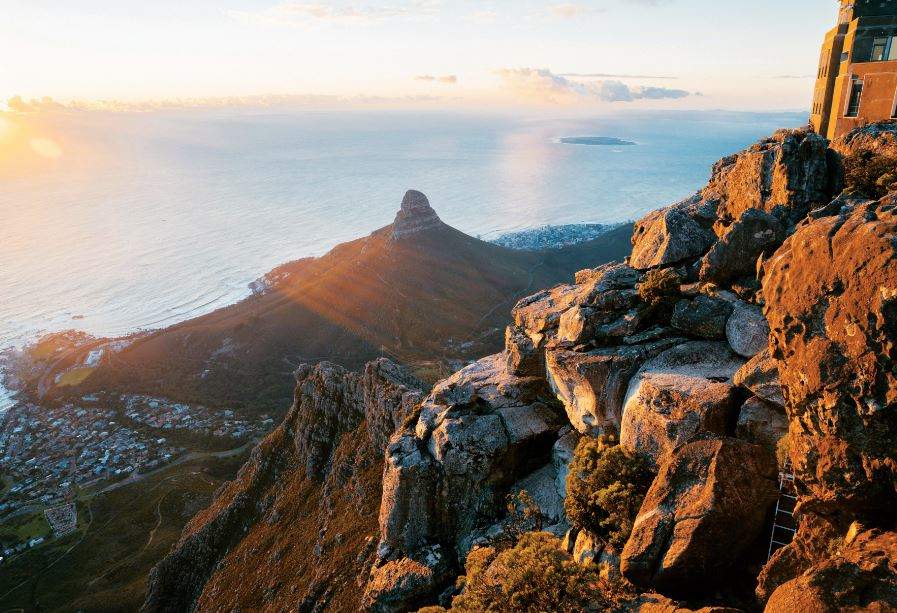 Otherworldly. That's likely to be your first descriptor when you catch sight of Cape Town's surrounding landscape, a convergence of craggy peaks, roiling seas, sprawling gardens and green spaces, bustling harbors, inviting beaches and centuries-old architecture. A study in contrasts, the city, once merely a spice-route stopover, today holds a patchwork of cultures, most dating back hundreds of years.
From the orderly Dutch to the winemaking French to indigenous people and the descendants of Malay slaves, the Mother City (as even Capetonians call it) manifests a rich societal mishmash, a gravitas evident in the food, arts, history, edginess and forward-thinking style of the general populace. Despite the global population, everyone shares an unabashed adoration of the magnificent outdoors.
It's a place where it's not uncommon to see wandering baboons (near Cape Point), whales breaching (near False Bay), sharks up-close from underwater cages (if you dare), penguins (Boulders Beach), ostriches and wildebeest. Cape Town also brandishes hip, gallery-filled streets, celebrity-chef-driven restaurants and nearby wine regions as sophisticated and charming as Napa Valley. Cape Town, exotic yet accessible, makes an ideal spot to begin a safari adventure to Kruger National Park. And the view of iconic Table Mountain, crowned by a halo of clouds? That's worth every hour of the long flight to arrive.
Dine Well
The Greenhouse
Ever nibbled a madumbi? At The Greenhouse, acclaimed chef Peter Tempelhoff promises you'll take a liking to this indigenous tuber. While at his airy restaurant, ensconced in the Cellars-Hohenort Hotel and nestled among gardens on Table Mountain, you'll experience other local fare like alikreukel, a sea snail. The Greenhouse offers two seasonal tasting menus, each showcasing regional customs and ingredients in an unforgettable culinary adventure. Expect pairings from South African vineyards and dishes like lamb with sweetbreads.
La Colombe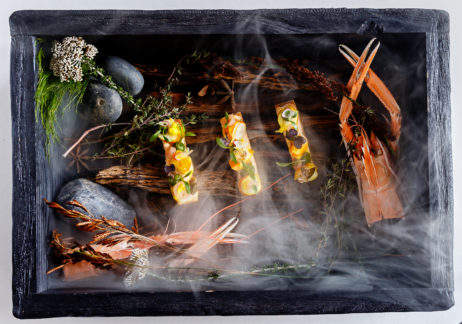 Get thee to the vineyard. La Colombe perches atop a hill overlooking Silvermist organic wine estate. Casually elegant, this gourmand's favorite puts out festive cooking, which shows a true understanding of French technique and ritual, while modernizing the game with Asian and Capetonian notes. The wunderkind chef team of James Gaag and Scot Kirton plan dishes ideal for pairing with local wine. Splurge on the 10-course epicurean menu, a journey which may include scallops, venison and more—including the famous tuna dish, brought in through a back door and served like a picnic.
The Test Kitchen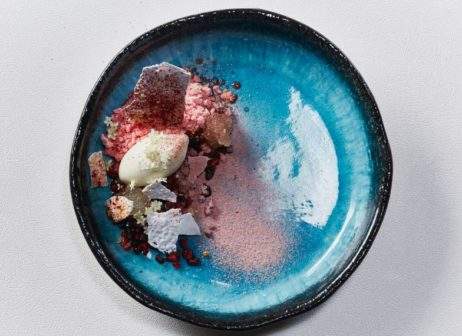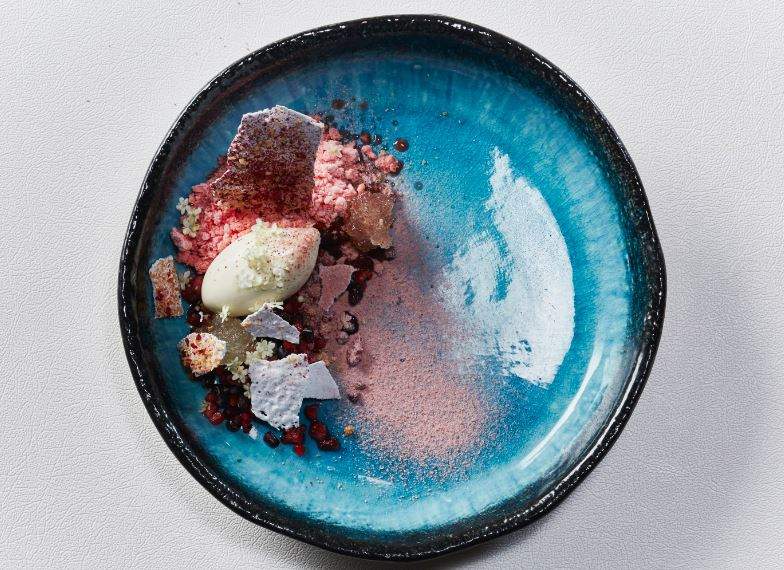 This creative restaurant by chef Luke Dale-Roberts is on everybody's bucket list. Theatrical, with unexpected flourishes, The Test Kitchen brings to play a kind of moveable feast concept. Guests sip cocktails and eat first courses in the Dark Room (a shadow-filled, intimate lounge) before moving to the Light Room next door. From its chic, industrial architecture to the servers' uniforms, an artsy mood prevails, foretelling the creative nature of Dale-Roberts' fare. Expect very local items, such as oryx, as well as more recognizable creations from curry to ceviche — but always with a bold twist.
Suite Sleep
Penthouse Suite Cape Grace Hotel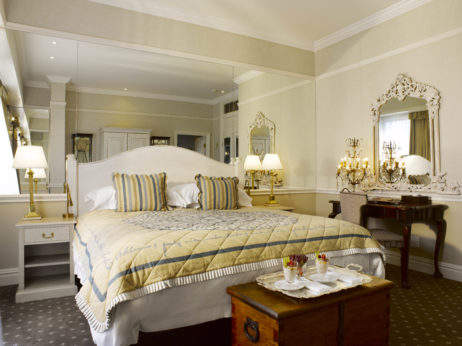 Popular with celebrities and dignitaries for its single entrance on its own quay, Cape Grace, of Leading Hotels of the World, also attracts design and history fans who admire how its decor reflects Cape Town's culture. With a nautical theme, antiques, African artifacts, sumptuous fabrics, stunning reproductions and unique chandeliers, each room bears its own motif. Families might choose the two- or three-bedroom suites, while the most luxurious room for couples is the 860-sq-ft Penthouse Suite, with a 500-sq-ft balcony and its own private Jacuzzi. Its English-regal-meets-French-boudoir style exudes cozy swank.
From $1,880 per night. Contact Lianne Kelly-Maartens, executive sales manager, lianne@capegrace.com, +27 214 107 100, capegrace.com
Presidential Suite Belmond Mount Nelson Hotel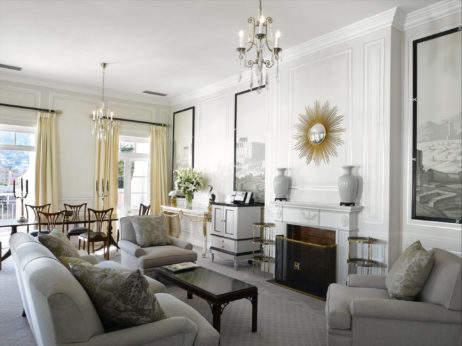 The Pink Lady. It sounds like a cocktail. But it also describes a classic hotel, painted a rosy blush, with commodious rooms. It was built for colonial times — an era when people brought along their own bone china and crystal for long stays. In homage to more than a century of history, Mount Nelson's Presidential Suite sports vintage touches — such as a desk that dates back to 1899 and circa 1930s light fixtures. Enter via a marble foyer, which leads to an ample lounge. Here, you'll find a dining area, wet bar and two grand bedrooms. But no accoutrements can compete with the view of Table Mountain from your balcony.
From $1,200 per night. Contact Xavier Lablaude, general manager, xavier.lablaude@belmond.com, +27 214 831 000, belmond.com
Penthouse Suite The Silo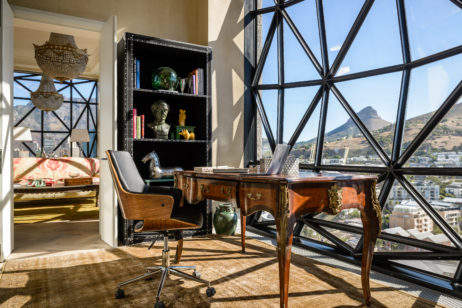 Owner/designer Liz Biden puts a fanciful spin on every project. At The Silo, located in the top of a refurbished, historic grain elevator, she presents her eclectic vision, weaving into it the spirit of the new Museum of Contemporary Art Africa (MOCAA), which comprises a number of stories in the same structure. Taking industrial chic to new heights (no pun intended), the hotel looms over the Victoria & Albert Waterfront, showcasing astounding vistas. The Penthouse Suite on the 10th floor, crowned only by a rooftop pool and bar, has a James Bond sexy boldness, plus Biden's usual ingenious use of color and whimsical extravagance, such as a clawfoot tub with a view.
From $4,900 per night. Contact Hoon Kim, concierge, hoon@thesilohotel.com, +27 216 700 509, theroyalportfolio.com
The Villas Ellerman House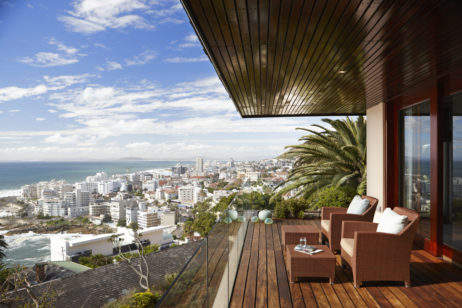 The splendor of Ellerman House, a Relais & Châteaux hotel, begins with its restored Edwardian mansion main house, which sets a posh mood in Bantry Bay, one of the city's most exclusive enclaves. While the original hotel (an aesthete's haven, it displays hundreds of peerless works of art) channels classic opulence, the newer, ultra-contemporary villas reference the Mother City's modern glitter and glamour. Each of the two villas boasts a pool, kitchen, private terraces, personal chefs and attentive staff. Bi-level Villa One has three bedrooms, a library and television room, while Villa Two, built atop a wine gallery, features a cinema and an elaborate stairwell hand-forged by Conrad Hicks, a local metal artist. Both command jaw-dropping views of the sea.
Villa One from $5,912 per night; Villa Two from $5,216 per night. Contact Lindsy Terry, marketing director, lindsy@ellerman.co.za, +27 214 303 200, ellerman.co.za
Out and About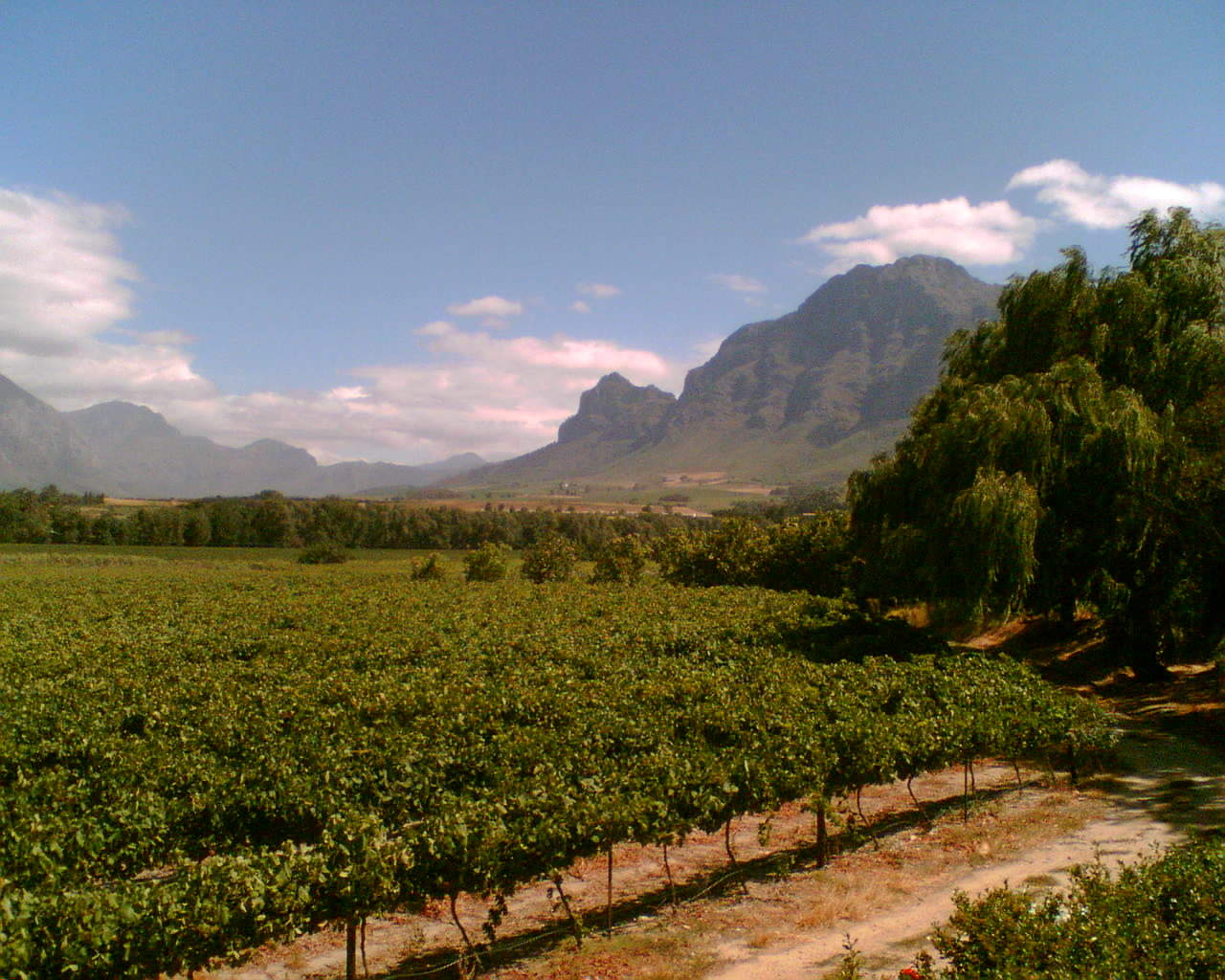 Wine Down
Oenophiles: Explore the Winelands, less than an hour from Cape Town, as a day trip. Or, amid the verdant, vined expanses, enjoy small towns such as Stellenbosch and Franschhoek. With more than a dozen designated wine routes and beaucoup wineries, choosing where to go can be a challenge. Leave the planning to Stephen Flesch, who organizes customized tours. The former chairman of the Wine Tasters Guild naturally knows all the best places and hidden gems.
Water World
Churning water, rugged shorelines and magnificent marine creatures define South Africa's Cape Coast. Thousands of tourists (and locals) visit each year to observe the point of confluence of the Indian and Atlantic oceans at Cape Point. From the touristy (but entertaining) V&A Waterfront to posh Bantry Bay to Boulders Beach and penguin spotting, an array of seaside options beckon. Arrive in style by private yacht; Private Yacht Charters organizes trips in boats of all sizes.
Retail Therapy
Discriminating shoppers live for the joy of finding that perfect object to commemorate a trip. Join an insider from Explore Sideways for a bespoke ramble through Cape Town. On a bubbly-fueled, all-day trek, visit couture ateliers, art galleries, jewelry workshops, leather boutiques and decor stores. You'll learn local shopping secrets and meet artists, fashion newsmakers and designers. Choose the add-on option, which brings a jewelry designer right to your hotel to create a custom piece.
Night at the Museum
For business travelers who need an impressive event venue, Zeitz Museum of Contemporary Art Africa (MOCAA) provides a unique setting. Located at the V&A Waterfront, MOCAA holds a cache of remarkable art, displayed in the refurbished historic silo. Party after hours in the atrium in the heart of the hotel, or have your fête at The Venue on the sixth floor, which overlooks the rooftop sculpture garden. A collaboration with Cape Town's The Aleit Group ensures successful soirées.
This story was written by Becca Hensley and originally appeared in the January/February 2019 issue of Elite Traveler.