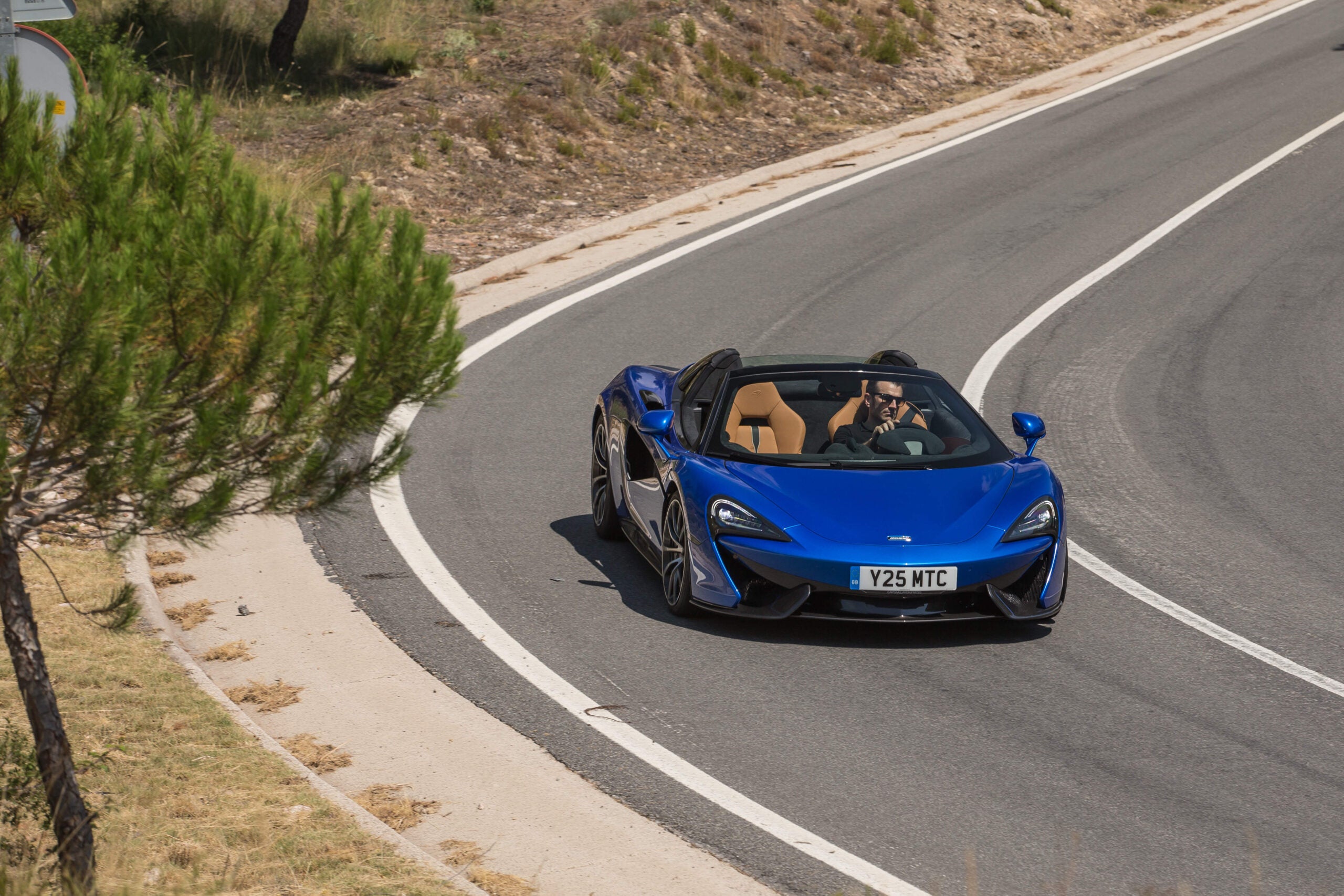 At first, it was hard to imagine that the McLaren 570S Spider, part of the brand's Sports Series, was an everyday car for McLaren drivers. As a brand known for race cars and high-performance road vehicles, the low-to-the-ground, curvaceous sports car seemed like it belongs more on a racing track than the busy New York City streets — until I hopped inside. Though the dihedral doors — an iconic feature of McLaren — draw upwards for easy entry (like a superhero's ride), the interior is far less intimidating, and it's immediately clear why this smooth, sleek vehicle could be an everyday car (despite its ability to attract attention wherever you go).
Utterly elegant and minimalistic — perhaps so drivers can focus more on the car's capabilities than fussing with gadgets — the interior is draped in suede trimmings throughout the dashboard, ceiling and insides of the doors, and has plush leather seats for a comfortable ride. The impressive sound system was a collaboration between McLaren and Bowers & Wilkins, allowing clear tunes to spill through the surround-sound speakers. A vertical iPad-sized touch screen greets you between the driver and passenger seats, housing the controls for navigation, music and everything else; it is similar to scrolling on a smartphone, making its use intuitive.  
As for the exterior, the engine is housed in the back of the car and the main luggage compartment (150 litres) can be found in the front. A lightweight retractable hardtop, taking just 15 seconds to vanish into a tonneau deck, is perfect for driving on sunny days (although the car looks just as sophisticated with the top up). The doors feature unique hollowed sides to help guide air into the side intakes, thus feeding the radiators and increasing aerodynamic mobility.
Starting the drive, we gently coursed through New York City streets, its engine humming and vibrating, begging to go faster. This car was not made to go slow, which became obvious once we hit the George Washington Bridge, where gray concrete was replaced by greenery and open road ahead. Whirling at 70mph, with only a slight touch on the gas pedal, it felt as though we were barely moving. The car glided swiftly along the road, but once again, it felt obvious that even the speed limit was below the car's enormous threshold.
When driving, you're propelled forward and feel the rumble of the engine, forcing each person — driver or passenger — to truly experience the ride, instead of sitting back to relax. Though it boasts a comfortable, spacious cabin with a high ceiling and ample room on either side, the car forces you to be in the moment thanks to its boisterous twin-turbocharged 3.8-liter engine, which is audible from inside the car, and even more so with the small window open between the two seats.
Rare is it you'll find a car that has Normal, Sport and Track mode, but once again, McLaren proves it's not like its competition. The Active Dynamics Panel shifts easily between these three modes, allowing riders in all climates and circumstances to choose their driving preference.
All in all, the 570S Spider is accessible to those who aren't sports-car aficionados, but it retains its appeal to collectors worldwide thank to its Formula 1-inspired carbon fiber casing and impressive on-roading capabilities. Customization options — so specific that you can take a  color from your personal tie, watch or shoe collection — are available for both the exterior and interior at an added price.
Read more about McLaren here
Photos from McLaren
Price $208,800 Engine 3.8 liter 0-62mph 3.2 seconds Torque 600nm Maximum speed 204mph Front luggage capacity 150 liters