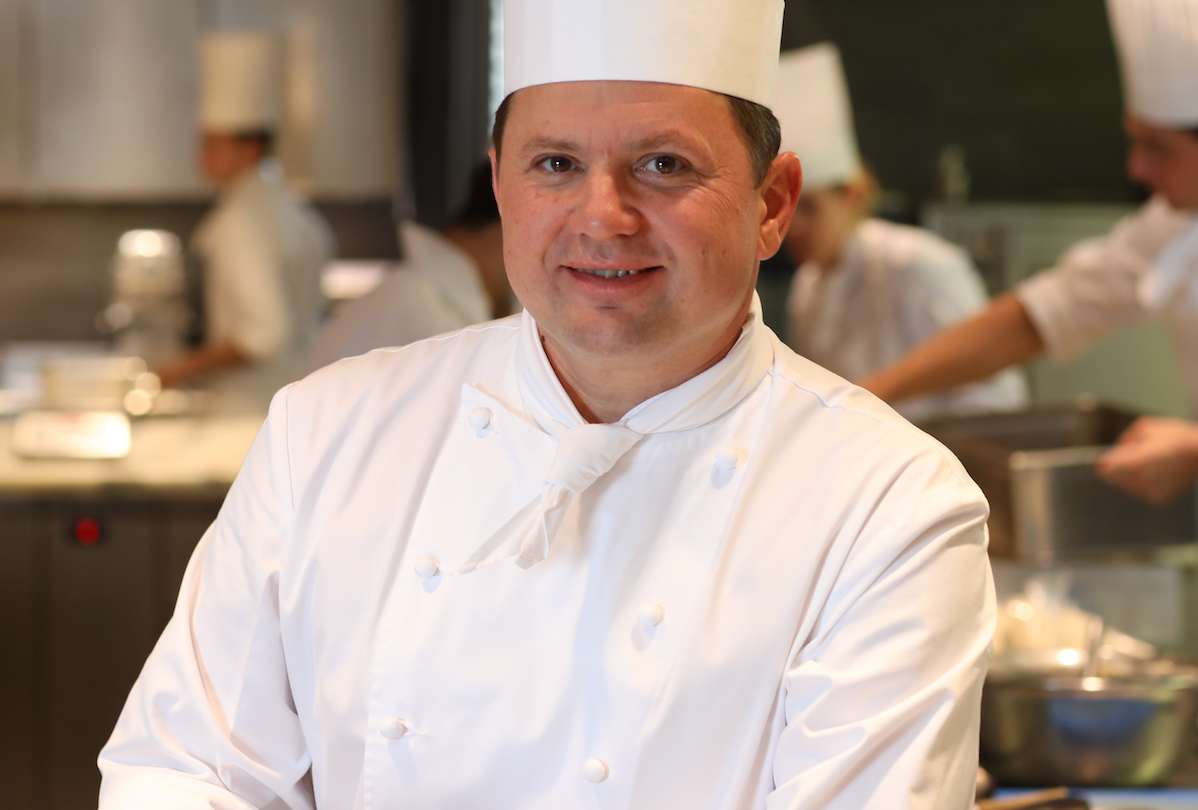 Set to a soundtrack of chiming pots and pans, Franck Giovannini speaks to us from the kitchen of Restaurant de l'Hôtel de Ville about storming in to claim the coveted number one spot of Elite Traveler's Top 100 Restaurants 2019.
"It is unbelievable," he says "We are very happy, as we put a lot of energy and love into everything that we do. People come here for the food but also the welcoming, family ambience — I want guests to be comfortable."
Family values are intrinsic to everything Giovannini and his team do — hardly surprising considering the restaurant has been open for over 55 years and many of the chefs have worked there for decades.
Giovannini himself has been at the restaurant for over 20 years, first as sous-chef under the famous executive chef Philippe Rochat, and then, when the baton was passed on to Giovannini's close friend Benoît Violier, he became head chef.
They worked together closely for 22 years and, following the untimely death of Violier in 2016, Giovannini took over. Giovannini and his team have strived to maintain the same exacting standards of excellence, and are certainly succeeding.
This year the restaurant regained its three-Michelin-star status, as well as being voted as our number-one restaurant (a substantial leap from last year's position at number nine).
"It is difficult for me to say that it is better than before, but I think evolution is positive and I want to keep doing better. Even with the death we never lose quality, we've been here for 20 years and have worked together for a long time. I want to stay close to my staff; I have people smiling in the kitchen, and that makes me happy."
Giovannini has great respect for not only his staff but also for the produce used in his kitchen; he is passionate about maintaining Rochat's philosophy of not mixing too many flavors on the plate and using fresh, local produce.
"We know the people we work with and some providers have been here 40 years; we are very loyal to our suppliers and always buy the best meat and vegetables."
Loyalty is close to Giovannini's heart, and he considers it extremely important to be present in the restaurant and meet his diners. He wants to be there for every single guest's visit, whether it's their first time at the restaurant or their hundredth, a special anniversary celebration or a once-in-a-lifetime treat.
He is especially keen to surprise the regulars. "We have so many people coming again and again, so we try to not do anything twice. We do five seasons a year and change the menu five times; we have an extra season between springtime and summer.
"We stay with the season; the menus are different, even if the produce is the same. We never cook it the same way."
And if this element of surprise and delicious variation of the same ingredients has guests feeling inspired, there's also a cooking academy: "It is very special, as they work in the same kitchen as us — people love it, and this way I can show how respectful we are to everything we do.
"Children come in for the cooking school too; we do two dishes in the morning, then we sit down in the dining room to eat before returning to the kitchen to create a meal that they take home for their family. It's a lot of fun."
It's clear how necessary a sense of community is for Giovannini; he touches on the 'family ambience' of the restaurant many times and returns to the close bond he has with his team throughout our conversation.
During his very limited free time, he says his own family comes first; he tries to spend as much time with his two children as possible.