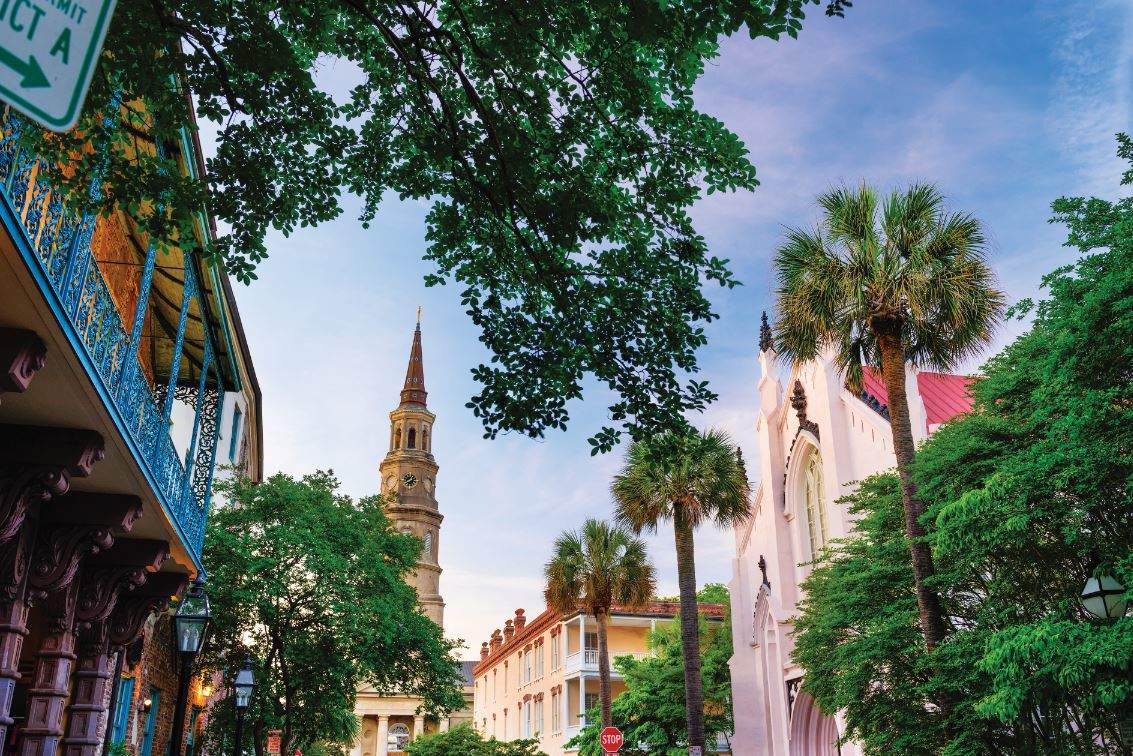 By Becca Hensley
This story originally appeared in the March/April 2018 issue of Elite Traveler.
When you long for somewhere nostalgic, a place removed from the blaring news, cultural homogeneity and bustling urbanity of many of today's major cities, Charleston can be your escape. There aren't any skyscrapers dotting the skyline or towering over its historic district, and there isn't the threat of one being built in the future. The sprawling historic district in this Southern bastion by the sea is one of the largest in the world, second only to Rome. That's right. Rome. Although it has been besieged by earthquakes, fires, wars and hurricanes, Charleston never gave up its identity or put its legacy at risk. Through the years it has doubly embraced its heritage (which dates back to 1670), architecture and unique cultural characteristics, thus keeping its textured personality intact. Generations of African slave descendants (today known as Gullah) heavily influenced the city's culture through their folklore, food, language and artistry. Charleston also cherishes Old Southern manners, elegance and charm. Horse-drawn carriages are a frequent sight on cobblestoned streets that are adorned with ironwork balconies, Doric columns, colonial buildings and classic plantation-style mansions. This harbor town has verdant groves of palmetto palms and gardens of magnolia, wisteria and jasmine woven into its old-world framework. A maze-like place that brims with beauty, mystery and grace, Charleston offers a distinct cuisine known as Lowcountry, which is also interpreted with sophistication by award-winning chefs. For a romantic weekend, mosey down to the Battery to watch a sunset, sip she-crab soup, or wander the antique treasure troves along King Street. With golf resorts and beaches on its outskirts, a penchant for a well-crafted cocktails at any time of day and an understanding that the point of manners is to make other people feel comfortable, this magical historic city has much to show you.
To do
Take Flight
Soar above the steepled city in a chopper. Holy City Helicopters safely flies you above the undulating coastline. While on board, you'll spot lighthouses, coastal islands and rumbling sea. Choose the sunset tour with champagne for the ultimate treat.
Shop King Street
Meander down King Street, wallet in hand. Don't miss Croghan's Jewel Box—its story is one that defines Charleston. One hundred years ago, engraver William Croghan opened his store in a two-century-old building. Today, in the same location, it's an exclusive trove for jewelry buffs. From silverware to estate jewelry to the Goldbug collection designed by Croghan's able heirs, this is a can't-miss experience.
Tee Off
Golfers can tee off at some of the world's top-rated courses on Kiawah Island, a private island community with beaches, a hotel and nine elite courses—including some designed by Gary Player and Jack Nicklaus. Work on your swing at Kiawah's Golf Performance and Development Center, a cutting-edge digital practice range sure to improve your game.
[See also: Top Suites in the World – The Presidential Suite, The Sanctuary at Kiawah Island Golf Resort]
Sail Away
Revel in Charleston's maritime heritage aboard a yacht. Rent your own 17-ft Boston Whaler from Charleston Charter and Yacht, or join this premier outfitter's organized trips, from sunset cruises to afternoon harbor tours. Private, customized charters can include fishing, water play and stops at ports along the way.
Hit the Open Road
Guests of The Restoration hotel can dream up, design and roar down the road on a fully bespoke motorcycle, hand-built by the hotel's in-house master craftsman. Commission your one-of-a-kind bike, from handlebars to fenders, pick it up four to nine months later, and see Charleston from atop two wheels.
Get Mannerly
There's nothing like gracious Southern hospitality. Join author Suzanne Pollak, the dean of the Charleston Academy of Domestic Pursuits, for a round of customized cooking classes, social-survival tutorials and general throwing-a-party-the-Charleston-way advice. A rip-roaring good time, this immersion in culture is time well spent.
Take Five///Superb Suites
Grand Mansion Suite
Wentworth Mansion
To instantly embrace Charleston's culture and architecture, check into Wentworth Mansion, an 1880s landmark. A marvel of Gilded Age plaster curlicues, hand-carved marble fireplaces and wood details, oriental rugs and Tiffany lamps, Wentworth evinces Southern warmth with afternoon cordials in the library and games on the lawn. Luxuriate in the airiness of the Grand Mansion Suite, composed of two rooms. Rumor has it this is where Reese Witherspoon honeymooned.
From $630 per night. Contact Noreen Marchant, innkeeper, wm-concierge@charminginns.com, +1 843 853 1886, wentworthmansion.com
St Philip Suite
Planters Inn
The esteemed Planters Inn, a Relais & Châteaux hotel, is perfectly positioned in the city's historic center. Relax in the hidden garden or discover one of Charleston's most romantic restaurants: Peninsula Grill. The new 1,460-sq-ft St Philip Suite, on the top floor, is designed to feel like a pied-à-terre, as if you have borrowed a friend's charming apartment for the weekend. Baker Historic Charleston furnishings fill the luxurious space, which features high ceilings, arched doorways and a mural by noted artist David Boatwright. You'll find a dining area, reading room, television nook and kitchen, as well as a southfacing window that gazes on St Philip's steeple.
From $495 per night. Contact Tarleton McManus, assistant manager, reservations@plantersinn.com, plantersinn.com
Family Parlor Suite
The Beach Club at Charleston Harbor Resort & Marina
Celebrate Charleston's maritime history at the only waterside hotel in town, The Beach Club at Charleston Harbor Resort & Marina, a Leading Hotel of the World. At harbor's edge, just 10 minutes by water taxi from downtown, it boasts a panorama of the city from the water, a sight that has remained essentially unchanged for centuries. Local art animates walls in the common rooms and suites. The Family Parlor Suite has two bedrooms, fireplace, living area, custom-crafted Lowcountry furniture, marble bathroom with soaking tub and sprawling terrace, which means you can bring the crew for a reunion.
From $450 per night. Contact Nick Saltmarsh, general manager, nsaltmarsh@charlestonharborresort.com, charlestonharborresort.com
The Exchange Suite
The Restoration
A modern riff on old-school Charleston charm, The Restoration comprises five buildings downtown, all updated to celebrate the artistic élan of the New South. Just off upscale, boutique-filled King Street, The Restoration features apartment-style rooms that look as if the decor came straight from the nearby shops. While each suite is spacious, the hotel's latest hideaway, The Exchange, has two guest rooms and a living room large enough for parties, board meetings and family gatherings. In fact, staff will reconfigure in advance as needed, adding pingpong tables, meeting furniture, etc. A full kitchen and enchanting private rooftop add to its efficiency and allure.
From $1,500 per night. Contact Karen Winn, director of sales, kwinn@therestorationhotel.com, +1 843 518 5199, therestorationhotel.com
Presidential Suite
Belmond Charleston Place
Local grande dame Belmond Charleston Place reigns from a prestigious location in the historic district, amid plantation-era porticoes, bronze fountains and the wafting scent of magnolia blossoms. The lobby's Italian marble floors and Georgian double staircase exude a luxe serenity—the space's wow factor is undeniable and a true breath of fresh air as you step in off the hot street. Book the Presidential Suite, located on the top two club-level floors. Featuring skyline views, the suite blends old and new with light colors and handsome antiques. Its pantry and dining table for six may spark the idea for a dinner party.
From $1,899 per night. Contact Kendall Jones, executive assistant, kendall.jones@belmond.com, +1 843 724 8120, belmond.com
Cocktail Culture
It's no secret that Charleston likes to imbibe. Blame it on the heat, but the Holy City gets thirsty. With nicknames for every type of tippling, this port town calls drinking while putting on your outfit "a dresser" and sipping while in transport "a traveler." Whether it's iced tea or the perfect cocktail, a cold libation is part of the Charlestonian tradition.
Dewberry Bar
Formerly the midcentury L Mendel Rivers Federal Building, The Dewberry Charleston (pictured) overlooks Marion Square. Envisioned by owner John Dewberry as "Southern reimagined," the hotel's style blends indigenous Lowcountry details with au courant design—for example, modern art and exquisite antiques. A place that makes you want to dress up, its bar, helmed by wunderkind barman Ryan Casey, mixes the best Old Fashioned in town.
492
In the historic downtown area, this romantic haven of Charleston chic has a courtyard on King Street. A culinary buff's fantasy, its handcrafted cocktail list ensures you'll stay for two rounds, at least. Try the Muhammad Ali, a spicy concoction with bourbon, honey, lemon and habanero. Or opt for the herbaceous Sage It Ain't So, with gin, crème de cassis and, of course, sage.
5Church
They don't call Charleston the Holy City because of the piety of its citizens; the nickname derives from its abundance of churches. So it's not a huge surprise that a decommissioned house of worship on bustling Market Street is now occupied by 5Church. An atmospheric bar that also serves New American cuisine by chef Jamie Lynch (of Top Chef season 14 fame), this gourmet mecca has stained-glass windows, vaulted ceilings and the entire text of The Art of War handwritten on its wall. Go for brunch, accompanied by a spicy Carolina Reaper Bloody Mary.
Watch Rooftop Kitchen & Spirits
The ample seventh-floor rooftop terrace at Watch, in The Restoration hotel on Wentworth Street, is the place for sunset drinks. Tempting libations are listed by ingredients only—so consider this mash-up: aged rum, pear and Charleston-blend hot tea to warm you up, or bring out your inner wild child with a mix of tequila, sassafras, cherry brandy and a Cabernet float.
Ms Rose's
Sip like a Southerner at Ms Rose's, a neighborhood hangout in the West Ashley area. While sweet tea is always popular in the heat, try yours spiked with locally made spirits. Firefly Sweet Tea Vodka comes in peach, raspberry and original, or opt for the Jazz Island Spiked Tea. What to nibble with your drinks? House-made crab cakes and fried green tomatoes with pimento cheese.
Delectable Dining
Husk
Chef Sean Brock won't serve an ingredient at Husk if it doesn't come from the South. An ode to Dixie, this universally touted restaurant (once featured in Elite Traveler's Top 100 Restaurant awards) has a daily changing menu that dishes up reconceived recipes from grandma's kitchen. From deviled eggs with house-pickled okra to North Carolina chicken and biscuits and slow-cooked pork ribs, this welcoming spot lures locals and tourists alike.
Fig
Envisioned as a neighborhood bistro, Fig (Food Is Good) has never let its many awards go to its head. Though chef Mike Lata is a James Beard award winner and the restaurant continues to collect accolades, the champion of fresh local produce remains laid-back. A required pilgrimage for foodies, Fig offers dishes such as poached Carolina shrimp, chicken liver pâté and mustard-crusted swordfish. Expect to see residents vying for your table.
The Obstinate Daughter
On Sullivan's Island, just a short drive from downtown, you can tour another part of Charleston, including historic Fort Moultrie. After your adventure, fuel up at The Obstinate Daughter, which offers rustic Italian fare infused with regional seafood, created by chef Jacques Larson. Buzzing with joyful locals, this spot gets well-earned praise for its wood-fired pizzas (try one with local clams and fennel) and inspired pasta dishes, such as lemon pappardelle with lobster and shrimp.
Butcher & Bee
If restaurant buildings were metaphors for the food they serve, Butcher & Bee's barn/ industrial shelter on Morrison Street would foretell its fashionable menu, drawn from the season's bounty. With very healthy breakfast selections, the eatery doles out less virtuous fare for dinner. Try all 14 of the mezze plates for $60—or order an entrée sourced from a local ranch, such as grilled quail or lamb tartare.
Peninsula Grill
The 12-layer coconut cake may be the undisputed star of this highly rated eatery, but the preamble to dessert is quite the journey. Featuring inventive twists on Lowcountry cuisine from she-crab soup to lobster and steak, the restaurant has swanky, adult appeal—the kind of place you want to go for a celebration. Try for a table on the patio, illuminated by carriage lights.