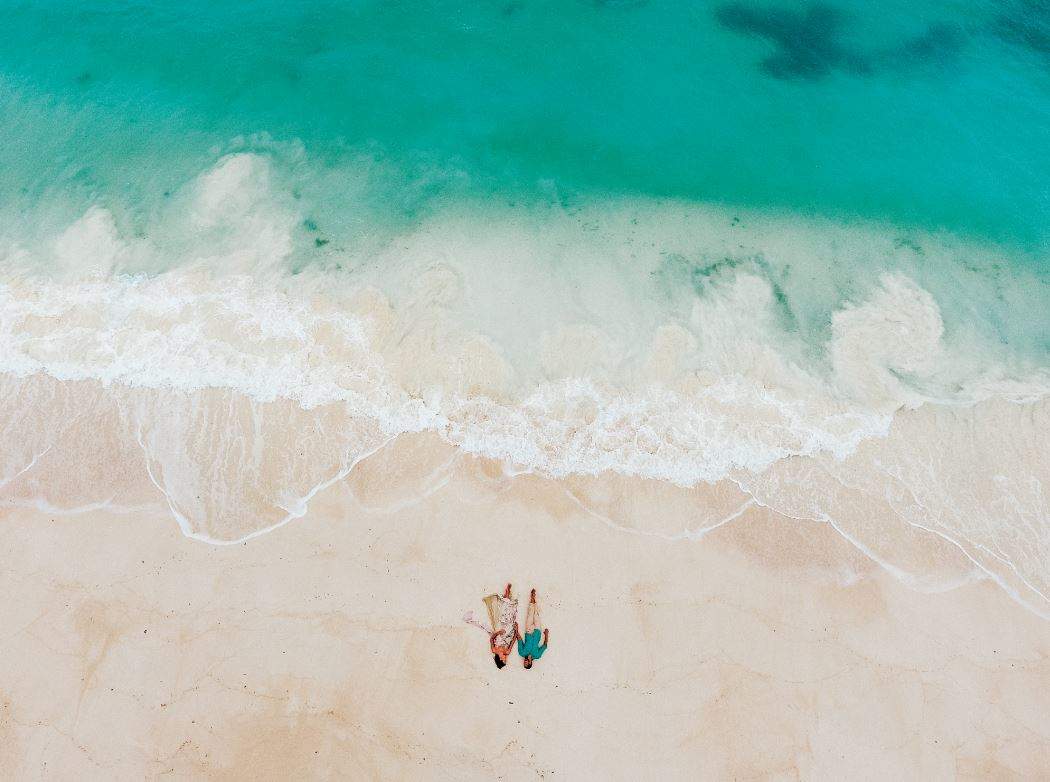 A go-to summer retreat for well-heeled Australians, Fiji is the jewel of the South Pacific. A 333-island archipelago, the country offers pristine coral reefs and has no shortage of fresh seafood, surf breaks and fascinating cultural experiences. Minutes after touching down at Nadi International Airport, you might find yourself aboard a four-seat puddle jumper bound for the western Yasawa Islands for a secluded private island getaway, headed northeast to explore Taveuni, Fiji's lush 'Garden Island,' or venturing south to dive around Beqa Barrier Reef, dubbed the 'Mecca of Pacific  Diving.' No matter which way you go, the islands move on Fiji time, so stow your Rolex and go with the flow.
Hot opening… Six Senses Fiji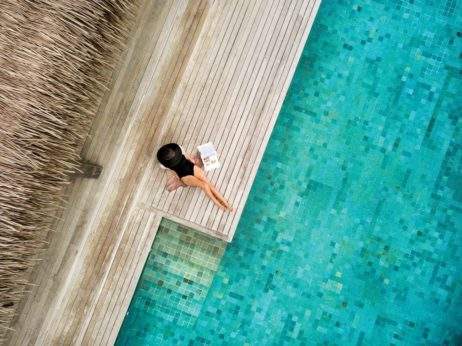 Slated to open this April, Six Senses Fiji is bringing its eco- and wellness-oriented ethos to Malolo Island. Guests will want for nothing: the beachfront community comprises 24 pool villas, 60 pool residences, surfing, diving courses, coral planting, a treetop yoga platform, three restaurants, two bars, a wine cellar and, naturally, a state-of-the-art Six Senses Spa.
Beach Clubs
Cloud 9 Fiji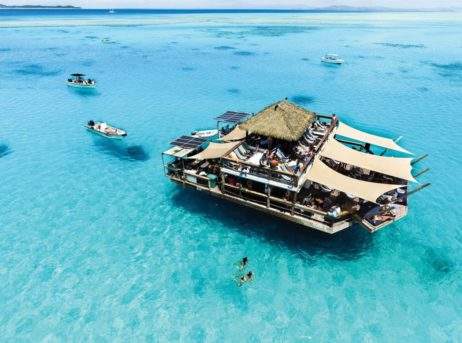 Cloud 9 Fiji was founded by Australian DJ Bar'el Wachtel, who has a passion for music, surfing and sailing. The beach club floats on pontoons at the center of Malolo barrier reef, in western Fiji. From the spacious wood decks, you can jump into the water, snorkel around Ro Ro Reef, dig into wood-fired pizza or simply chill out and listen to cutting-edge music from guest DJs.
Waitui Beach Club
Recently opened Waitui Beach Club sits pretty inside the Sofitel Fiji Resort and Spa on Denarau Island, near Nadi. This adults-only club sets the tone with white canopied daybeds, a lagoon-shaped pool, dedicated beach, glamorous champagne bar and resident DJ. But it's not all about indulgence: the club's restaurant serves up superfood-packed meals, plus there's an 82ft-long lap pool, a gym, and yoga and fitness classes.
Malamala Beach Club
It's impossible not to enjoy yourself at Malamala Beach Club, which resides on its own private island off the western coast of Fiji, accessible via boat or helicopter. Awash in sun-kissed white and blue details, this idyllic address promises a day full of white-sand beaches, private cabanas, an infinity pool and quality cocktails—all to the tune of laid-back DJ beats.
Where to Dine
Gaiatree Sanctuary
More of a half-day experience than a simple sit-down meal, Gaiatree Sanctuary's Spice of Life Tour welcomes travelers to a secret garden on lush Taveuni Island. The morning includes a guided tour of the organic spice plantation and a little time to lounge in the gardens before savoring a three-course plant-based lunch. While the dishes change daily, past examples include smoked coconut frittata, gluten-free gnocchi, tropical herb salads, sugarcane mojitos, superfood coconuts with fresh açaí sorbet and more.
Eco Cafe Fiji
If you imagined a Fiji vacation teeming with fresh seafood and beachfront restaurants, then Eco Cafe should complete the picture. Set on a sandy southwest coastline, the family-run outfit is housed in a bamboo bure (Fijian beach hut) with seating at communal wooden tables. It's a no-frills affair with a short menu of burgers, sandwiches, pasta and what's arguably the best wood-fired pizza on the islands.
Taste Fiji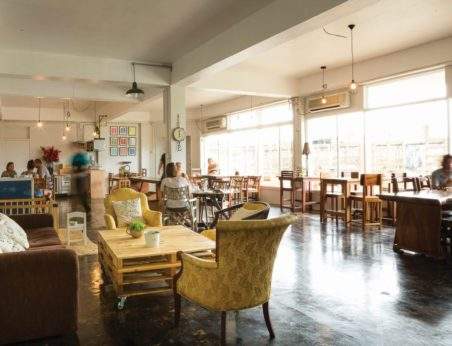 Opened in 2010 as a catering kitchen by UK-trained chef Lee Acreman, Taste Fiji has evolved into a full-fledged brunch and lunch spot. Garnering a steady stream of accolades, Acreman crafts gorgeous bites—both sweet and savory—made with local produce. The signature caramelized Vuda pork belly with rice is a must-try, but the real draw is the extensive dessert buffet, brimming with pineapple cakes, lemon meringue tarts and fudgy brownies.
Take Three///
Outdoor Adventures
Island Hoppers
A chopper certainly comes in handy when exploring Fiji's 300-plus islands. To see as
much as possible, book a day trip with Island Hoppers, which can whisk you to a private island for the day—complete with bubbly and a three-course picnic lunch.
Sigatoka Sanddunes
National Park
For a land-based adventure, Sigatoka Sand Dunes National Park practically spills off the southern coast of Fiji. The two-hour Dunal Experience showcases the park's dramatic and varied scenery, taking you through a forest, over the sand dunes and by the beach.
Free Fall Fiji
There's one way surefire way to emblazon Fiji in your memory: skydiving. Thrill seekers will appreciate the full-service experience of Free Fall Fiji. The adventure includes complimentary transfers, a safety briefing and a USB stick full of pictures and videos to prove you took the plunge.
Top Stays
VONU POINT
Turtle Island Fiji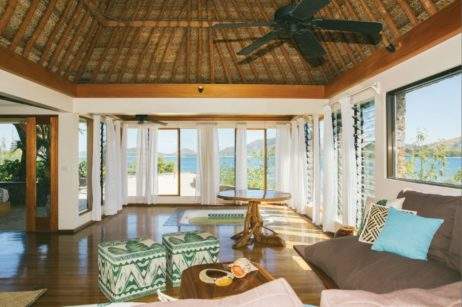 With its own organic garden, extensive solar grid, woodworking shop and WWF-backed sea turtle tracking program, Turtle Island Fiji is among the islands' most sustainable resorts. The best place to unpack your bags is Vonu Point: this secluded bure sits on a cliff overlooking the breathtaking Yasawa Islands. You'll have a private sunbathing deck as well as a spa-like bathroom and around-the-clock butler service. From there, the adults-only private island is yours to explore, from sunrise horseback rides to cliffside dinners, diving trips and native ceremonies.
From $3,300 per night. Contact Tanya Yray, reservations manager, reservations@turtlefiji.com, +1 800 255 4347, turtlefiji.com
NAMARA
Kokomo Private Island Fiji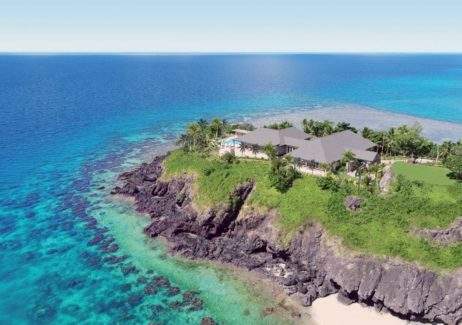 Opened last April by Australian real estate mogul Lang Walker, Kokomo Private Island Fiji is located in a prime scuba diving spot. With direct access to Fiji's untouched Great Astrolabe Reef, you'll likely spot tuna, manta rays, and the occasional humpback whale. For utmost seclusion, book the three-bedroom Namara private residence. Enclosed in a private garden, each villa comes equipped with its own infinity pool, dining room, spacious outdoor deck and complimentary nanny and butler services.
From $6,950 per night. Contact Nathan Vassallo, front office manager, nathan.vassallo@kokomoislandfiji.com, +679 776 4441, kokomoislandfiji.com
HILLTOP ESTATE
Laucala Island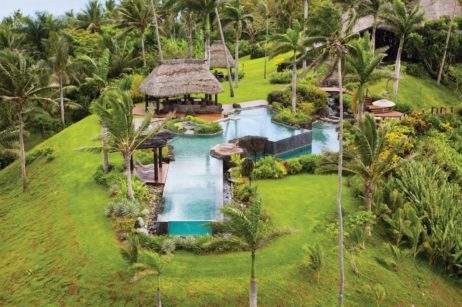 There's a reason VIPs like Oprah and Miranda Kerr fly straight to the 25-villa Laucala Island. The ultra-exclusive accommodations promise stylish interiors, plunge pools and easy access to the island's crystalline waters. More like an estate than a villa, the four-acre Delana Villa sits on a hilltop and includes a main house and two guest wings—each sharing panoramic ocean views, landscaped gardens, a thatched-roof library, lounge, dining room, lap pool, kitchen, two pools, outdoor pavilions and a hot tub.
From $45,000 per night. Contact Petra Trapp, general manager, p.trapp@laucala.com, +679 888 0077, laucala.com