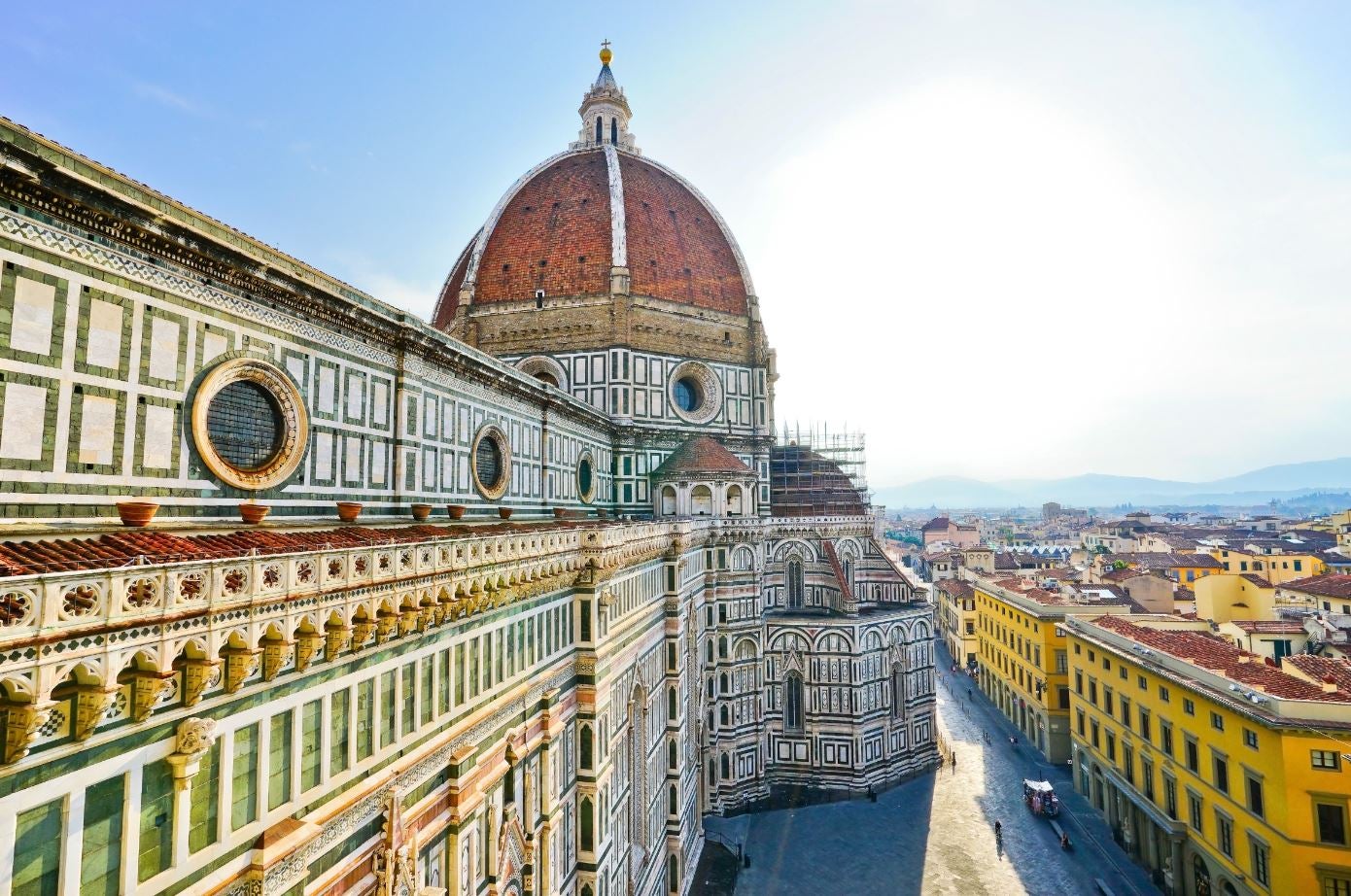 During World War II, the Germans bombed every bridge in the Tuscan capital except one: the Ponte Vecchio, which Hitler spared, alleging it too beautiful to destroy. Home to over 600 years of exceptional artistic activity, Florence's city center was deemed a Unesco World Heritage site in 1982, with the annotation that "the greatest concentration of universally renowned works of art in the world is found here." The home of both Leonardo da Vinci and Carlo Collodi—the creator of Pinocchio, the wooden boy who is unable to tell a lie without snout consequences—Florence is indeed a multifaceted artistic city.
Set in the northern part of Italy, its landlocked locale forced early inhabitants to create a hearty cuisine that could be repurposed or reheated for several days, a prevalent propensity still found in Tuscan dishes. From Michelin-starred restaurants to dominant fashion houses, all have found a home in the old palaces and architecturally brilliant buildings.
With the Arno River halving the city, crisscrossing the winding streets of San Niccolò to the old market of San Lorenzo has become a pastime for locals and tourists alike. While Florence's long summer evenings are lovely, it's best to avoid peak season and opt for spring or early fall, when the city is still bustling, but the crowds are manageable.
Places to have…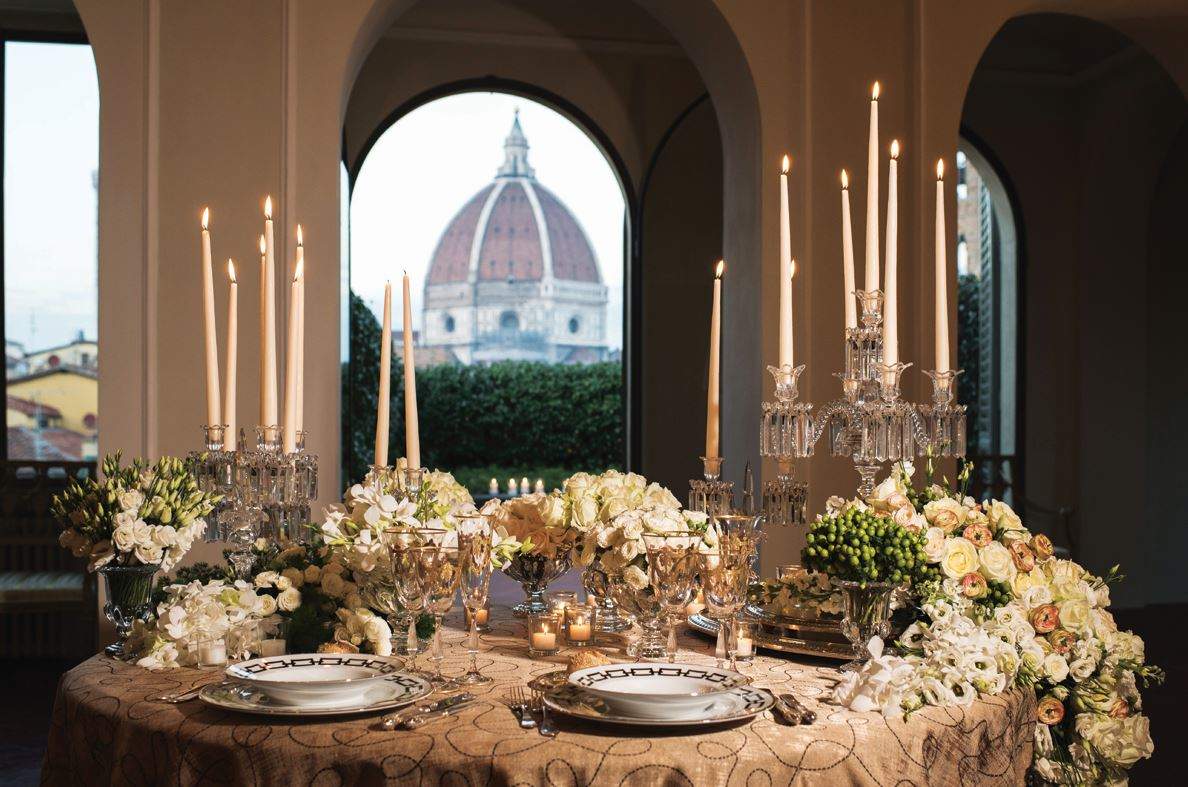 Traditional Florentine Cuisine
Enoteca Fuori Porta
A stone's throw outside the city gates, Enoteca Fuori Porta finds the soul of Tuscan cooking by honoring its provincial roots. Take its blended ribollita, a silky yet hearty soup made with cannellini beans, Tuscan kale and day-old bread that's a staple of the local diet. Add a bottle or two from the owners' impressively curated 400-bottle cellar and experience the beloved tradition of an enoteca (wine bar). Don't arrive expecting gastronomic fireworks: Enoteca Fuori Porta's charm lies in its wood-paneled coziness and house-cured meats. This eatery is best enjoyed over a long lunch, but get there before 1pm to secure a table.
A Personalized Multicourse Dinner
Four Seasons Florence Secret Dinner Experience
Step inside the 15th-century former palazzo of Leonardo da Vinci and savor uninterrupted views of the Palazzo Vecchio and the Duomo. Stand on the penthouse terrace and raise a glass to the setting sun as Michelin-starred chef Vito Mollica creates a private, custom four-course dinner for your party of up to 20 guests. Enjoy Mollica's pheasant ragout, cavatelli pasta or cacio e pepe with red prawns and marinated baby squid. Looking for something off-menu? Ask Mollica to create a course using his favorite ingredient: baccalà. Starting at $5,500. Only available to Four Seasons Florence guests.
A Three-Michelin-Starred Meal
Enoteca Pinchiorri
Words such as 'discovery' and 'laboratory' distinguish the fine-dining experience that occurs at Enoteca Pinchiorri, the only three-Michelin-starred restaurant in Florence. With courses including acqua e cioccolato and bombolone di pecorino, translated as 'water and chocolate' and 'doughnut of pecorino cheese,' respectively, head chef Annie Féolde has solidified her reputation as an experimental fusion cook with a focus on singular ingredients prepared multiple ways. Skip the see-and-be-seen dining room and take dinner in the 120,000-bottle subterranean wine cellar of sommelier Giorgio Pinchiorri.
THE GUIDE
Working year-round as a guide, the in-demand Veronica Blomkvist of Access Italy is fluent in Italian, English and Swedish. Although Florence is a navigable city and well-established tourist destination, having Blomkvist guide you through the hidden alleyways and down the narrow streets marks the difference between a boutique gelato-making-and-tasting experience at the best gelateria in town versus dropping into the shop on the corner and hoping the pistachio lives up to its online hype.
ARTISANAL MUSTS
THE TAILOR-MADE ITALIAN SUIT
Stefano Ricci
Florence serves as the birthplace of both the man and the brand that is Stefano Ricci. Inside Palazzo Tornabuoni, the 15th-century palace and former home of Alessandro Ottaviano de' Medici, who became Pope Leo XI, sits this luxe two-story flagship. A 500-year-old fresco runs along the top of the walls, between a restored 19th-century stained-glass ceiling and a hand-polished travertine floor. Where better to lounge and select fabrics for a bespoke suit than in an orange crocodile armchair? Although only available to men, this experience includes a series of two fittings over the course of eight weeks (the master tailor can travel to you for the second fitting).
From $12,400, stefanoricci.com
THE PERSONALIZED PERFUME
AquaFlor
Dubbed the 'perfumer's ritual,' crafting a signature scent with AquaFlor's nose, Sileno Cheloni, often begins over a cup of tea. A master perfumer, Cheloni looks to blend memory with emotion, evoking moments via scent. His version of a perfumer's organ, arranged much like the piped instrument from which its name originates, is stocked with hundreds of perfectly positioned, alphabetically organized glass bottles filled with essential oils, aromas and alcohols like Iralia, Ethyl Linalool and Metilionone. It takes filtering through more than 1,500 single scents, and a dynamic back-and-forth between perfumer and wearer, to create the perfect blend. Although it's possible to create your scent in a single visit, AquaFlor has many customers who book several sessions with Cheloni to complete their signature fragrance. Once finished, it is filed in the cellar and can be reordered evermore.
THE COMMISSIONED CENTERPIECE
Scarpelli Mosaici
The Florentine pietra dura mosaic tradition—creating decorative artworks of intricate stone inlay—dates back to the Renaissance. Whether matching tones of granite, quartzite, malachite and lapis lazuli, or filing and shaping pieces to fit perfectly into a particular design, Renzo Scarpelli and his coterie of artisans keep the tradition, along with its hand-bent tools, alive. The craftsmen spend anywhere from a few months to a few years on each piece, among them exquisite friezes, tabletops and brooches.
Available for commissions and private tours, the workshop is open daily.
THE BESPOKE BOUND BOOK
Il Papiro
Employing a 17th-century marbleizing technique, Il Papiro's artisan workshops continue to keep the traditional Pavoni, Marmi and Dripped motifs alive. Private marbling sessions allow visitors to understand, then try the techniques under the watchful eye and deft hand of a papermaker. Moving into the bookbinding laboratory once the paper dries, guests can paint their creation onto a folder, frame or book, producing an exclusive object with a singular design.
Take Three///Top Suites
BOTTEGA VENETA SUITE
The St. Regis Florence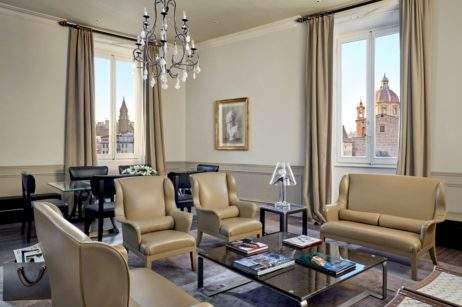 Understated yet instantly recognizable, the Bottega Veneta intrecciato weave entwines seamlessly with the decor in the brand's namesake suite at the St. Regis. Designed by Bottega Veneta creative director Tomas Maier, the second-floor suite's neutral palette and tastefully minimal aesthetic is accented with custom-dyed New Zealand–wool carpets as well as intrecciato nappa leather frames and a bespoke television console and minibar. Throughout the hotel, commissioned works by Florentine artisans, from the individually planed chestnut floorboards to the paisley burned-leather panels in the elevator, add to its charm.
From $9,926 per night. Contact Judith Otto, director of sales & marketing, judith.otto@marriott.com, +39 055 2716 3716, stregisflorence.com
ROYAL SUITE
Four Seasons Florence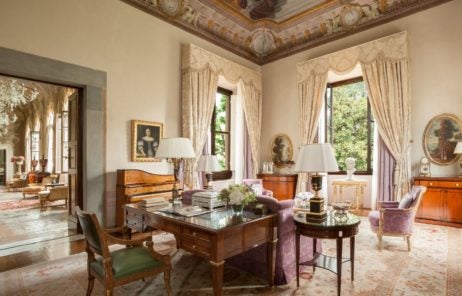 The intricate and stunning 17th-century frescoes adorning every room of the Royal Suite could have guests opting out of some local museums in favor of simply gazing up in the comfort of their 2,500-sq-ft suite. Located in the nobles' quarters of the Palazzo della Gherardesca, the Royal Suite is the most ancient part of the palazzo and boasts an original Capodimonte Maioliche–style tile floor designed by Ignazio Chiaiese. Soak in the freestanding marble bathtub or drink in the lush greens of the hotel's 11-acre park, the Giardino della Gherardesca.
From $19,231 per night. Contact Chiara della Bosca, sales manager, chiara.dellabosca@fourseasons.com, +39 055 262 6236, fourseasons.com/florence
PORTRAIT PENTHOUSE FLOOR
Portrait Firenze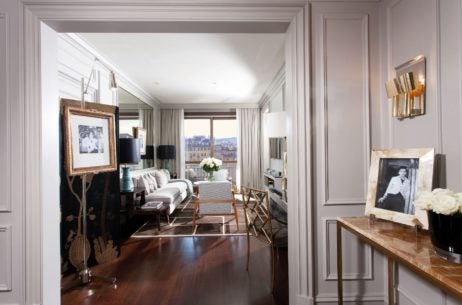 A part of the Ferragamo family's Lungarno Collection of boutique hotels, Portrait Firenze provides an intimate stay at the heart of the city with spectacular views over the iconic Ponte Vecchio. The riverside hotel is distinguished by its ultra-stylish contemporary design, combining a color scheme of oyster, black, warm gray and gold with black and white photography and contemporary artworks. For unparalleled views over the Arno River and hotel's Renaissance surroundings, stay on the top level, which can be transformed into one sprawling suite called the Portrait Penthouse Floor. Featuring five bedrooms, six bathrooms and four lounge-dining areas as well as a full-facade river-view terrace, the suite can house up to 10.
From $11,235 per night. Contact Laura Zuccherofino, reservations manager, l.zuccherofino@lungarnocollection.com, +39 055 2726 4000, lungarnocollection.com
[See also: Top suites in the world – COMO Terrace Suite, COMO Castello del Nero]