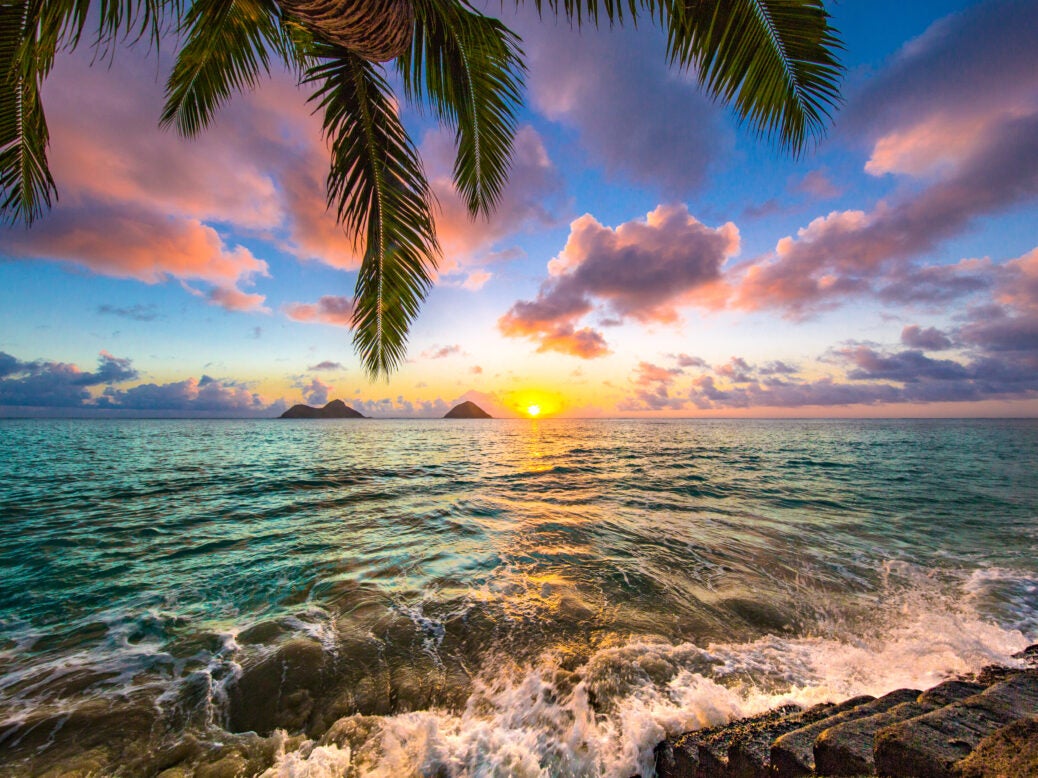 This story originally appeared in the May/June 2018 issue of Elite Traveler.
The Island of Hawaii is unlike any other. Where else can you hike into the crater of a live, molten volcano, swim with dolphins in crystal-clear waters off a black-sand beach, dine on freshly caught mahi-mahi by the ocean, and even heli-ski on the extinct volcano of Mauna Kea, all in the same day? The youngest Hawaiian island has 10 of the world's 13 micro-climates, five different volcanoes including the active Kīlauea, world-class surfing and incredibly lush jungles coupled with fields of black lava rock. It is the perfect place to explore wild, rare nature during the day, relax to live music with a passion fruit cocktail in hand as the sun sets, and enjoy the warmth, history and always laid-back vibes of the 50th state. Come for the quiet, calm and intense natural beauty. Wander through quaint fishing villages, dine on mouth-watering, completely locally sourced regional Hawaiian cuisine or ride horses through valleys and rain forests. For true relaxation, stunning landscapes and adventure, the island of Hawaii simply can't be beat.
Best Places to Have…
Original Big Island Shave Ice Co, The ultimate frozen treat
Original Big Island Shave Ice Co is a local classic. Dating back to 1957, the family spot uses all-natural syrups and toppings. Offerings such as passion fruit, Melona mixed with blue vanilla cream and mango-guava shave ice are as colorful as they are flavor-packed.
Merriman's, Traditional Hawaiian cuisine
In 1988, chef Peter Merriman opened his namesake regional Hawaiian kitchen, a beautiful mountainside oasis dedicated to local produce long before it was trendy. Ninety percent of Merriman's ingredients come from island farmers, fishermen and  ranchers, and you can taste the freshness on the plate. Feast on wok-charred ahi (it was invented here), lamb from the nearby Kahua Ranch and bulgogi-spiced Kauai shrimp.
Huggo's Restaurant, Fresh seafood overlooking the ocean
With its thatched roof and open-air dining looking directly over Kailua Bay's black-rock beach, Huggo's has the nautical charm of a local fisherman's hideaway. Seafood is naturally the highlight here—enjoy the seared sesame-crusted ahi, along with avocado fries, coconut-wasabi slaw and pineapple-infused sangria while listening to live music.
Unforgettable Experiences
Private Helicopter Tour
The island of Hawaii has one of the world's most uniquely beautiful environments, and the best way to see the landscape is by helicopter. Mauna Loa Helicopter Tours offers private excursions and will take you to Kīlauea's burning center, flying close over Halema'uma'u (the origin of the lava flow), through Hilo (the fourth-wettest town in the US), into the lush rain forest of Hamakua, and through the taro-covered Waipio Valley before eventually making your way to the extinct Kohala, the oldest of the island's five volcanoes. Bring your camera — the views are unbelievable.
+1 808 329 4422, maunaloahelicoptertours.com
A Day On The Water
The western coastline has the best snorkeling on the Island of Hawaii, and Hawaii Nautical will take you straight to the heart of the action, where butterfly fish, humuhumunukunukuāpua'a (reef triggerfish), turtles, dolphins, and if the season is right, humpback whales, are easy to spot in the crystal-clear blue waters.
+1 808 234 7245, hawaiinautical.com
Kilauea After Dark
If you're feeling truly adventurous, sign up for a nighttime hike through Kīlauea, one of the most active volcanoes in the world. Explore Kīlauea's jaw-dropping crater center, hike through the pitch-dark lava tube and take in the valleys and ossified desert of the volcano's otherworldly terrain. Nui Pohaku Tours will create a custom outing to your liking.
+1 808 937 0644, nuipohaku.com
Hawaiian Beaches
Because of the island's geological makeup and infant status, Hawaii has some of the most diverse beach types around—you can find stunning white-sand, black-sand, 'sea-glass' and even green-sand beaches in remarkably close proximity to one another. Kaimū, a baby beach born when Kīlauea engulfed the town of Kalapana in 1990, is arguably the most beautiful of the island's black-sand beaches. You can see the lava flow and breathtaking activity of the volcano directly from the water—the still-smoldering crater rests against the mountainside bordering the beach.
Top Suites
Four Seasons Resort Hualalai, Hawaii Loa Presidential Villa
Nestled between Hapuna Beach and the beautiful Waipio Valley on the Kona Coast, Four Seasons Resort Hualalai is a true extension of its natural environment. Built on black lava rock, its thatched roof bungalows are decorated with island touches including 19th-century kou-wood carvings and pink lava rock outdoor showers overlooking the ocean. The Hawaii Loa Presidential Villa features featherwork by indigenous artist Natalie Mahina Jensen-Oomittuk and a design reflecting the history and culture of the island. Outdoors, it has a private tropical garden, hot tub and direct ocean access. Four Seasons Hualalai has some of the best golfing on the island, and the spa is particularly special, with treatments incorporating local ingredients such as hibiscus nectar, crushed macadamia nuts and passion fruit to stimulate your senses.
From $18,195 per night, five-night minimum. Contact Erin Santana, reservation manager, erin.santana@fourseasons.com, +1 808 325 8112, fourseasons.com/hualalai
Mauna Lani, Oceanfront Bungalow
Mauna Lani, perched on lava rock in Hawaii's Kohala area, isn't just eco-friendly, it's a preservation site. The resort is famous for protecting sea turtles, and guests can visit them in the property's many natural saltwater ponds, where they are raised and released into the ocean. This sanctuary is just one element of the iconic island spot. Beachfront bungalows come equipped with private pools, hibiscus-filled gardens, outdoor rain showers and luxurious tubs. The spa is part open air—book a traditional lomilomi massage in a lush garden under a thatched roof, accompanied by the sounds of the ocean breeze—with privacy provided by lava-rock boulder walls. The sunset view from chef Allan Nagun's Canoe House restaurant is incredible. Try the tasting menu for authentic Hawaiian cuisine.
From $3,500 per night. Contact Rodney Ito, managing director, reservations@maunalani.com, +1 800 367 2323, maunalani.com
Fairmont Orchid, Fourth Tower Presidential Suite
On a white-sand beach off Puako Bay, Fairmont Orchid, with its classic white-stucco architecture set against Kohala's palm-lined coast, has a magical quality. The resort boasts an award-winning spa, excellent golfing and six restaurants, among them a 14-seat sushi bar, Norio's, where the itamae will guide you through their selection of ultra-fresh sashimi or nigiri. The South Tower Presidential Suite, with its two separate lanais overlooking the property's swimming lagoon, coconut grove and the Pacific Ocean, includes a butler's pantry and living and dining rooms. Take out an outrigger canoe with a Hui Holokai Beach Club ambassador at sunrise to experience Hawaii's most traditional form of transportation between islands, or try your hand at floating yoga—flow yoga practiced in the ocean's clearwaters on a stand-up paddleboard.
From $3,900 per night. Contact Kelley Cosgrove, general manager, orchid@fairmont.com, +1 808 885 2000, fairmont.com/orchid-hawaii