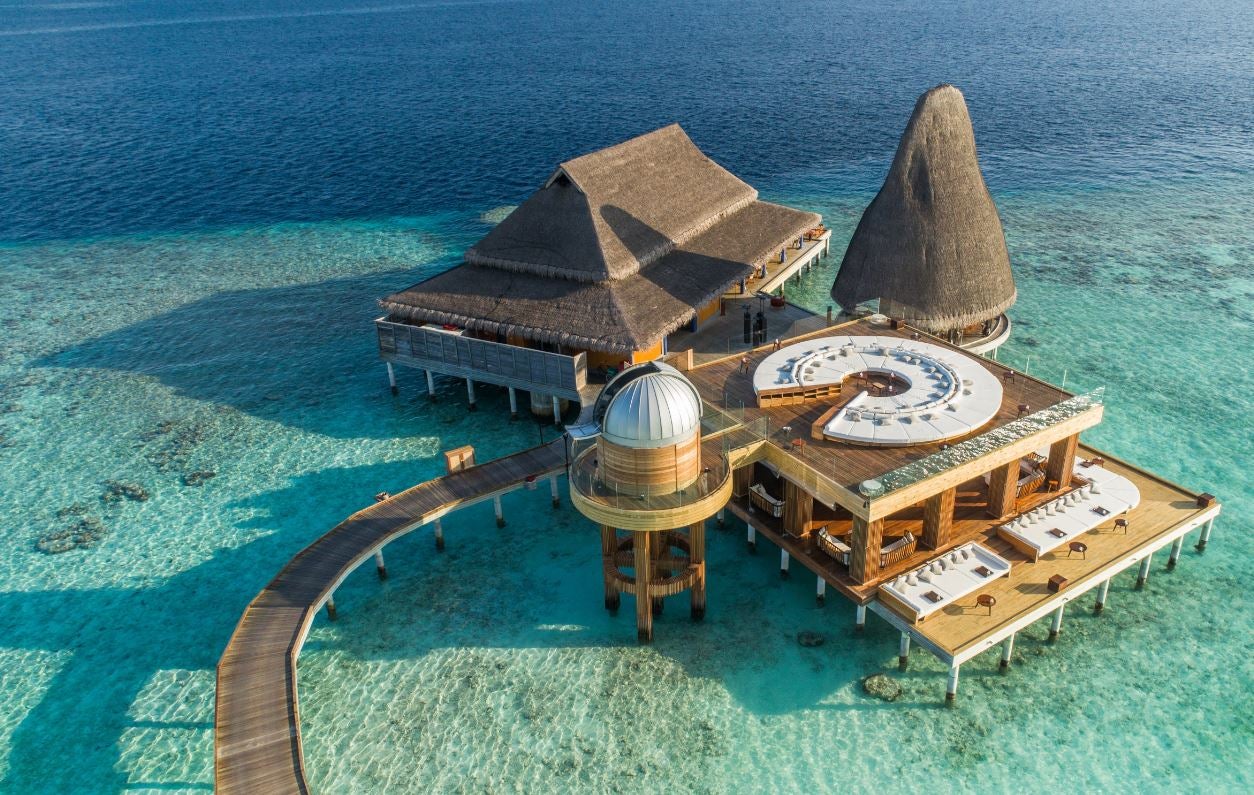 This story originally appeared in the September/October 2018 issue of Elite Traveler.
By Emelia Hamilton-Russell
Never let it be said that there is nothing to do in the Maldives. While you're vacationing on a remote, one-square-mile desert island, you're also suspended between two of the most fascinating natural elements: the sea and the sky.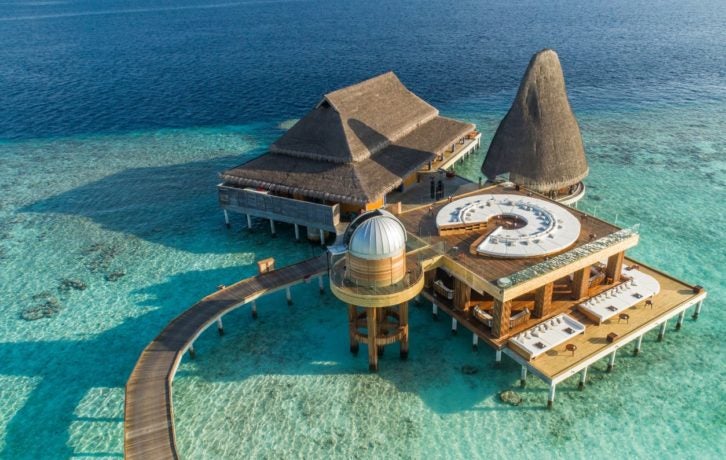 Designed by Maldivian architects Group X Design Associates and situated on the western Baa Atoll Archipelago in a Unesco Biosphere Reserve, Anantara Kihavah is set amongst some of the world's most awe-inspiring and untainted natural surroundings. It's through the eight-seater plane windows that you get a birds-eye view of the almond-shaped pontoon, which houses the 30 or so oversea villas. From this vantage, the villas are no more than dark squares against the turquoise sea, but soon the resort comes into view.
The eye is immediately drawn to the Sky Bar, a new circular lounge perched over the lagoon. Illuminated by flame torches at night, the structure looks like a spaceship that's accidentally, yet elegantly, touched down on the Indian Ocean. Its interior is contemporary yet warm, with raw timber and soft lighting throughout — the ideal place to take in spectacular ocean sunsets or gaze at the stars.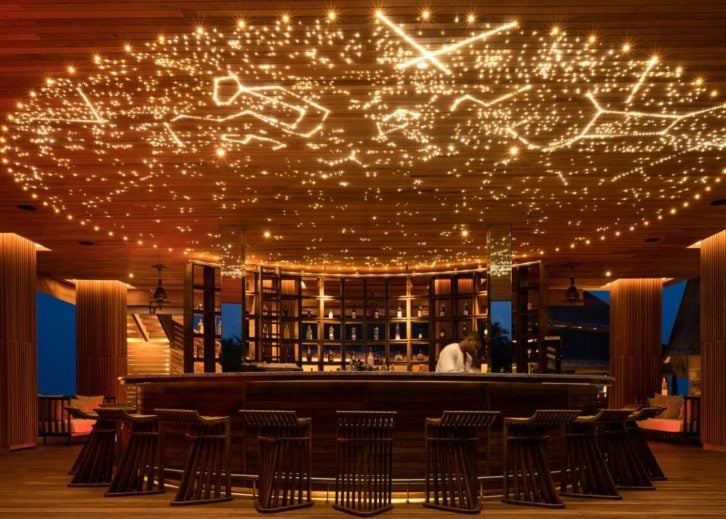 It's here where the Anantara Kihavah distinguishes itself from the rest of the Maldivian island resorts. Its in-house astronomer — who doubles as a wedding priest — was recruited in early 2017, lured by the promise of a specially designed observatory and state-of-the-art telescope. The promise was fulfilled, and last October the first and only overwater observatory in the Maldives, a custom-built ash-dome that sits on the roof deck of the Sky Bar, was opened. It houses a research-grade Meade LX200 telescope mounted on a field tripod, remote controlled with 360-degree movement and a swiveling roof that makes you feel like you're entering Doctor Who's Tardis. "The goal is to bridge the gap between normal people and astronomers," they tell us. "We are so close to the equator, so it's an ideal place to see both hemispheres." And it is. The first star we see is Atrus, over 32 light-years away. Then, we swivel the telescope round to look at the second brightest star in the sky, which, it turns out, isn't actually a star, but the planet Venus.
Sipping champagne in a spaceship structure that rises on stilts from the lapping ocean, looking through a telescope at far-away planets, it's easy to believe that you are as removed from reality as it is possible to get without actually leaving the Earth's atmosphere.
Four-bedroom Beach Pool Residence from $7,260 per night. Contact Giles Selves, general manager, gselves@anantara.com, +960 664 4111, anantara.com