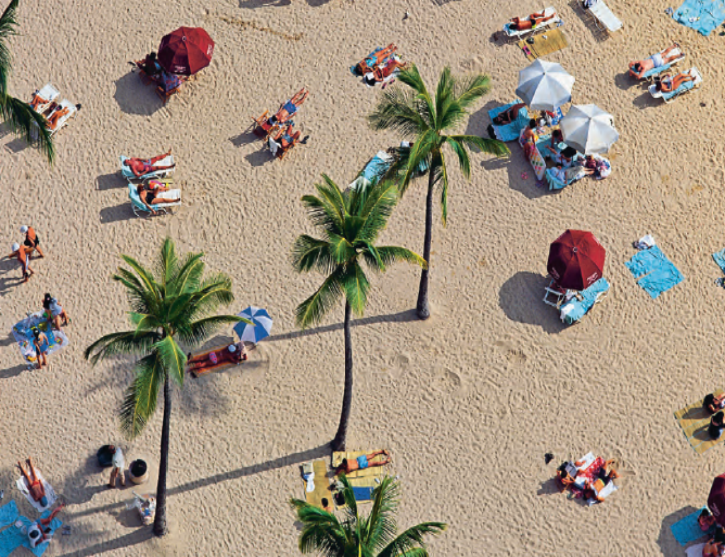 By Kristen Shirley
This story originally appeared in the January/February 2017 issue of Elite Traveler.
Every Hawaiian island has its own identity, so it's tough to know where to start. All the properties have beautiful beaches, but Kristen Shirley shows you everything else Hawaii has to offer…
Hawaii. Just the word itself is magical. In the central Pacific Ocean, the most isolated populated area in the world is an exotic, tropical oasis. Part of the US, the archipelago is easy to travel to, but it has a unique culture and landscape. Its natural beauty is awe-inspiring, with green valleys, red canyons, black sand beaches, turquoise water, cliffs, rainforests and waterfalls.
The islands are also the world's biggest mountain range. From sea floor to top, 33,000ft Mauna Kea is higher than Mount Everest is from sea level to top. Smaller, lush mountains rise from the beaches, making it feel like you are surfing into a painting. There are dormant volcanoes to hike and chances to see lava bubbling into the ocean, the islands growing a little each day.
The water is teeming with life including giant sea turtles, vibrant coral, fish, dolphins and even whales. The aloha spirit is all around; friendly, welcoming and laid-back. Just one visit to the islands will show why so many people visit year after year, and why people have made Hawaii their second home (or made the islands their only home).
For a quick Hawaiian getaway with all of the creature comforts of a capital city, you can't beat Honolulu – where hundreds of surfers wait for the perfect wave just steps away from some of the world's best shopping.
Stay in Waikiki at Halekulani, one of the most iconic hotels in Hawaii. Its namesake suite, the Halekulani Suite, shows how Halekulani earned its name "house befitting heaven." Your semi-private elevator opens into a small foyer where your personal butler waits for you, ready to help with anything you may need. Heaven, indeed. The 3,320 sq ft two-bedroom suite is decorated in soothing colors with an elegant Asian-influenced design, including a spa-likemaster bath.
To recover from your travels, spend the day at the pool, then indulge in a Lomi Lomi Hawaiian Massage at the spa before ordering in-room dining on your covered lanai. Enjoy a Mai Tai at sunset and take in the stunning views. On one side, high-rises seem to explode straight out of the crystal clear turquoise waters of Waikiki Beach.
On the other side, you'll find a mountain that did, in fact, explode from the waters – 300,000 years ago when Lē'ahi, or Diamond Head, erupted, forming the amazing crater. This contrast of modernity and nature's raw power is absolutely captivating.
The next day, brave the hike to the top of Diamond Head, which, year round, offers picture-perfect views of the coastline and city – and is a great spot for whale watching in the winter. A former US military outpost, the summit has bunkers, a navigational lighthouse and a fire control station that dates to 1910.
On your way back to the hotel, wander through Chinatown and pick up a poke [pronounced POH-keh] bowl at Maguro Brothers for a casual island-style lunch of raw ahi tuna with sauce served over rice.
In the afternoon, join the crowds in the water for surfing; have your butler book you a private lesson. Or if shopping is more your style, walk to Kalakaua Avenue for top-notch boutiques. If you're looking for Chanel,Miu Miu or Gucci, head to Luxury Row. For jewelry or watches, Royal Hawaiian Center has Cartier, Harry Winston and Tourneau boutiques.
You'd be remiss to skip the North Shore, home to the famous, and deadly, Pipeline, where waves averaging nine-feet tall curl and form a tube, making for exciting surfing. However, it's best left to the experts as it is extremely dangerous. Drive up for the day to enjoy the view and wander through Haleiwa, a historic surf town with quaint shops and cafés bursting with fresh seafood.
Finish your weekend with dinner at Alan Wong's in Honolulu, which
offers exceptional service and an innovative take on Hawaiian cuisine using fresh regional ingredients. Order the tasting menu, which Chef
Wong says is Michelle Obama's go-to when dining at the restaurant.