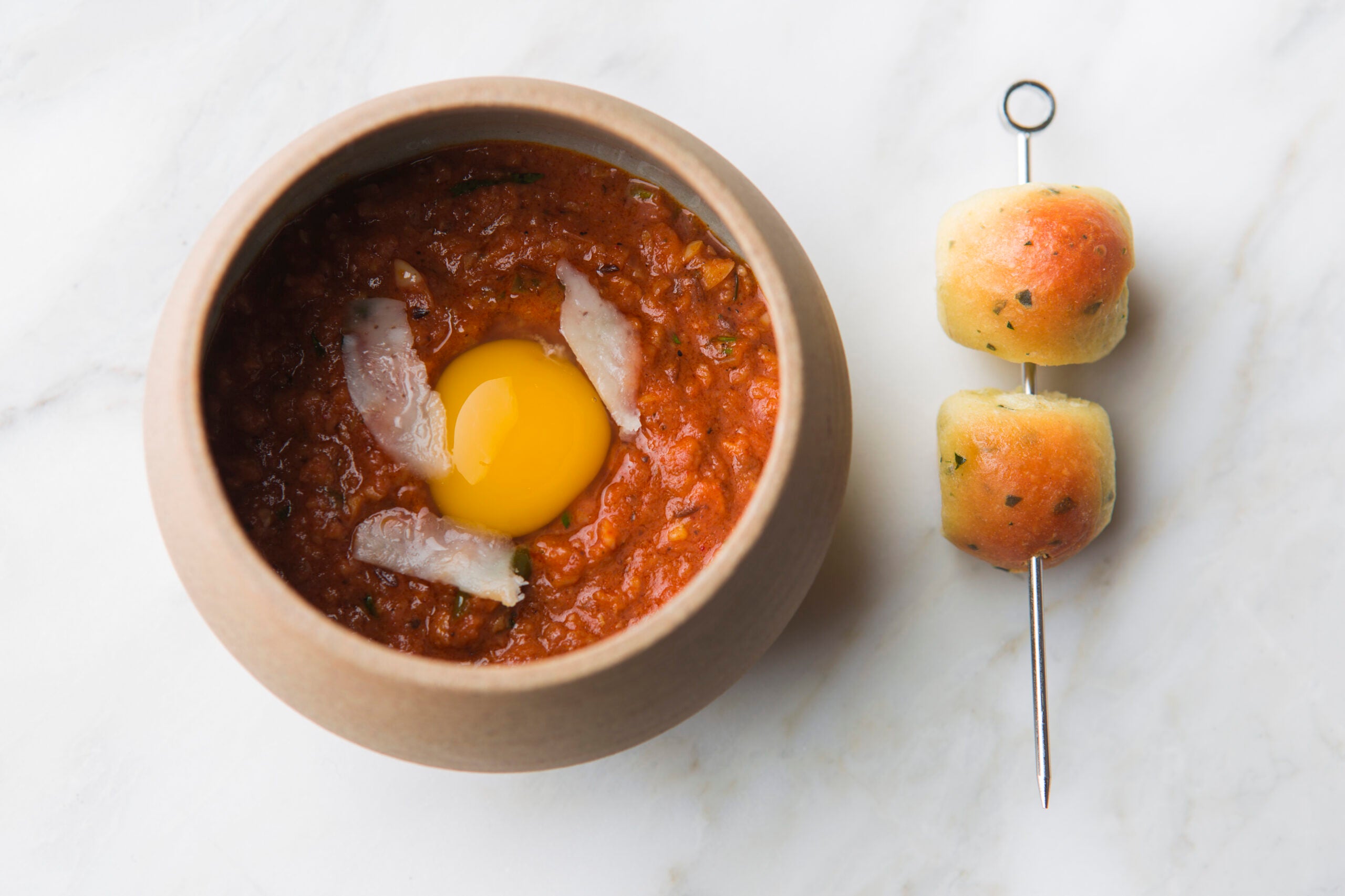 Stroll down one of London's most beautiful Mayfair streets and tucked next to The Royal Arcade is the glistening new London outpost of Indian Accent. The original Indian Accent of New Delhi is widely regarded as one of the best restaurants in the world. The second site in New York a welcome addition, ranked among the best new restaurants soon after its initial opening. Now finally, London can enjoy a taste of Chef Manish Mehrotra's much coveted Indian gastronomical constructs.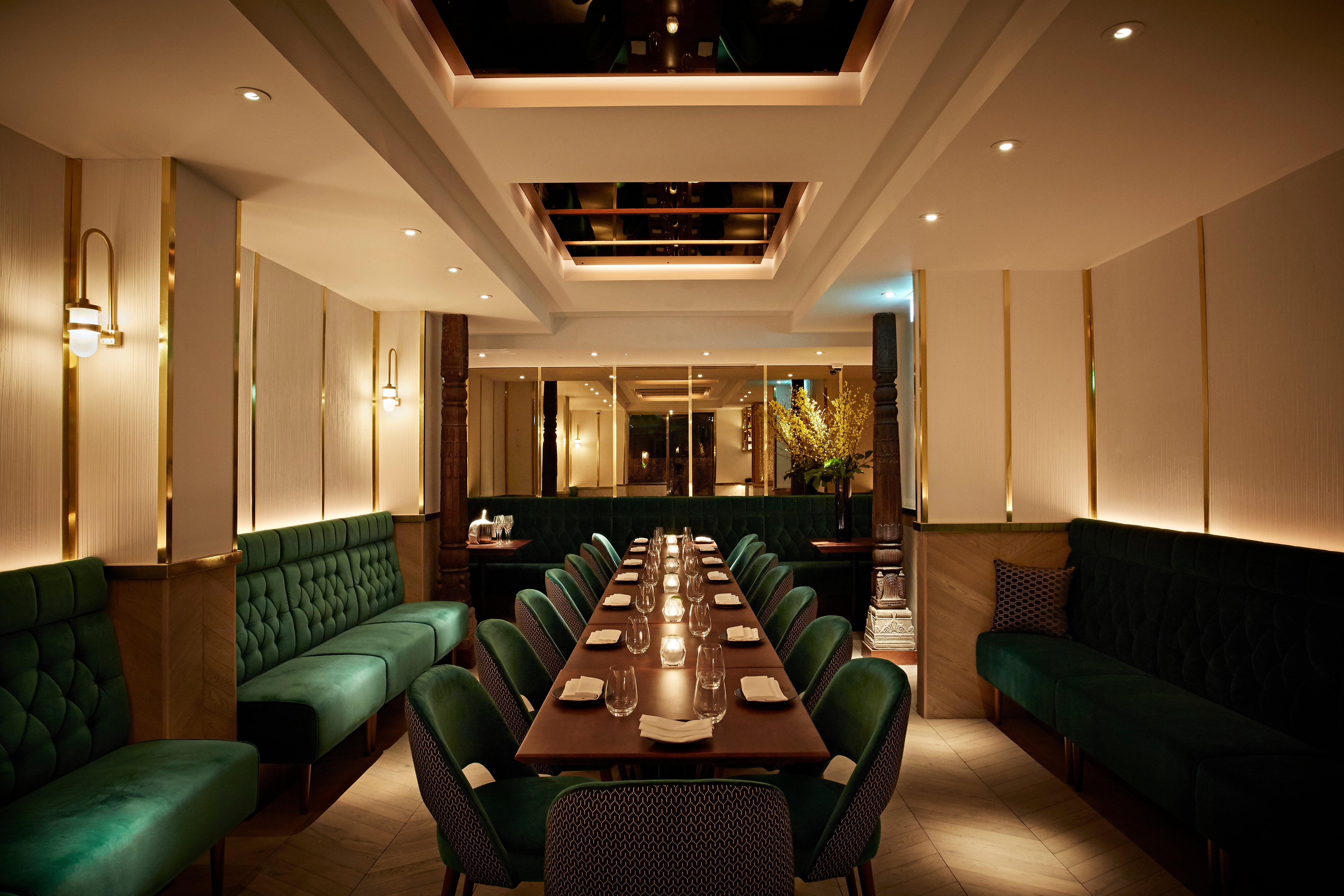 The warm glow of Indian Accent's elegant golden interior can be seen from the road outside, with guests welcomed in enthusiastically by a friendly front of house team. Visitors are seated on sumptuous green, velvet upholstery and look out at a beautiful decor; a mix of brass, pearl and marble. The architecture is designed by Design LSM and fuses clean lines and contemporary elements with gold and emerald, the colours of traditional opulence.
For starters try one of the many unorthodox cocktails on offer, such as the Albemarle Chai Punch, a unique creation that uses Batavia Arrack, Earl Grey, and Virgin Amaro, or perhaps enjoy the Indian 75, a twist on the much loved French 75, concocted with champagne, sherry and cinnamon.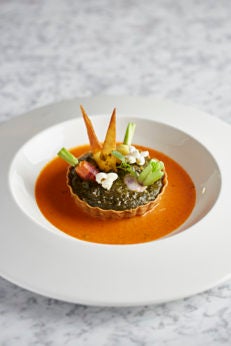 Guests are recommended to enjoy the Chefs nine course tasting menu at £80 per head, which accelerates visitors through a glorious range of unique Indian flavours and textures. Highlight dishes include; the exceptional amuse bouche of warm blue cheese naan accompanied by a shot of pumpkin and coconut soup. Dishes such as the kashmiri morels, walnut powder, and parmesan papad provide avant-garde revisions of Indian classics. A course of soy keema, quail egg, lime leaf butter pao is one of several star dishes from Chef Manish Mehrotra. The saporous keema is made from soy granules and is deliberately reminiscent in its flavor and texture to that of a bolognese.
The Doda barfi treacle tart is a stand-out dessert and is an inspired take on an old British favourite. An expertly crafted tart with indulgent filling is drenched in toffee syrup and balanced with a small sphere of glorious vanilla bean ice cream.
Guests can choose to pair their food courses with either wine or whisky and a premium selection is available for both drinks. A glass cabinet on display boasts a vast selection of rare whiskeys from around the globe for any enthusiast to enjoy.
For those interested in a more exclusive and unique experience, there is a private dining room on the restaurant's lower ground level. This can be found by descending the majestic spiral staircase near the entrance. The downstairs area is suitable for hosting intimate parties of between 12 – 25 guests.
The elegant setting of Indian Accent paired with the quality of presentation, flavours and imagination in each course make it an important new addition to London's already triumphant restaurant scene. Manish Mehrotra succeeds masterfully in bringing an array of nostalgic home dishes and foods from lesser known Indian regions to a polished and chic venue in London's luxury dining epicentre, Mayfair.
For more information please visit Indian Accent