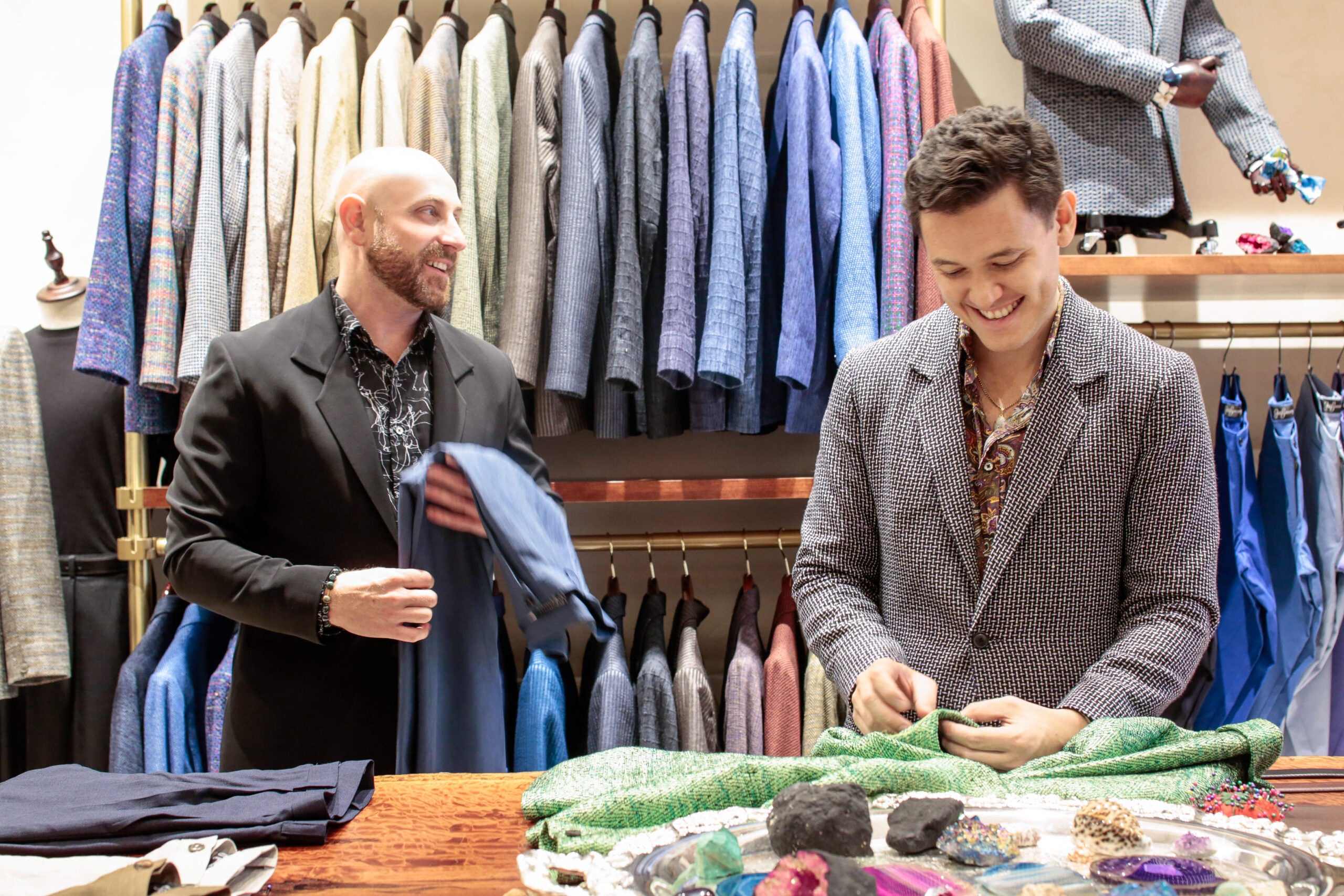 If you're strolling along Madison Avenue, it's clear why the Joe Bananas storefront stands out.
"We got the ultimate compliment from someone the other day," says Kim Bourke, surrogate nephew of Joe Bananas and son of co-founder, Peter Bourke, and now co-owner. "This guy walked in and said, 'I just wanted to tell you, I've been living in this neighborhood for 50 years and I've never seen this before on Madison Avenue.'"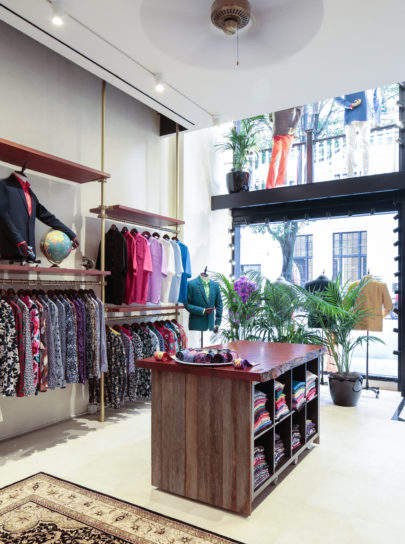 Perhaps this passerby is referring to the colorful and printed men's jackets showcased in the floor-to-ceiling windows, or maybe it's the tropical palms that stand tall behind said jackets. It's enough for people to stop and wonder what's inside.
Joe Bananas is a Sydney-based menswear label founded in 1986 by friends Joe Bananas and Peter Bourke that specializes in menswear made from the finest materials (the company has its own silk farm and in-house weavers). Each piece is limited in quantity is inspired by the natural Australian landscape, from opals to wildlife. The brand's original shop still resides in the iconic Queen Victoria Building, and the 1,600-sq-ft Manhattan boutique marks its first foray stateside in hopes of bringing a bit of Australian whimsy into every man's wardrobe.
"It's a serious business for us but I try not to take ourselves too seriously, you just can't," says co-owner Evan Sturrock, adding that everything about the company is "inherently Australian." Bourke and Sturrock (who was mentored by Joe Bananas after graduating from fashion school and joined the team once more as co-owner with Bourke in 2012) hope to give men the confidence to wear a piece that may be different from what they're normally wearing and find something that empowers them.
"[Men] are so conditioned for black and navy suits," says Bourke. "When it comes to dressing, we're conditioned when we're small in that really traditional male/female breakdown that dressing and 'being out there' is in the women's world."
While the label is known for their jackets, the New York boutique carries shirts, trousers, overcoats and knitwear in addition to providing made-to-measure suiting services for weddings and special events. While not everything is necessary bright colors, the founders (who you'll find on the floor of the Madison Avenue store speaking directly with clients) want to encourage men to be different.
"I [hope to] give men the confidence to, when necessary, arrive in a room and to embrace something that's not only unique, but their own," Sturrock says. "We want our clients to wear our clothes, not our clothes wear them. I love to be able to take someone to the outer perimeter of their comfort zone, because that way they can recalibrate their boundaries. It's very personal."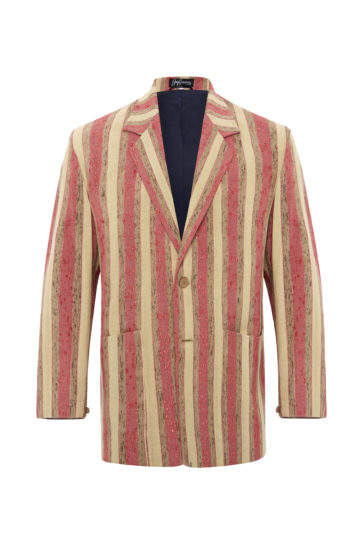 Aside from the colorfully printed fabrics, the raw silk used in each piece is handwoven on a loom from their silk farms. Depending on the complexity of the fabric, a tapestry of 25 to 30 yards takes somewhere between 250 to 300 days to create, meaning that each piece is ultra-limited in quantity. Only six or seven jackets are made from each tapestry.
Bourke and Sturrock, who both spend time between Sydney and New York, keep the traveling clientele in mind, and the trans-seasonal silk allows clients to wear their jacket all year long in any climate. With no natural memory, it can be folded in a suitcase or tossed in a carry-on with no fear of wrinkling. Not only is this ideal for the modern traveler, silk is an important material that connects the founders to their native Australia due to its versatility in weaving and mimicking that natural landscape.
"There's so much of what we do in our weaves that would naturally mimic what we're looking at," explains Bourke. "It's not a stretch for us to mimic tree bark or a rock [from Australia] because you'll see that texture and depth of color the way we make things by hand-spinning our yarn and the natural dyes. You'll get the natural variation in the yarn itself as opposed to doing it by a machine."
Sturrock adds that each piece tells a strong Australian story that is inherent to the brand. "It's always a hard balance to have an inspiration that's true to who you are as people and to have that professionally and to be able to do that everyday."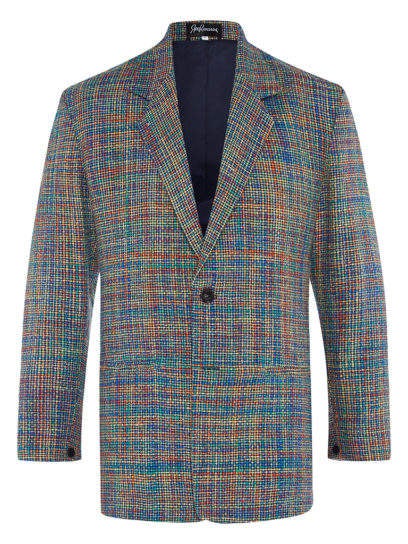 Joe Bananas' materials, tailored design and unique story may bring people in, but it's the personal touch with each client that makes them stay. Bourke explains that he still has clients who he first started working with when he was 16 years old and, of course, Elton John, who first put the brand on the map back in the 1980s when he bought the entire contents of the Sydney store during a tour stop in Australia.
Whether you're a rock superstar or a businessman, Bourke and Sturrock have one piece of advice when it comes to clothing: Don't be afraid to take a risk.
"Pulling it off is literally as easy as putting it on," says Bourke. "If you put that jacket on, you'll feel good, and if you feel good, you'll pull it off."
Joe Bananas, 943 Madison Avenue, New York; +1 929 287 8588, joebananas.com
Photos by Eric Striffler