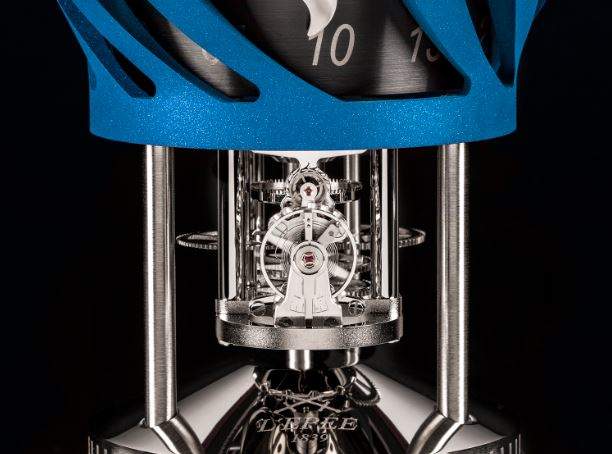 This story originally appeared in the September/October 2018 issue of Elite Traveler.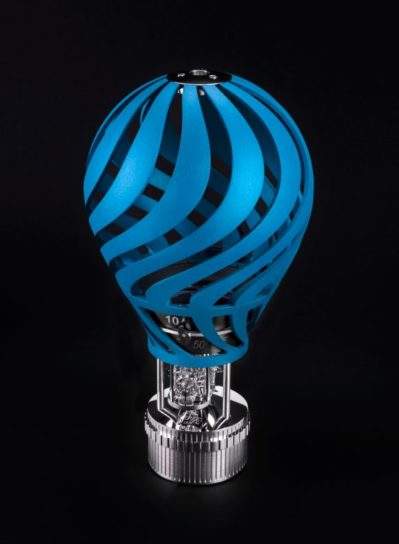 After collaborating on several wildly inventive clocks with independent Swiss watch brand MB&F — including giant spiders, robots and spaceships — venerable clockmaker L'Epée 1839 looks to the sky with its latest creation, the Hot Balloon. And it's not just inspired by the shape of a balloon in flight; it is the first clock that can be suspended from the ceiling, so it can gently float in the room. It's quite fitting that the first "flying" clock is designed after the first way man was able to fly.
Margo Clavier, a 25-year-old student at the prestigious l'École cantonale d'art de Lausanne, worked with L'Epée 1839 to design the whimsical and technically impressive clock. Clavier brought a true artist's vision to the project, ensuring that the mechanical components were ingeniously and beautifully integrated into the movement but preserving the aesthetic of a hot air balloon.
While the palladium balloon itself is hollow, the basket and burners contain the movement and perfectly marry beauty and function. Read the hours and minutes on two stacked black cylinders just above the movement; a tiny flame indicates the time. To set the time, turn a wheel-shaped crown in the burner. Even the winding method is inventive — it is wound by twisting the basket, so there is no key to lose and you don't need to take it down from its perch to wind it. It boasts an eight-day power reserve, so you might actually look forward to its weekly winding and the chance to play with your clock.
$22,000, available in palladium, black, blue or red, each limited to 50 pieces. Contact Provident Jewelry in Florida, Nick Linca, managing partner, nick@providentjewelry.com, +1 561 747 4449, lepee1839.com