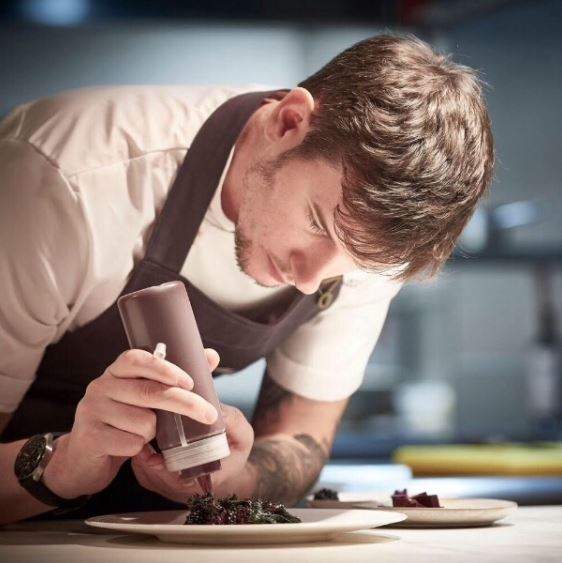 It's no secret London's dining scene has come on leaps and bounds over the last few years, but with so many restaurants popping up it can be hard to see which chefs are here for the long run and who are already punching above their weight.
Worry not, with Elite Traveler's guide to the rising stars of the capital's dining scene you'll know the chefs who are set to be the next big thing.
Carlos Martinez – Chucs
As the former head chef at Maze by Gordon Ramsey, Carlos Martinez's recent appointment as group head chef at Chucs came as a nice surprise. Taking the helm at the Italian mini-chain, Martinez was tasked with opening two new ventures for the restaurant group in his first three months. While the restaurant had already established itself as a mainstay in both Mayfair and Westbourne Grove, the opening of both a Harrod's branch and a Serpentine Gallery eatery would prove to be a huge challenge. Not only would they both offer very different dining experiences to the chain's two more 'traditional' venues, but they would also show the restaurant taking a somewhat more mainstream approach to dining. However, it's safe to say Martinez has done a fantastic job of both venues. Not only do both restaurants have the look and feel of a Chucs, but they both offer slightly different menus befitting of their surroundings.
How Martinez takes Chucs beyond their two new venues is what is going to really set him apart, and as someone with such a prolific career Elite Traveler can really see him working wonders with the mini-Italian-chain.
Harry Faddy – Aquavit
Having already established itself on the other side of the Atlantic, the opening of Aquavit in London was met with huge fanfare, but as with any big launch – anticipation comes expectation.
While Aquavit's New York branch is widely regarded as one of the city's top restaurants, the move to London would prove to be a massive challenge. Not only did many of the capital's gourmands already have a certain level of expectation for Aquavit, but the venture would also require the restaurant to hire a series of new staff capable of following the winning formula of their New York branch while giving it its own spin and identity to ensure Aquavit London stood on its own two feet.
With the help of executive chef Emma Bengtsson the opening of Aquavit London saw the group bringing in both Henrik Ritzen (who had already carved out a career as head chef of The Arts Club and executive chef of Lutyens), and the relatively unknown Harry Faddy as head chef. While Faddy had spent the previous four years working across both Lutyens and The Boundary, the move to Aquavit was a huge step up for the chef and was one that thrust him into the upper echelons of cooking.
Nearly two years on from the opening of Aquavit London, it's safe to say Faddy has nailed it. Not only did he help secure the restaurant a Michelin star within the first 12 months of opening, but he has established himself as one of the city's most exciting chefs with a keen eye for combining traditional Scandinavian cooking techniques with some of the simplest yet delicious ingredients in the city. Faddy's menu is simple yet exciting (with his venison tartare often lauded as being one of the best in the capital), and shows a chef with true natural ability.
The next 12 months will prove to be really exciting for Faddy as not only does he now have a fantastic platform to work from, but the chance to help Aquavit secure its second Michelin star will push him on to refine his technique and produce a really outstanding menu.
Andrew Wong – A Wong
Earning his first Michelin star in September 2017, Andrew Wong's A Wong is top of the list for many of London's diners, with critics and gourmands alike seeking out his upmarket modern Chinese cuisine.
While his 'Taste of China' menu (covering 10-courses) is widely celebrated for both its skill and phenomenal taste, it is Wong himself that is most impressive. Growing up in London, Wong spent many of his younger years working in the kitchen of his parent's Cantonese restaurant. While the restaurant offered a basis for Wong's culinary interests, the food on offer was of its generation and matched the rather unadventurous English palette. It wasn't until Wong left home to study chemistry at Oxford University (in which he only lasted 18 months, later moving to the London School of Economics to study social anthropology) that Wong realised he wanted to work in hospitality.
After the death of his father, Wong balanced his studies at LSE alongside helping his mother run the family business, during which he realized how intrinsically linked food and culture were. This discovery is what fueled Wong's venture into cooking, prompting him to take more of an interest in the cultural and culinary traditions of China. To learn more about how he could build upon this interest, Wong enrolled to the to Westminster Kingsway College to gain a grounding in cooking.
Over the next six years Wong developed a concept for a restaurant that would not only act as a place for fantastic food but would also offer diners an education on the regional cooking of China.
In 2012 Wong finally reopened his parent's restaurant under the name A Wong (named after his parent's Albert and Annie), instantly setting itself apart from the city's other Chinese restaurants due to its use of regional Chinese cooking as opposed to the more English-friendly Cantonese menus previously seen in the capital.
By 2017 Wong had completely reinvented the restaurant, serving a menu (almost) entirely made up of regional Chinese dishes (the only Anglo-Chinese dish left is crispy duck pancakes). This reinvention led to Wong winning his first Michelin star with the chef hoping to win his second this year as he puts the finishing touches to his latest A Wong outpost in the City's Bloomberg Arcade.
Rob Roy Cameron – Gazelle
Growing up in Botswana before moving back to the UK when he was 17, Rob Roy Cameron is one of London's most internationally-minded chefs. Learning to cook in his mother's pizza restaurant, Cameron's love of cooking led to him working in a number of the world's most prestigious kitchens including elBulli, 41 Degrees and Hoja Santa.
What really makes Cameron exciting is his extensive knowledge in both cooking and mixology. Having previously worked as a chef in Dalston's chic Untitled, Cameron developed a strong knowledge of how food and drink can complement one another in more ways than people first think.
Many diners will often see food and drink as binary options, with cocktails coming as a secondary thought to the food, or in vice versa depending on the venue, however Cameron's work at Untitled showed how one dish could be paired with several cocktails or how one cocktail could be paired with several dishes, showing how food and drink have the ability to stand equal.
Cameron's latest project sees him pair up with Tony Conigliaro, owner of Untitled and 69 Colebrooke Row, with whom he will be responsible for launching the much-anticipated Gazelle bar and restaurant in Mayfair. The two-storey bar, café and restaurant will be open all day serving breakfast, lunch, dinner and a selection of innovative cocktails. Making Cameron and Gazelle one to watch out for in 2018.
Gonzalo Luzarraga – RIGO
Born in Chile to Italian and Spanish parents, Gonzalo Luzarraga has made a name for himself in London as a chef of international standing. Having lived in three different countries by the time he was seven, Luzarraga's RIGO prides itself on 'food without borders', a fitting concept considering Luzarraga considers himself something of a culinary nomad.
Having worked under some of the world's top chefs, including the likes of Alain Ducasse at the famed Louis XV in Monaco, Luzarraga's inspiration for RIGO came from his childhood summers spent visiting relatives in San Sebastian. However it was Luzarraga's grandfather, a pastry chef from Liguria, who had a lasting impact on the young chef.
After his grandfather's death Luzarraga made the decision to enrol in culinary school where he discovered he not only had a natural talent for cooking but also had an insatiable interest in understanding gastronomy, leading to him studying for a master's degree in the chemistry of cooking.
Luzarraga's raw talent was spotted early on in his career with Alain Ducasse offering a 19-year-old Luzarraga the opportunity to work as a Commis Chef in Louis XV. From there he moved to Russia to work as executive chef in Stern where he revelled in the creative freedom offered to him.
After leaving Stern, Luzarraga set upon an eighteen-month tour across South America, China, Europe and the Maldives, taking in the tastes and flavors of each country before deciding to focus on opening his own restaurant based on his travels.
In 2016 Luzarraga was given the opportunity to open his dream restaurant in the leafy neighbourhood of Parson's Green. Undergoing a huge refurbishment, Luzarraga finally opened the venue in July 2017 under the name RIGO. Having run his own venue for just under 12 months it will be interesting to see how Luzarraga develops RIGO and takes it to the next level.
Yahir Gonzalez  – aqua nueva
Beginning his culinary career in Mexico, Yahir Gonzalez spent the majority of his younger years learning to cook in a local French restaurant at the age of 15. After developing a taste for cooking, Gonzalez was given the opportunity to study at the renowned Centre Superior de Hostelaria de Galicia in northern Spain.
After graduating, Gonzalez worked at a number of top restaurants in Spain, including the likes of A Rexidora and Pepe Solla. During his time at the latter Gonzalez and his flamboyant cooking style caught the eye of David Yeo who later moved Gonzalez over to London for the launch of his aqua nueva in Soho.
Gonzalez now heads up the aqua nueva team and unlike many of his culinary peers is still seen in the kitchen on a daily basis where he oversees the production line and offers mentorship to the more junior members of the team.
Under Gonzalez aqua nueva has taken on a completely new lease of life with Gonzalez even winning Chocolate Dessert of the Year, awarded to him for his sensational milk chocolate mousse with Cointreau.
Adam Handling – The Frog
Since beginning his culinary career at the five-star hotel Gleneagles, Adam Handling has continually proven his creativity and culinary skills, winning the award for Scottish Young Chef of the Year in 2011 and becoming The Fairmont's youngest ever head chef before being named the British Culinary Federation's Chef of the Year in 2014 and Scottish Chef of the Year 2015.
He was a finalist of MasterChef: The Professionals in 2013. Eventually, the chef took the leap to set out on his own venture – the result of which was the 2016 opening of The Frog in Shoreditch where tapas-style plates reflect the influence he takes from Asian cuisine, incorporating these ingredients with local produce.
In September 2017, Handling expanded this venture to include The Frog by Adam Handling in Covent Garden where he continues to source sustainable seasonal produce to create dishes such as tuna and beef tartare with kimchi and roasted hake with mussels and brown shrimp. With the chef's momentum unlikely to slow, we're sure this is a chef we're going to keep seeing more of.
Nacho Pinilla – Evelyn's Table
One of this year's most exciting restaurant openings in London has been the arrival of Evelyn's Table by the brother-and-sister team behind Palomar, Layo and Zoe Paskin. This 11-seat chef's table concept in the former beer cellar of drinking and dining venue The Blue Posts serves the food of the Spanish chef Nacho Pinilla. Previously executive chef of The Barbary, Pinilla will create each seasonal menu of Mediterranean influenced food.
The menu currently includes southern European dishes such as tagliatelle with black truffle butter and parmesan, and Presa Iberica with Padron pepper and calcot onion. As the chef behind the food of one of this year's most interesting culinary concepts, Nacho Pinilla is certainly one to watch.
Tom Brown – Cornerstone
Set to open his debut restaurant this year, Tom Brown is at an exciting time in his culinary career. He embarked on this new chapter after stepping away from his role as head chef at Nathan Outlaw's eponymous London restaurant and having his moment in the spotlight on the Great British Menu 2017.
The Cornish chef has focused largely on seafood and fish in his previous restaurant roles, but will be offering a seasonally changing menu of dishes made for sharing that incorporate a spectrum of British produce at Cornerstone. The restaurant is slated to open in April. Be one of the first to dine at the debut restaurant of a rising chef who we're sure will be behind many more projects to come.
Harry Kaufman and George Ryle – The Garden Café
It was in the summer of 2017 that chefs Harry Kaufman (previously of St John Bread & Wine and Lyles) and George Ryle (of Padella and Primeur) opened The Garden Café in London. Since it opened this new dining spot has received great acclaim, thanks to the daily changing menus of these two talented chefs. In a new pavilion attached to the Garden Museum, diners can tuck into dishes such as cuttlefish black rice, skate wing with sea beets and capers, and featherblade steak with grilled tardive radicchio and horseradish. As the two chefs bring together their culinary skills and ideas for contemporary seasonal cooking, London's diners are treated to one of the most exciting chef collaborations to have just emerged.
Jeff Tyler – TITU
Last month saw the opening of TITU in Mayfair, a 16-seat restaurant focusing almost entirely on gyoza that's been brought to you by the New Zealand chef Jeff Tyler. Tyler's career as a chef began when he became the youngest student, at just 15 years of age, to be accepted onto the Diploma in Culinary Arts course. He went on to hone his skills at the award winning restaurant of Huka Lodge in New Zealand before making his way around the world to work in the restaurants of Japan, Marrakech, Barcelona, Moscow, Dubai and Sardinia. Now it's at the age of just 32 that he has opened his first restaurant in London. Drawing on his experience of Asian cuisine, the chef is creating a seasonally changing menu of gyoza and other small plates using premium ingredients. Try the wagyu black pepper gyoza.
Matt Osborne – Hām
The brand new dining spot Hām is the first solo project of ex-Ledbury chef Matt Osbourne. The new West Hampstead restaurant is placing the focus on the produce of independent farmers, artisan producers and fisherman to champion local ingredients – the name 'Ham' comes from the old English word for home. These British ingredients will then be incorporated into dishes that reflect Osborne's Australian background. Try inventive plates such as Norfolk quail with artichokes, pearl barley and kombu, and Brixham brill with verjus sauce, pink fur potato and mussels. We're looking forward to seeing what more there is to come from this inventive chef.