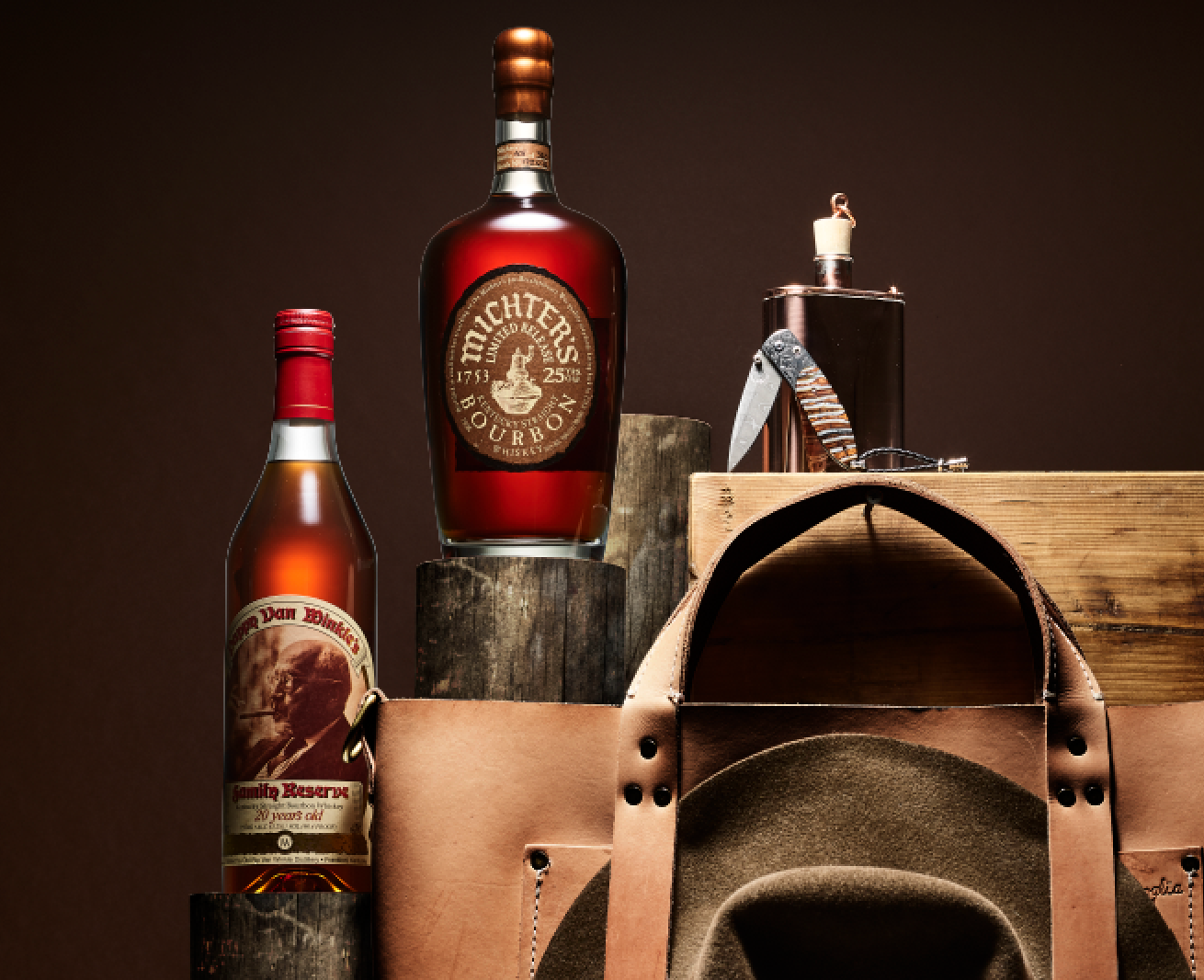 Celebrating the release of the Summer Issue, Elite Traveler brings you the ultimate selection of luxury men's accessories.
Into the Wild
If it's an all-American getaway you're after, gear up with pieces perfect for roaming the Wyoming wilderness or plains of Montana. Retire from your day outdoors with Michter's bourbon, fire-charred in American oak barrels, or Pappy van Winkle's buttery-yet-fruity whiskey — that is, if you're lucky enough to get your hands on it.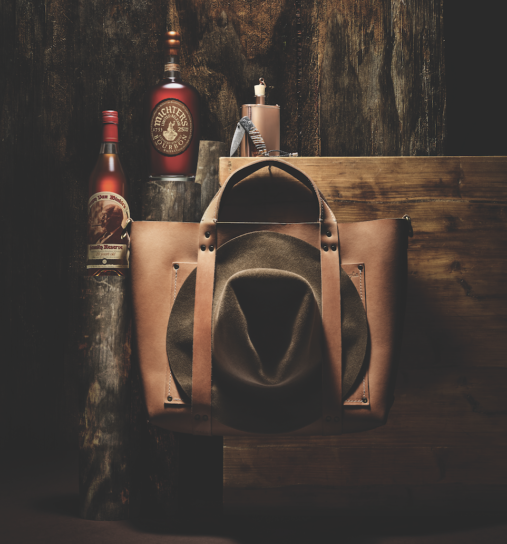 Clockwise: William Henry Monarch Jackson hand-engraved knife in Damascus steel with Woolly Mammoth tooth and spinels, $3,600, williamhenry.com; Jacob Bromwell Great American flask, $250, jacobbromwell.com; Poglia Porter handmade leather bag, $465, polgia.co; Clyde Pinch mink angora hat, $338, clyde.world; Pappy Van Winkle Family Reserve 20-Year-Old whiskey, $170, consumeraffairs@buffalotrace.com, buffalotracedistillery.com; Michter's 25 Year Kentucky Straight Bourbon, $800, info@michters.com, michters.com
Risky Business
Take a chance with eccentric prints, a serious statement-making bag that doubles as art or a mechanical novelty on your wrist. Add some artful additions to your home bar with Essential 1800's Limited Edition Shantell Martin-designed tequila bottle, or a bottle of Clase Azul Mezcal Durango — its taste is as distinct as its artisan-made bottle.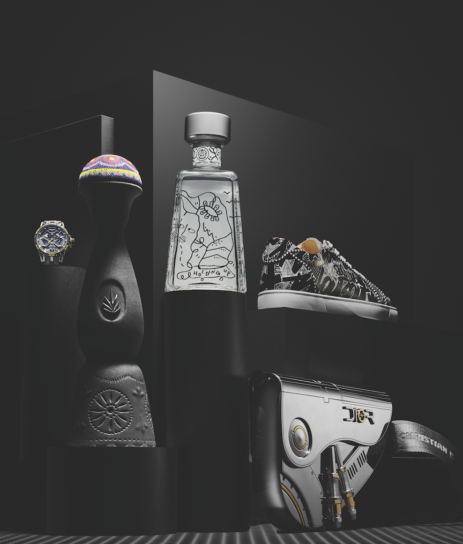 Left to right: Roger Dubuis Excalibur Huracán Performante watch in titanium, $52,500, Roger Dubuis in New York, +1 212 651 3773, rogerdubuis.com; Clase Azul Durango mezcal, $230, Sherry-Lehmann in New York, +1 212 838 7500, sherry-lehmann.com; Essential 1800 Artists Series Shantell Martin Limited Edition tequila, $34, reservebar.com; Christian Louboutin Seavaste Orlato sneakers, $950, Christian Louboutin in New York, +1 212 940 2501, christianlouboutin.com; Dior Men saddle bag, $32,000, Dior in New York, +1 212 931 2950, dior.com
World Wanderer
When you're traveling to far-flung locales, look the part of a worldwide expeditionist. Capture your travels with a chic Leica camera, used by everyone from adventurers to fashion photographers; and prove you're ahead of the curve with the new 'it' spirit, Japanese gin. Find a bottle of Watenshi (there are only six produced per year), or opt for sakura flower- and sencha tea-infused Roku gin.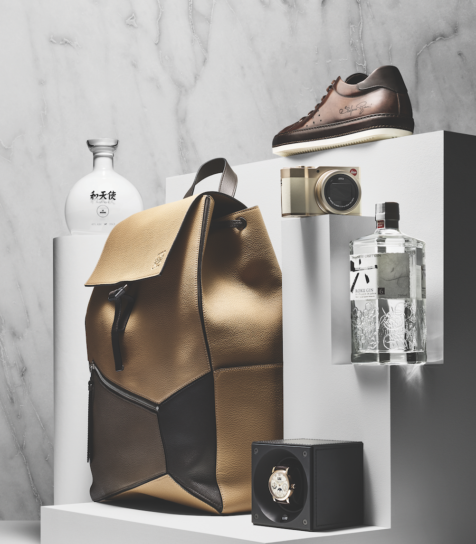 Clockwise: Stefano Ricci calfskin leather sneakers, $2,000, Stefano Ricci in New York, +1 212 371 3901, stefanoricci.com; Leica C-Lux camera, $1,050, leicacamerausa.com; Roku Japanese gin, $28, Astor Wine & Spirits in New York, +1 212 674 7500, suntory.co.jp; Swiss Kubik Masterbox watch winder, $905, Cellini Jewelers in New York, +1 212 888 0505, swisskubik.com; A Lange & Söhne Langematik Perpetual watch in 18K honey gold, $96,420, A Lange & Söhne in New York, +1 646 828 3150, alange-soehne.com; Loewe Puzzle calf-leather backpack, $3,190, Loewe in Miami, +1 305 576 7601, loewe.com; Watenshi Japanese gin, $2,610, Hedonism Wines in London, +44 207 290 7870, cambridgedistillery.co.uk
The Modern Dandy
A dandy never neglects the details. Switch up classic colors and finishes for something more eye-catching, or top off a sophisticated look with a beaded diamond bracelet (or two). Mod Sélection Réserve, a new champagne from the rapper Drake, is an aromatic expression (think white fruit and earthy notes) and a fresh approach to the world of bubbly.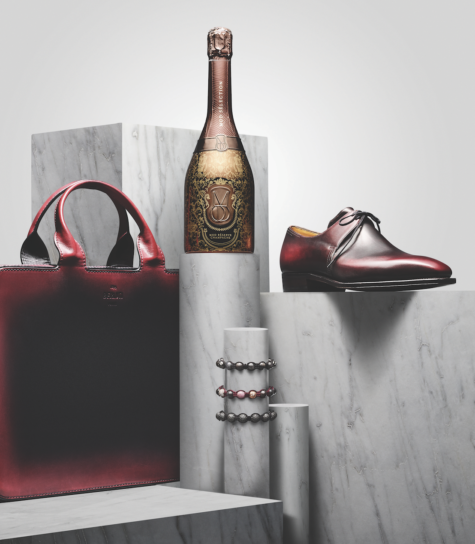 Clockwise: Mod Sélection Réserve champagne, $300, modselectionchampagne.com; Corthay Arca shoes, $1,850, Neiman Marcus in New York, +1 646 562 3500, corthay.com; Shamballa Jewels braided bracelet in rhodiumplated 18K white gold with gray sapphire beads and 2.4 carats black diamonds, $20,650, braided bracelet in 18K rose gold with gray and pink sapphire beads and 2.15 carats diamonds, $18,430, braided bracelet in rhodium-plated 18K white gold with 21.36 carats black diamonds, $55,730, Shamballa Jewels in New York, +1 212 925 2108, shamballajewels.com; Berluti Profil 3 leather briefcase, $4,700, Berluti in New York, +1 212 439 6400, berluti.com