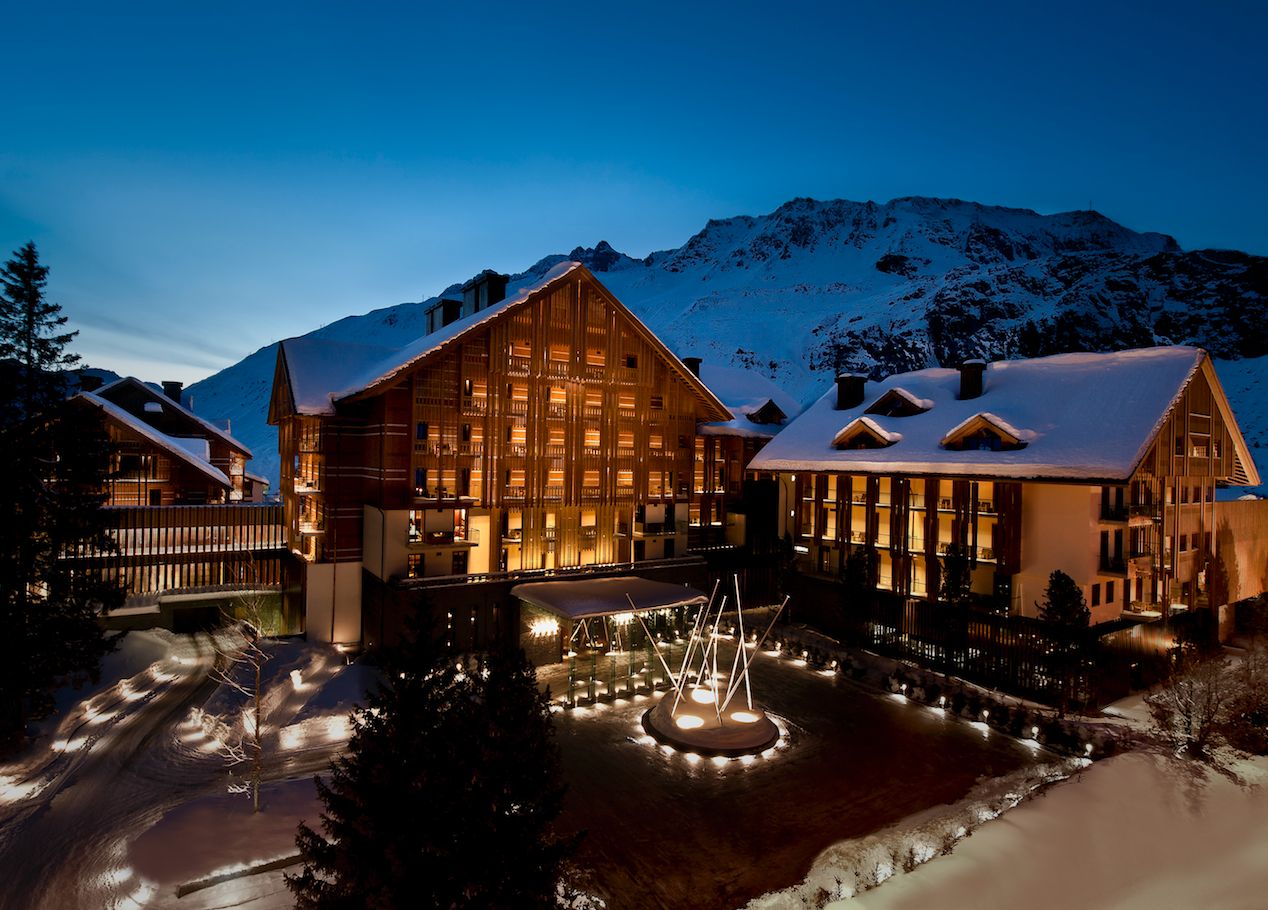 Many of us cannot wait for spring's arrival, but longer days and cherry blossom are sore sights for ski enthusiasts. As warmer climes approach, they face having to put their beloved ski equipment into storage.
Winter is not quite over yet, however. A number of resorts across the world can still offer plenty of fresh powder before the ski season draws to a close.
For those keen to get the very most out of the ski season, Elite Traveler has put together a list of luxury ski resorts and chalets from the Rockies to the Alps.
Grandes Alps – Courchevel 1850, France
With the personal experience of a chalet set within a hotel and ski-in, ski-out access, Grandes Alps in Courchevel is one of the most luxurious places to enjoy the final weeks of the European season.
Skiers have over 350 miles of pistes to explore, so even the most endurable of explorers will not run out of new slopes. Those preferring to stay warm and cozy can take advantage of the newly launched Bellefontaine Spa.
For the all-important après-ski, guests can enjoy a fine-dining restrauant service in the comfort of their own chalet. The hotel has an entire team of private chefs ready to prepare any kind of meal from tasting menus to light bites.
For more information: grandesalpes.com
For reservations: Tel: +33 (0)4 79 00 00 00 | Email: contact@grandesalpes.com
The Chedi Andermatt – Switzerland
Enveloped by beautiful Alpine peaks, The Chedi Andermatt is the ultimate après ski destination. The mountain has four restaurants to choose from, including the Michelin-starred Hide Yamamoto. It also has a wine and cigar library, a world-class spa and a fully equipped health club.
Diehard skiers can enjoy ski-in, ski-out access to the Andermatt-Sedrun SkiArena, the largest skiing area in central Switzerland.
With more fireplaces than bedrooms, The Chedi Andermatt has successfully styled itself as a true Alpine haven. No wonder it was selected in Elite Traveler's Top 100 Hotels for 2019.
For more information: chediandermatt.com
For reservations: Tel: +41 418 887 488 | Email: reservations@chediandermatt.com
Four Seasons Hotel Megève, France
Four Seasons Hotel Megève is an intimate mountain retreat in both summer and winter. Set on the ski slopes of Mont d'Arbois, this chalet is approaching its centenary year but still looks as modern as any. It builds on the legacy of the Rothschild family who set out to create an unrivaled luxury resort in 1920.
Along with an array of après-ski activities, guests are offered the chance to explore the region's best slopes with their ski safari package. The one-day excursion takes guests to a multitude of terrains in France and Italy via private helicopter.
Depending on your prefered itinerary, guests can either dine in a mountaintop restaurant, a traditional mountain hut or opt for a gourmet picnic assembled by Michelin-starred Executive Chef Julien Gatillon. A dedicated photographer is also available to ensure the day's memories last a lifetime.
For more information: www.fourseasons.com/megeve/
For reservations: Tel: +33 (0) 4 50 211 211
Chalet N – Oberlech, Austria
The only private chalet on the list and there is good reason as to why we have made an exception. Priced at a cool $280,000 per week, Chalet N is officially the most expensive ski chalet in the entire world. Described as a 'superchalet', Chalet N is situated close to the glamorous resort of Lech and enjoys incredible views of the Arlberg massif.
As well as 10 luxury suites, Chalet N also has a wine cellar, cinema and gargantuan spa and ice bar. The spa takes up an entire floor in itself and the swimming pool has a deluxe underwater sound system and a fluctuating color scheme to create a relaxing environment. A Swarovski shower, with crystals forming the curtains, is also an exceptional highlight.
Although not situated on the slopes, a fleet of luxury cars can whisk you on the 10-minute drive to the nearest ski lift. The chalet's wine cellar contains 350 wine labels and a dedicated sommelier – one of the 35 staff team – can take guests on a sensual tasting experience.
For more information: www.chalet-n.com
For reservations: Tel: +43 (0) 5583 37 9 00 | Email: office@chalet-n.com
Montage Deer Valley, Utah, USA
Directly adjacent to three high-speed chairlifts, Montage Deer Valley offers ski-in, ski-out access to six mountains, offering a variety of runs from novice to white-knuckle rides.
For après-ski, guests can unwind in the property's luxurious Veuve Clicquot Lounge before feasting in one of the four on-site eateries. These include the fine dining Apex and the stylish Yama Sushi as well as more comfortable dining at Burgers & Bourbon.
Montage Deer Valley also offers guests customized boot fittings, using a state-of-the-art 3D foot scanner to suggest the proper fitting boot out of the rental shop's inventory – the first offering of its kind in a US ski resort.
For more information: montagehotels.com
For reservations: Tel: 435.604.1300
The Sebastian – Vail, Colorado, USA
The Sebastian is a boutique hotel nestled in the center of Vail Village. Colorado's Vail Mountain has experienced a snowy fall and winter, which means there is likely to be plenty of powder throughout spring break. Guests have ski-in, ski-out access to the revered slopes as well as their very own adventure center, Base Camp.
Tired muscles can be treated in the hotel's Bloom Spa, which recently launched a CBD oil enhancement from a Colorado based organic hemp company. The in-vogue treatment can be added to any of the spa's services.
Guests can dine at haute bistro and tapas bar Leonora before grabbing a drink at the chic and progressive Frost Bar. The Sebastian's decadent and signature hot chocolates are a must.
For more information: thesebastianvail.com
For reservations: Tel: 800.354.6908
Aman Le Melezin, Courchevel 1850, France
True to the brand, Aman Le Melezin seamlessly connects alpine comfort with Asian ambiance, which they say encourages peaceful reflection after a long day in the skis.
This winter, renowned wellness and fitness expert Rudi Keil is in residence to offer private and group sessions between March 23 – April 7. The expansive spa offers a wide range of treatments to suit any guest's needs. Out on the slopes, guests can call on the services of the hotel's ski butlers to tend to any request.
To top it off, Aman Le Melezin is one of the most family-friendly in Courchevel 1850 with the resorts recently opened Children's Club. This offers youngsters a safe space to socialize after ski school and is open until 10pm. This gives parents the chance to enjoy a romantic dinner in the Japanese restaurant Nama, unique to Les .
For more information: aman.com/resorts/aman-le-melezin
For reservations: Tel: +33 4 7908 0133 | Email: lemelezin@aman.com
Ultima Gstaad, Switzerland
Nestled at the foot of the Saanen ski slopes, Ultima Gstaad brings new levels of boutique opulence to the historic Swiss resort. This luxury hotel provides an extraordinary level of style, refinement and exclusivity. Just three private chalets are available, each enjoying ski-in, ski-out access to the slopes.
After a long day outside, guests can take advantage of the Ultima Spa, which takes design inspiration from superyachts. It boasts an indoor swimming pool, a sauna, a steam room and a gym.
The spa offers a comprehensive range of treatments, ensuring there will be something to meet the needs of every guest. Ultima also offers a number of customizable packages, which range from adventurous ski expeditions to detoxifying retreats.
For more information: ultimagstaad.com
For reservations: Tel: +41 33 748 05 50 | Email: info@ultimagstaad.com