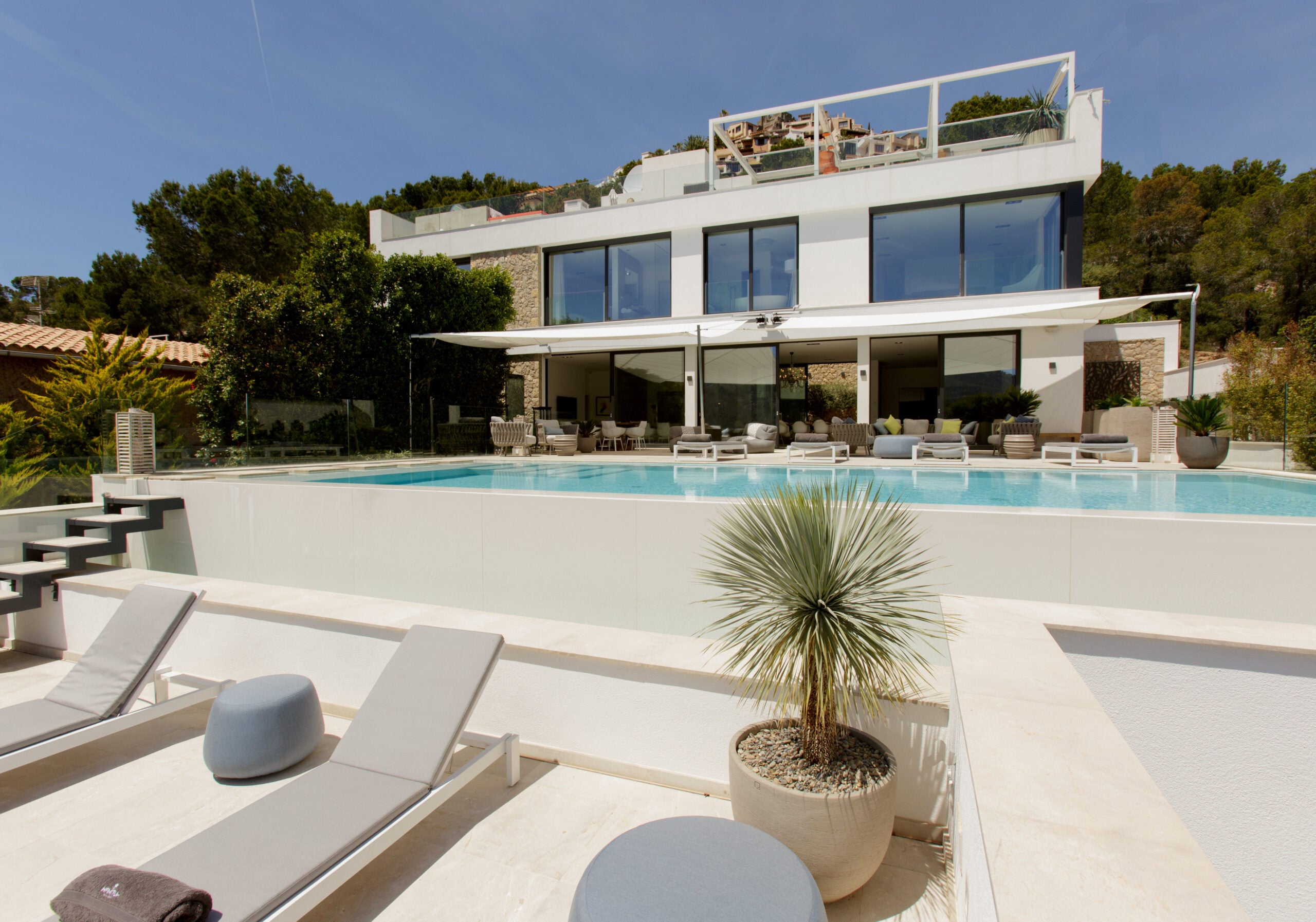 Something strange is happening in Mallorca. This Spanish island, ideally located in the Meditteranean Sea, appears to be experiencing the kind of property boom not seen this side of Europe since before the financial crash of 2008.
The center of this boom appears to be Cala Llamp Bay, where once-quiet mountain roads are today dominated by dozens of construction trucks and concrete churners; the skyline beset with cranes. Any patch offering a view of the Mediterranean is being transformed into a new oversized property.
Fortunately, Cala Llamp may as well be a world away from where Villa Infinitum is situated. Here, on the other side of Port d'Andratx, serenity reigns supreme. If Mallorca is a new development project for the world's elite, this private residence and its surrounding neighborhood is the template for them all to follow.
As Mallorca prepares to welcome in the summer season, Elite Traveler was invited to experience the Villa Infinitum lifestyle.
Stay
Sitting elevated on a mountainside, Villa Infinitum offers beautiful views of the port, the rolling hills and out across the ocean. There are four terraces throughout the property, each offering a better vista as you climb higher. By the time you get to the roof terrace, a full and unobstructed panorama of the area is on offer.
If four terraces seem excessive for a five-bedroom, 10-person property, you would be right. For everyday use, you are only likely to make use of the main terrace, which has the property's infinity pool, and the roof terrace, which has a fully-equipped kitchen for al fresco dining. The lower terrace still offer those all-important views as well as privacy, but it feels too far removed from the beating heart of the villa.
That is undoubtedly located in the expansive dining area, where floor-to-ceiling windows allow light to cascade for seamless indoor/outdoor living. Even when the weather is overcast, light is plentiful in this part of the villa and beautiful sunsets can be experienced even when sitting in the open-plan kitchen.
This area's centrality to life in the villa is underlined by the presence of a games room, a high-quality Sonos sound system linked to a record player, and a private courtyard, which offers respite from the midday sun as well as a peaceful evening hangout spot.
Take the elevator from the ground floor to the very top to experience life in the grand master bedroom. This expansive 1,000sq ft room, like the main living area, also boasts floor-to-ceiling windows. That means the beautiful views of the port and surrounding mountains are available as soon as you draw back the drapes in the morning. A walk-in wardrobe and freestanding bathtub add an opulent feel rarely found outside of luxury hotels.
Wellness
The villa is large enough to boast it's own fully-equipped gym and spa facilities, making it perfect for those looking for a private wellness retreat.
The gym is well-equipped with rowing machines, treadmills and exercise bikes as well as freeweights. It also has it's own sound system so you can play your own motivating music during your workout. The team at Villa Infinitum is on hand to organize a vastly-experienced personal trainer from the local town to visit you in the gym.
Meanwhile, the spa boasts a dedicated treatment area and its own heated pool. This pool can also be switched to a lap pool for swimmers. Spa treatments can be arranged through beauty service Ruuby. Their Black Label service is ordinarily for members only, but guests staying at Villa Infinitum will gain access to some of the company's most experienced therapists. Upon request, Ruuby will send beauty therapists, hair stylists, masseuses and makeup artists direct to the villa to provide a large number of treatments in-house.
Dining
Port d'Andratx is well served in the fine dining sector. We had a wonderful meal at the nearby boutique hotel Villa Italia. Long established in the area, the hotel has an award-winning Mediterranean restaurant that is regularly cited as the best place to eat in town. From its terraces, you can peer back across the port and see Villa Infinitum gleaming in the night sky.
Many will find, however, that the best dining experience to be had is one inside the villa itself. With one call, renowned Michelin-starred chef Marc Fosh will send members of his team to come to Villa Infinitum and cook an unforgettable meal.
Guests can choose between a formal three-course meal or a luxurious tapas tasting menu. We were treated to the latter and feasted on creative takes of traditional dishes such as Spanish omelet and crema Catalana.
Breakfast is provided by the in-house management team and is a notable culinary event in itself. Fresh pastries and bread is provided each morning alongisde yogurts and churros. Hot breakfasts are available and cooked to order. Coffees and teas are also free-flowing throughout the day.
Discover
There is ample opportunity to get out and explore Mallorca. The apartment comes with three state-of-the-art electronic bicycles, which allow anyone the opportunity to explore the beautiful coastal roads. With endless hills at every turn, these bikes open up routes usually reserved for the most seasoned cyclists.
With the nearby port, guests can charter a yacht and explore the rugged coastline from the sea. Spend the day sipping champagne on deck, or put your hiking boots on and head to the nearby Sa Dragonera National Park, an uninhabited island, to explore its wildlife.
Once again, you do not have to leave Villa Infinitum to discover the best of Mallorca. Local wine specialists Divino offers a wine tasting experience that highlights the best of what the island has to offer. Our dedicated wine specialist was intimately familiar with the island's wine and passionate about his trade. Included in the experience was enough wine to last not just the tasting but for the entire evening.
Take exclusive use of Villa Infinitum year-round starting from €18,000 ($20,200) per week based on 10 sharing. This includes daily breakfast, daily maid service and a dedicated villa manager to assist with housekeeping and additional services. Minimum stay of seven nights. For further information or to book, please visit www.infinitumvillas.com or call +44 (0) 7471 935741.