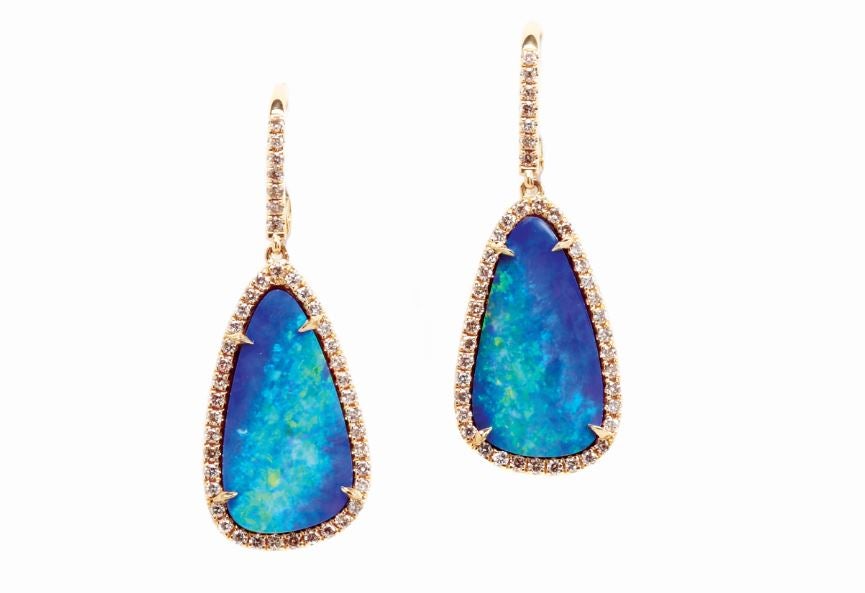 Deciding which jewelry to bring on vacation is always a dilemma. It's difficult to find the perfect statement piece that is also casual enough to blend in wherever you end up. Our recommendation is to pick distinctive earrings in a brightly colored stone and keep the rest of your look simple. And if you can match the stone's origin to your vacation destination, even better!
Australia
Opal
Opals can be found in places as far-flung as Ethiopia, Mexico, Brazil, Peru, Nevada and Australia. Australia is perhaps most closely associated with the gem thanks to its famous Lightning Ridge and Boulder opals and prolific production numbers. Rina Limor frequently uses opals in her designs, saying, "The allure of a visually appealing gemstone and its organic shape is what makes the opal interesting to work with. I let the opal's kaleidoscope of beauty inspire me." These earrings, featuring Australian doublet black opal accented with yellow gold and diamonds, are perfect for a visit to Spicers Peak Lodge in Queensland, which is home to the Boulder opal fields. In its spa, indulge in the Mountain Woman package of full-body pampering, including exfoliation, massage, foot treatment, facial and scalp ritual.
Rina Limor Fine Jewelry earrings in 18K yellow gold with 7.61 carats Australian doublet black opal and .71 carats diamonds, $2,600, available by appointment at Rina Limor in New York, +1 212 922 9292, rinalimor.com
Arizona
Turquoise
Turquoise jewelry conjures images of Native American culture and America's Southwest. Perhaps the most iconic turquoise comes from the closed Sleeping Beauty mine in Globe, Arizona. It's beloved for its consistent light-blue color, and now that the mine is closed, demand is higher than ever. Sutra designer Arpita Navlakha says, "The Sleeping Beauty variety is by far my favorite cabochon stone to design with. Its rarity makes it even more coveted, and I enjoy finding new ways to create with it." Wear her hoop earrings featuring 17 carats of Sleeping Beauty turquoise to dinner after a day spent exploring and indulging at Miraval Arizona Resort and Spa.
Sutra Sleeping Beauty hoop earrings in 18K white gold with 17 carats turquoise and
1.5 carats diamonds, $7,000, available at Neiman Marcus NorthPark in Dallas, contact Sara Faherty, sara_faherty@neimanmarcus.com, +1 214 891 1250, sutrajewels.com