This story originally appeared in the September/October 2018 issue of Elite Traveler.
Explore with complete freedom and flexibility; no pilot, predetermined destination or schedule is necessary. A new era of customized, purpose-built travel trailers from Living Vehicle, Airstream and Land Ark allow you to traverse the world with the luxuries of home and on your own terms.
Land Ark Drake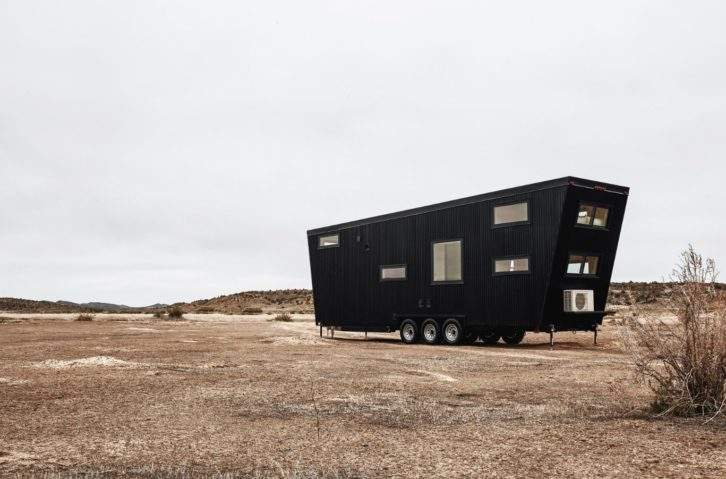 In an effort to truly challenge the trailer marketplace, Land Ark's Drake is more high-concept home than recreational vehicle. Named after English sea captain Sir Francis Drake, the roughly 350-sq-ft RVIA-certified 30-ft abode includes two loft spaces—one suitable for a king-size mattress, the other a queen—as well as a flex room that functions as a closet, bedroom, sitting room or storage area.
The trapezoidal exterior sacrifices aerodynamics for aesthetic; its corrugated black metal siding with 14 dual-pane windows is striking. The interior is filled with white-washed pine walls and ceiling, as well as a 10-cu-ft stainless-steel refrigerator/freezer, LP gas cooktop with cast-iron top grates and full 30 x 60 inch Kohler bathtub/shower. Drake lacks a traditional RV feeling, a welcome respite from the increasingly popular #vanlife trend.
Co-creators and owners Joni and Brian Buzarde opted out of traditional mobile plumbing; the good news, no RV toilet paper and truly luxurious fixtures. The bad: it's impossible to dry camp as there are no black or gray water tanks. "Consider Drake to be a nicely equipped modern house built to RV specs," says Brian Buzarde, who added a septic tank and set of solar panels to his Drake, which currently resides off-grid in Marble, Colorado. At 13,000 lbs, Drake is on the heavy side and would need a dedicated tow vehicle, and there's a four-month window from order to delivery.
From $139,900, landarkrv.com
Airstream Globetrotter
Peak Americana meets European minimalism in the Globetrotter, Airstream's newest premium travel trailer. Globally recognized as experts in the segment, the longest-tenured recreational-vehicle manufacturer in North America partnered with UK-based Astheimer Limited, fusing the iconic riveted-aluminum profile with contemporary aesthetics not typically found on the beloved silver bullet.
Handcrafted Italian cabinetry as well as Franke, Grohe and Moen finishes and fixtures add a layer of sophistication. Panoramic windows, a curved headboard with a Tuft & Needle adaptive mattress, radius slim-fit doors and low-profile backlighting style the space that blends Airstream's utilitarian elements with refined sensibilities.
Adventure seekers have equated Airstream with the great outdoors for more than a half-century, but this collaboration marks a step for the brand into an intentional lifestyle that surpasses mere practicality. While it can easily adapt to on- or off-grid residing, the 28-ft trailer features a 1,000-watt pure sine inverter, separate shower and optional 50-amp A/C unit with heat pump.Weighing in at just over 6,000 lbs, the Globetrotter is one of the lightest in its class,meaning most SUVs can handle the tow.
From $99,000, airstream.com
Living Vehicle Live Series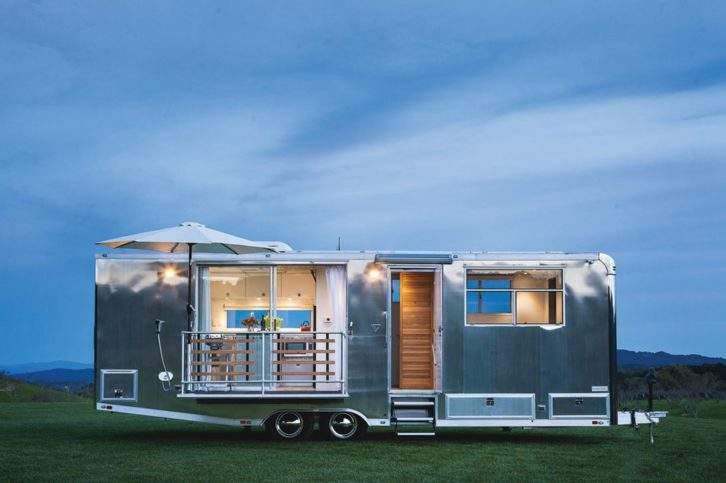 Escape the limitations of a crowded hotel and get lost in the backcountry,
all while maintaining the option to respond to emails with an omnidirectional Wi-Fi antenna. Create uninterrupted views of mountain ranges or desertscapes away from paved roads, with the convenience of a washer/dryer. The brainchild of Santa Barbara–based architect Matthew Hofmann, who left his firm to renovate vintage Airstreams (he's updated more than 400) and design his own mobile space, Living Vehicle furnishes the possibility for well-appointed on- and off-grid dwelling.
Four 150-watt roof-installed solar panels, a 100-gallon freshwater tank and two 30-gallon propane tanks power the nearly 8,000-lb rig. Whether you're using it for long-distance travel or weekend escapes, Living Vehicle comfortably sleeps six adults thanks to its EuroLoft in-ceiling bed, U-shaped dining area that converts into a queen space and separate bedroom that can double as a sitting room, should the sofa sleeper option prevail. With a duo of deck options in the form of a three-foot clamshell or a six-foot extended patio, seamless indoor/outdoor living is encouraged.
Hofmann has already delivered two dozen units and is manufacturing just as many orders. From purchase to delivery typically takes two months.
From $149,995, livingvehicle.com